Digestive Care Tea (Kolorex)
Kolorex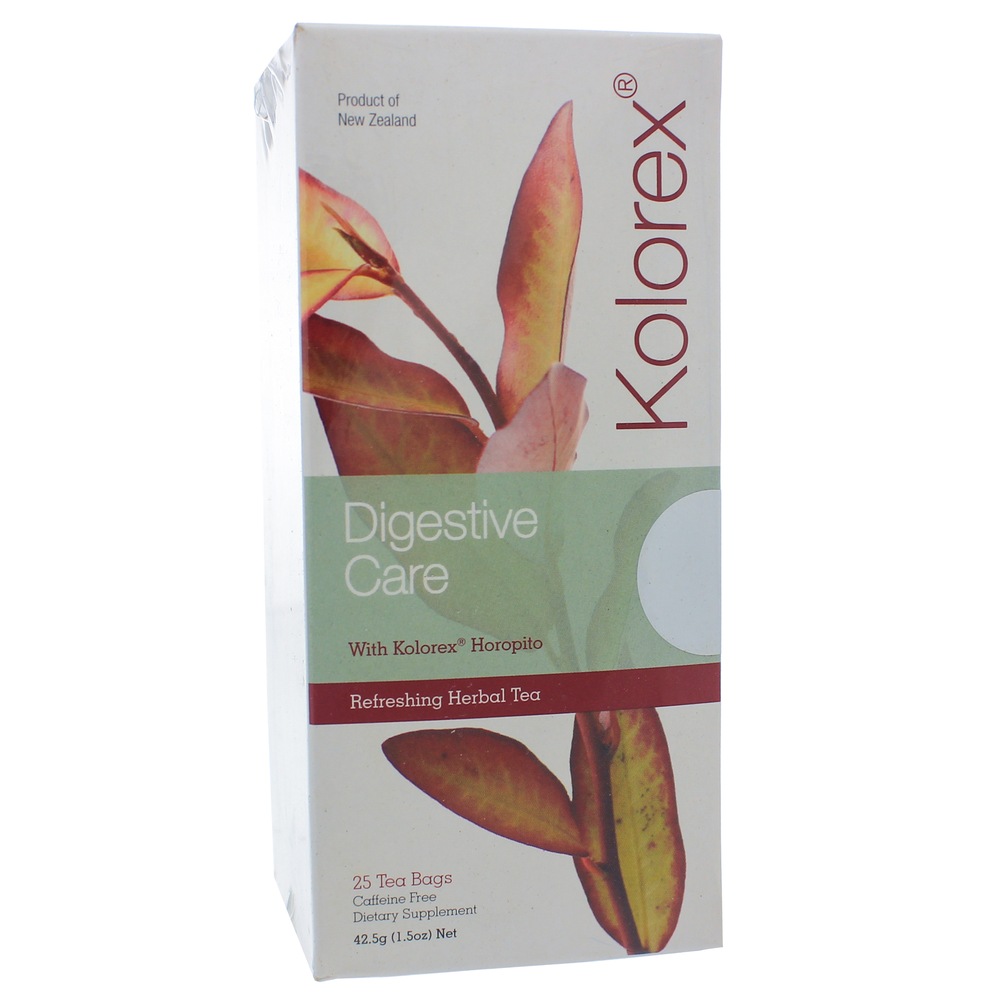 SKU: NA4-KDCT
Our health and vitality depends largely on how well our digestive system functions. Common problems like indigestion, flatulence, colic, constipation and food allergies are often an indication that our digestive tract is not breaking down, assimilating and eliminating like it should.
The complex digestive flora (microbes) in our gut need all the help they can get in this age of convenience food and demanding lifestyles. We should of course avoid chemical additives and highly processed food whenever we can and enjoy the raw and whole foods that our digestive system has evolved to process.
In many Europe there is a long-standing tradition of drinking herbal teas after meals to improve digestive function. Forest Herbs Research has gone one further by adding New Zealand's flora-friendly Horopito leaf to the traditional digestive herbs of Peppermint and Aniseed. This has created a truly unique herbal tea to calm the mucous membranes of the gastro-intestinal tract and enhance the digestive process.
Take as an enjoyable and refreshing drink after food and also whenever discomfort, indigestion or bloating occurs. For full soothing benefit aimed at long term support take 3 cups daily after meals for 3 weeks. Can be safely taken long term as a refreshing tea for digestive maintenance. For maximum flavour and herbal benefit place one teabag in cup, pour over boiling water and leave to infuse for 4-8 minutes.
Peppermint (Mentha x piperita)
Refreshing Peppermint leaf infusions have traditionally been taken after meals to improve digestion. As a digestive aid, Peppermint helps to soothe digestion, settle the stomach, and relieve occasional nausea, heartburn, and flatulence.
Horopito leaf (Pseudowintera colorata)
This New Zealand herb was traditionally used by the early European settlers and Maori who made a tea of the leaves for stomach upsets. Modern science has confirmed the presence of Horopito that is independently laboratory verified to contain high levels of these actives. It is Horopito that gives Kolorex Tea its unique hot taste.
Anise Seed (Pimpinella anisum)
Use traditionally in South America as a folk remedy, with a reputation as a digestive aid. Anise seed oil is used to flavour drinks, food and confectionery. Anise seed is used in Kolorex products to enhance the action of Horopito.
Serving Size: 1 Teabag
Amount per serving
Peppermint (Mentha x piperita) Leaf ... 1360mg
Horopito (Pseudowintera colorata) Leaf ... 170mg
Anise (Pimpinella anisum) Seed ... 170mg
Due to settling from shipping loose tea will be present. According to the manufacture settleing is a natural occurrence with this product and does not affect quality or efficacy. The product is sold as-is and there are no returns allowed.
*These statements have not been evaluated by the FDA. This product is not intended to diagnose, treat, cure, or prevent any disease.
It looks like there are no similar
products available