Trace Minerals
Pure Encapsulations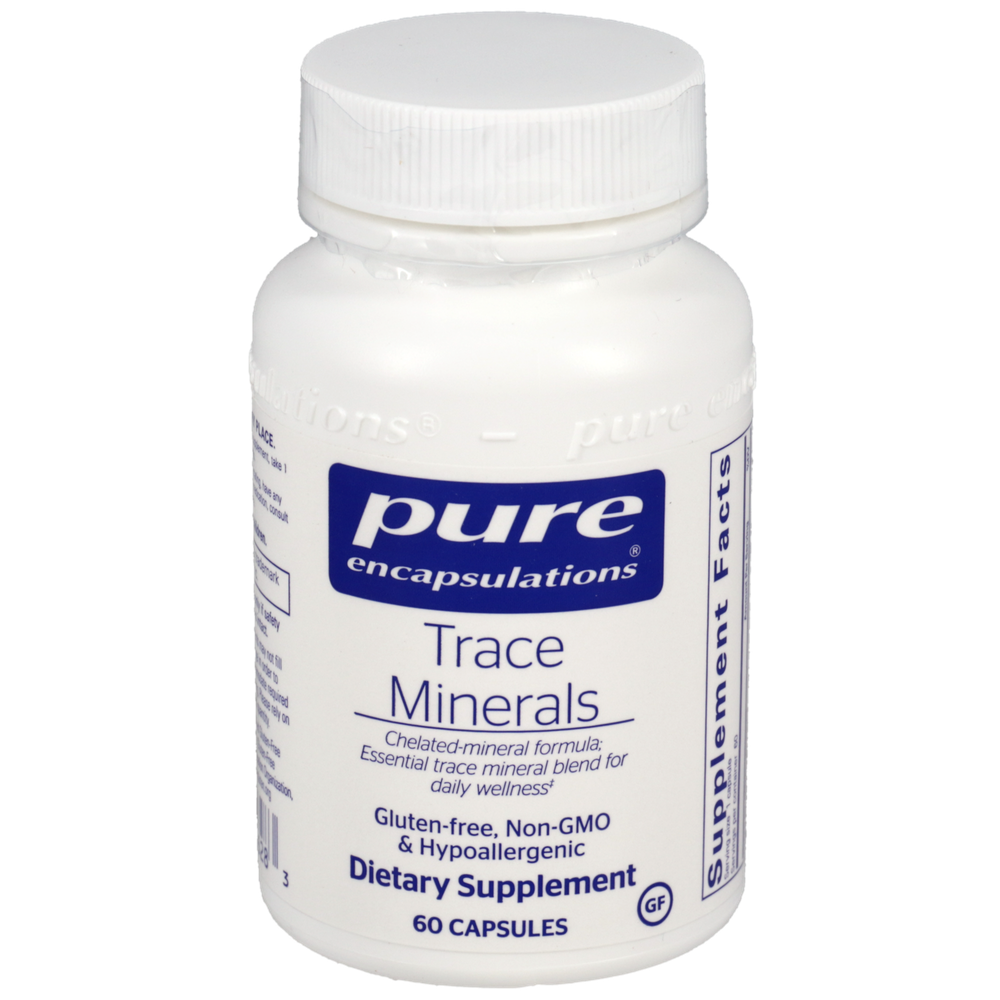 SKU: PUR-TRM26
Supports cellular health*
Promotes enhanced nutrient metabolism*
Made with hypoallergenic, vegan ingredients
Trace Minerals is a blend of essential minerals to support nutrient metabolism and cellular function throughout the body. Trace Minerals help enhance cellular energy production and the synthesis of hormones, neurotransmitters and DNA.*
Provides a highly absorb-able blend of essential minerals to support metabolism and cellular function*
Trace Minerals contains essential minerals to support nutrient metabolism and cellular function throughout the body. These minerals are important enzyme cofactors for numerous processes, including cellular energy production and the synthesis of hormones, neurotransmitters and DNA. This formula provides trace minerals in a balanced combination, without macrominerals, to promote optimal bioavailability.*
Suggested Use:
Take 1–2 capsules daily, in divided doses, with meals.
Serving Size:
1 vegetarian capsule
Amount Per ServingIodine
... 100mcg
(as potassium iodide)
Zinc
... 15mg
(as zinc picolinate)
Selenium
... 70mcg
(as selenomethionine)
Manganese
... 2mg
(as manganese citrate)
Chromium
... 200mcg
(as chromium picolinate)
Molybdenum
... 100mcg
(as TRAACS™ molybdenum glycinate chelate)
Boron
... 1mg
(as boron glycinate)
Vanadium
... 250mcg
(as bis-glycinato oxo vanadium)
Silica extract
... 10mg
(from bamboo (Bambusa spp.) (stem and leaf))
Other Ingredients:
hypoallergenic plant fiber (cellulose), vegetarian capsule (cellulose, water), ascorbyl palmitate
If pregnant or lactating, consult your physician before taking this product. At this time, there are no known side effects or precautions.
At this time, there are no known adverse reactions when taken in conjunction with medications. Consult your physician for more information.