20/20 Eye Formula Capsules
Nutritional Frontiers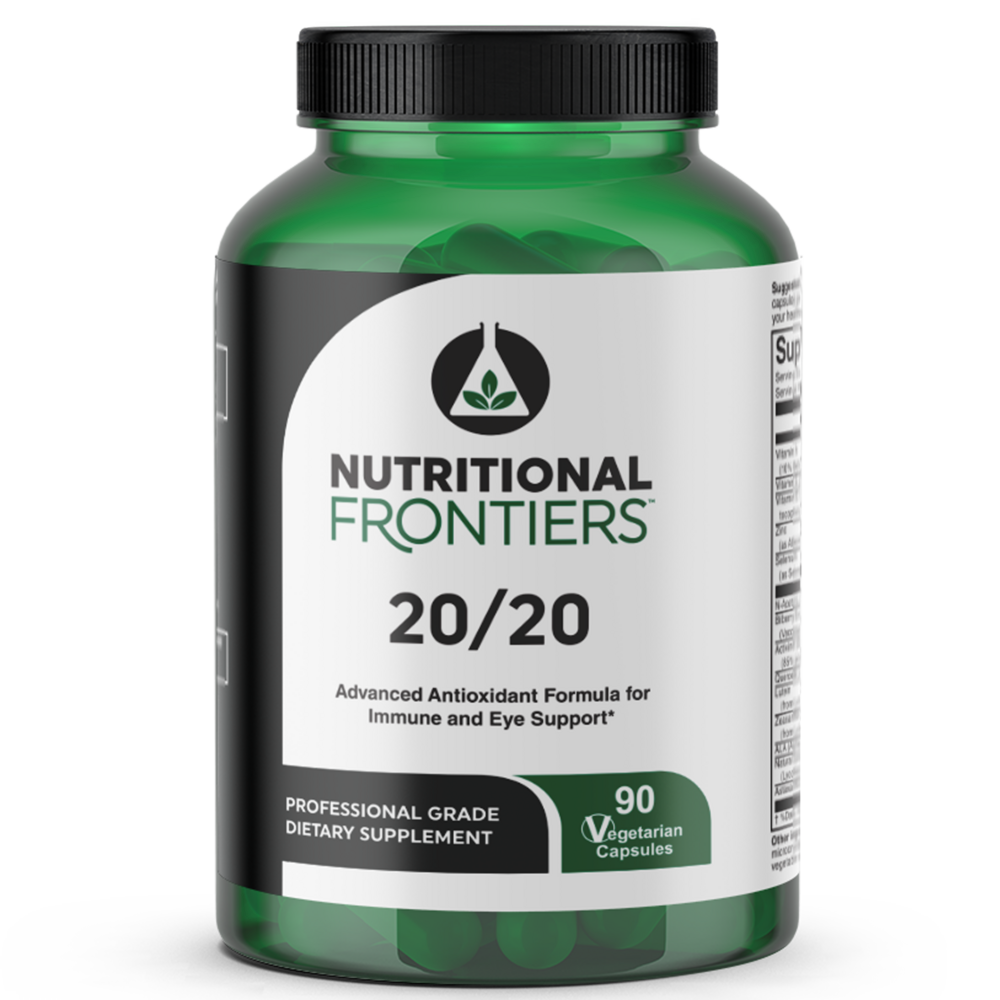 SKU: NUT412-02NF308090
20/20 Eye Formula Capsules
20/20 by Nutritional Frontiers is a formulation contains various nutrients and herbs that have been used to help support eye health.*
Potential Benefits:
May help with poor night vision*
Allergies that affect the eyes*
Eye strain*
Eye floaters*
As a dietary supplement, take 3 capsules per day with meals, or as directed by your healthcare practitioner.
Serving Size:
3 Capsules
Amount Per ServingVitamin E
... 400mg
Vitamin C
... 300mg
(as Ascorbic Acid)
Vitamin A
... 60mg
(10% Beta Carotene)
Zinc
... 20mg
(as TRACCS® Zinc Bisglycinate Chelate (20% Zn))
Selenium
... 50mcg
(as Albion® Selenium Glycinate Complex (1% Se))
N-Acetyl L-Cysteine
... 300mg
Bilberry Extract 25%
... 60mg
(Vaccinium Uliginosum)
Activin®
... 50mg
(Grapeseed Extract (85%-95% oligomeric proanthocyanidins))
Quercetin Anhydrous 98.5%
... 50mg
Lutein
... 40mg
(from Lutemax® 2020 merigold flower extract)
Zeaxanthin Isomers
... 8mg
(from Lutemax® 2020 merigold flower extract)
ALA
... 25mg
(Alpha-lipoic acid)
Natural Lycopene
... 10mg
(LycoMato® Brand)
Astaxanthan 1%
... 4mg
Other Ingredients:
Rice flour, silicon dioxide, vegetable stearate, hypromellose, and water.
Lutemax 2020 is a trademark of OmniActive Health Technologies Ltd.TRAACS® and Albion® are trademarks of Albion Laboratories, Inc.

Color of this formula may vary due to the color variation of the natural ingredients.
Warning:
If pregnant or nursing, consult your healthcare practitioner before taking this product.
Keep out of reach of children. Store in a cool, dry place.