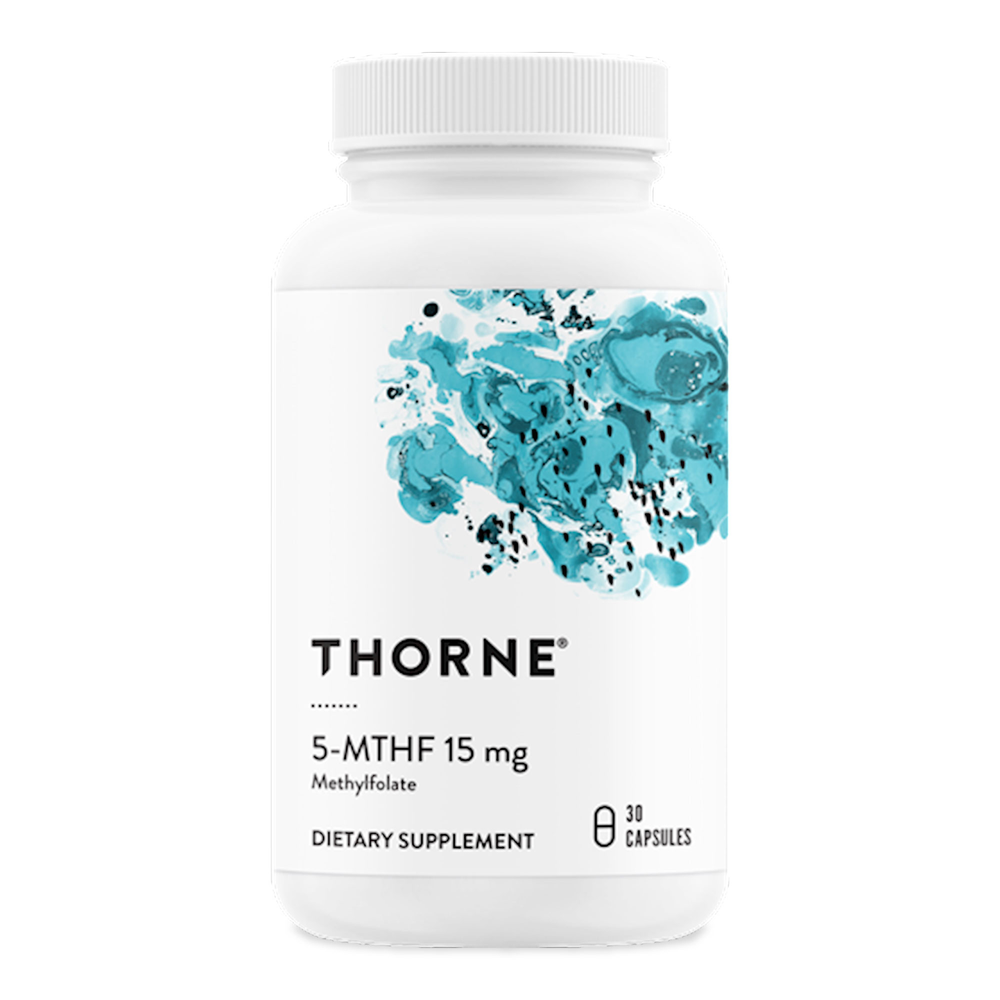 SKU: THO-B133
Many individuals don't get sufficient 5-MTHF (L-5-Methyltetrahydrofolate), the active form of folic acid, because they have intestinal or liver dysfunction, or because they are among the three out of five Americans whose genetic makeup makes it difficult to convert folic acid into active 5-MTHF.* A deficiency of folic acid has been linked to low-birth-weight infants and neural tube defects, which is why the Centers for Disease Control recommends folic acid supplementation for all women of childbearing age. Since 5-MTHF also contributes to the production of serotonin, melatonin, dopamine, epinephrine, and norepinephrine, supplementation supports healthy mood.*

Note: 1 mg of 5-MTHF is recommended for fetal support during pregnancy; the 15 mg option is recommended only when directed by a health-care practitioner.

It is important for a woman of childbearing age to get enough folic acid – not just those women who are planning to become pregnant.* Because half of pregnancies are unplanned, any woman who could become pregnant should get enough folic acid every day. Folic acid intake is especially important before conception and during early pregnancy, since its biggest need is during the first trimester – when a woman might not even know she is pregnant. Supplementation with the active form of folic acid – 5-MTHF (L-5 Methyltetrahydrofolate)– is always preferable.

Acting with vitamin B12, 5-MTHF functions as a methyl-group donor, thereby facilitating the conversion of the amino acid homocysteine to methionine.* An elevated homocysteine level is a risk factor for a number of undesirable health conditions. Methyl-group donation is vital to many biochemical conversion processes, including the synthesis of serotonin, melatonin, and DNA.*
Take 1 capsule daily. This product is intended for use under the guidance of a health-care practitioner.

Serving Size: 1 Capsule

Amount Per Serving
Folate ... 25mg DFE
(L-5-MTHF)

Other Ingredients: Hypromellose Capsule, Leucine, Microcrystalline Cellulose, Silicon Dioxide
ALLERGY WARNING
This product is contraindicated in an individual with a history of hypersensitivity to any of its ingredients.

PREGNANCY WARNING
If pregnant, consult your health professional before using this product.

INTERACTIONS
5-methyltetrahydrofolate (5-MTHF) supplementation is not recommended concurrent with methotrexate cancer therapy, as it can interfere with methotrexate's anti-neoplastic activity; however, this folate source has not been shown to interfere with the anti-inflammatory activity of methotrexate. An individual taking methotrexate for psoriasis or rheumatoid arthritis can safely take a supplement containing folate.