7-Keto (100mg)
Douglas Labs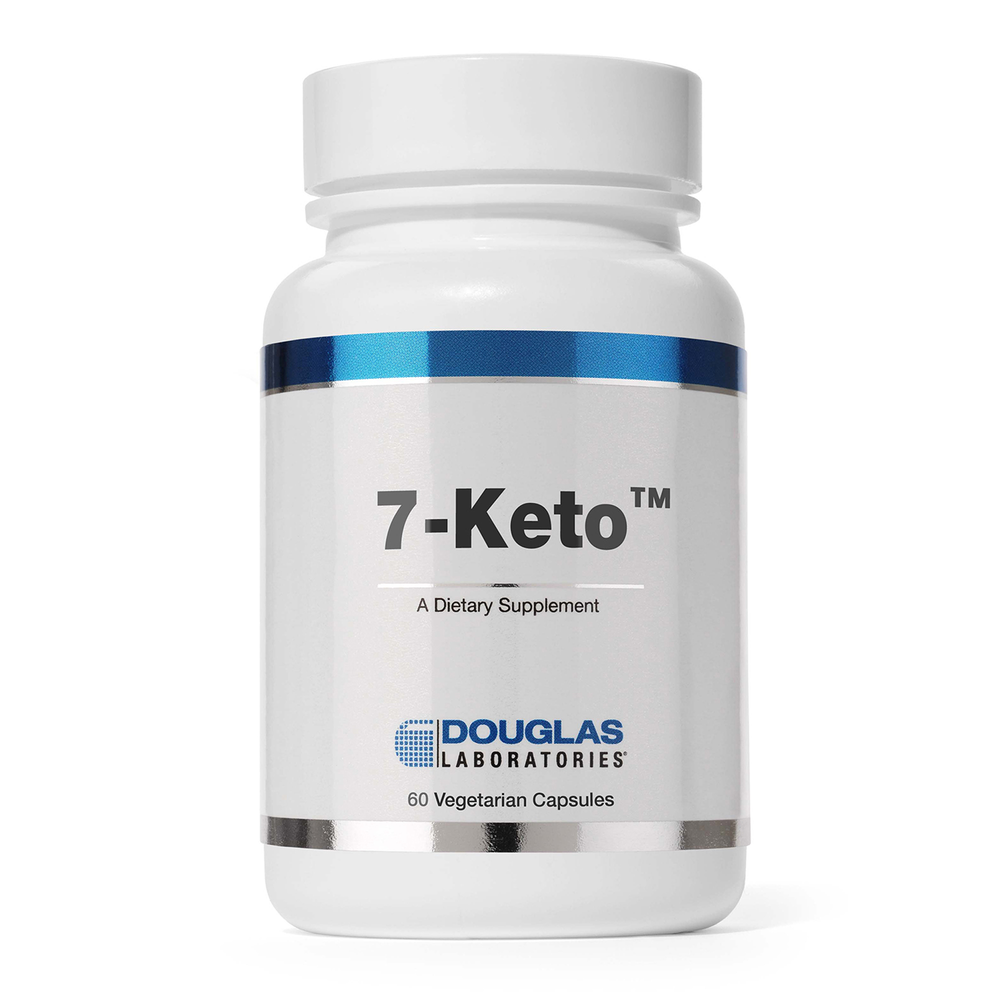 SKU: DL-9924660X
The 7-Keto metabolite of DHEA is a natural, non-steroidal molecule that is produced in the body from DHEA. This metabolite is chemically different from DHEA and cannot convert back into DHEA in the body. Studies indicate that 7-Keto may be useful in promoting weight loss without the use of stimulants while following an exercise program and healthful diet.†
As humans age, natural levels of 7-Keto begin to decline. Research in animals also shows that aging may have an effect on the body's ability to maintain optimum thermogenesis (fat burning) activity. Recent research indicates that 7-Keto may play important roles in activating thermogenic enzymes and promoting weight loss. Several clinical studies have been conducted in healthy overweight adults. In one double-blind, placebocontrolled study, subjects given 200 mg of 7-keto reduced body weight more significantly compared with placebo while maintaining a diet and exercise regimen. No significant changes in blood glucose, hormonal levels, liver enzymes or renal function were experienced and no adverse side effects were reported. In another double-blind, placebo-controlled study, after 8 weeks subjects on an exercise program and healthful diet lost significantly more weight compared with placebo. The natural metabolite, 7-Keto, was again well tolerated and no significant adverse effects were reported. Additional studies indicate that 7-Keto cannot convert into other steroid hormones in the body and does not affect estrogen, testosterone or progesterone levels in the body.
As a dietary supplement, adults take 1 capsule twice daily or as directed by your healthcare professional.
Serving Size: 1 capsule
Amount Per Serving
7-Keto ...100mg*
(3-Acetyl-7-oxo-dehydroepiandrosterone)*
Other ingredients: Cellulose and vegetable stearate.
This product contains NO yeast, gluten, soy, milk/dairy, corn, sodium, sugar, starch, artificial preservatives, artificial flavoring, or genetically modified organisms (GMOs).
Keep out of reach of children.
Store in a cool, dry place.
*This statement has not been evaluated by the Food and Drug Administration. This product is not intended to diagnose, treat, cure or prevent any disease.