7-Keto Lean
Integrative Therapeutics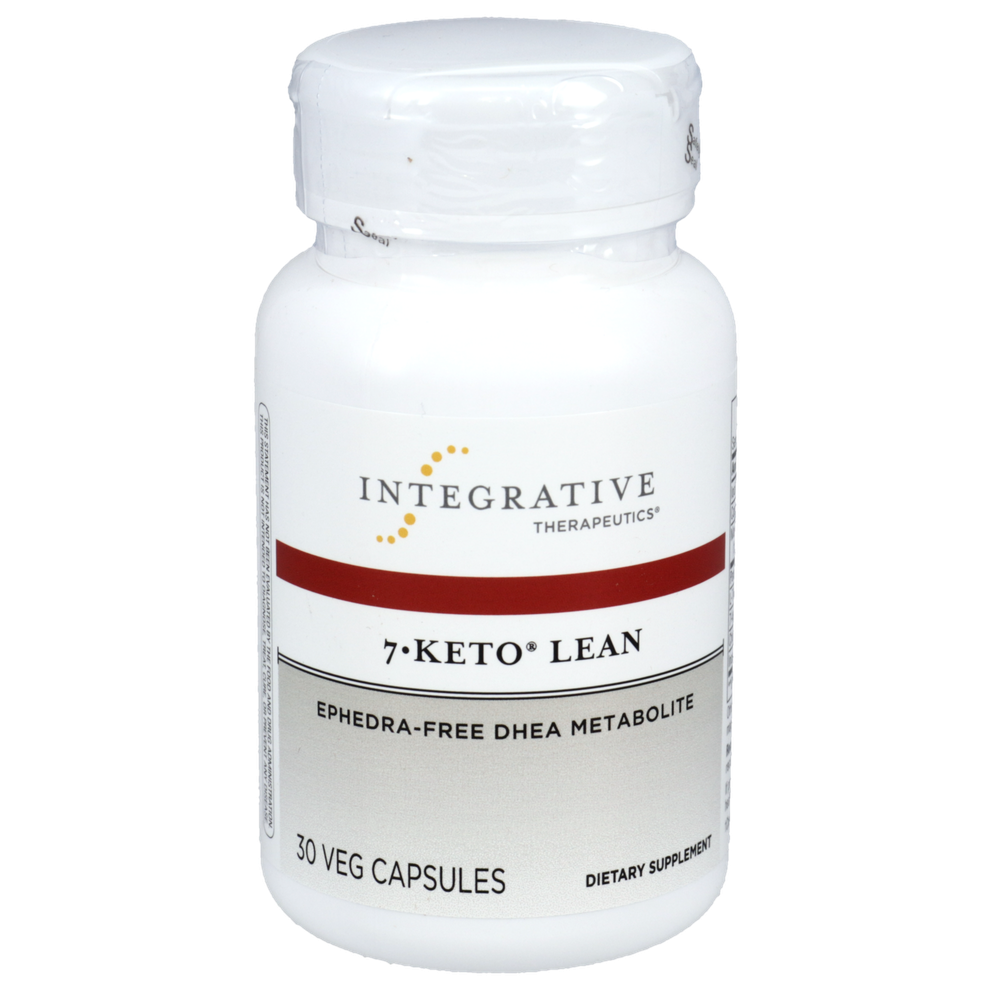 SKU: ITI-75163
7-Keto Lean combines 7-Keto DHEA—a metabolite of DHEA (dehydroepiandrosterone)—with L-tyrosine, asparagus extract, choline, inositol, copper, manganese, and iron to support healthy thyroid function and metabolism.*
7-Keto will not raise heart or blood pressure.
7-Keto is not a stimulant and will not promote sleeplessness.
Take 1 or 2 capsules daily, or as recommended by your healthcare professional.
Serving Size: 1 Vegetable Capsule
Amount Per Serving
Iodine ... 100mcg
(from potassium iodide)
Copper ... 500mcg
(as copper gluconate)
Manganese ... 500mcg
(from manganese Krebs cycle chelates)‡
Parsley Leaf Powder ... 100mg
L-Tyrosine ... 100mg
7-keto DHEA Acetate ... 100mg
(7-KETO® brand)
Choline Bitartrate ... 50mg
Inositol ... 50mg

Other Ingredients: plant-derived capsule (hypromellose), magnesium stearate, and silica.
7-Keto® Lean Does Not Contain
artificial coloring
artificial flavoring
dairy
gluten
preservatives
salt
soy
sugar
wheat
yeast
‡Chelated as citrate, fumarate, malate, succinate, and alpha ketoglutarate.
7-Keto® is a registered trademark of Humanetics Corporation.
Do not use if you are pregnant, nursing, under the age of 18, or if you have known hypersensitivity to iodine or hyperthyroidism. If you have a family history of prostate cancer, prostate enlargement, heart disease, low HDL cholesterol, or if you are taking any medications or other dietary supplements, consult a healthcare professional before use. Discontinue use and call a healthcare professional immediately if you experience rapid heartbeat, dizziness, blurred vision, or other similar symptoms.

Do not exceed recommended dose. Exceeding the recommended dose may cause serious adverse health effects. Possible side effects include acne, hair loss, hair growth on the face (in women), aggressiveness, irritability, and increased levels of estrogen.

Keep tightly closed.
Store at room temperature.
Avoid excessive heat and direct sunlight.