Ther-Biotic® ABx Support™
Klaire Labs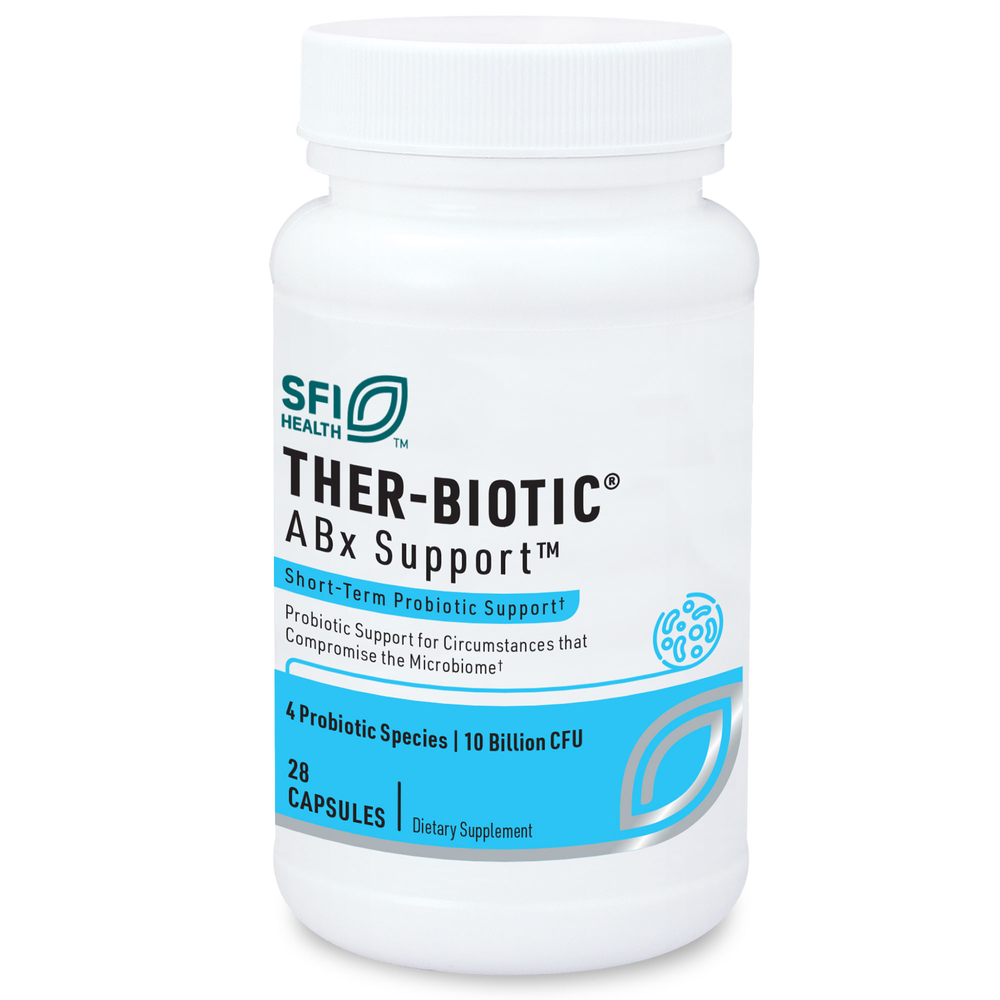 SKU: KL-KABX
Benefits and Features
-Intended for short-term use when reinforcement is needed†
-Powerful immune support†
-Promotes healthy gut flora bacteria balance†
-4 probiotic species
-10 billion CFU
Provides probiotic support to help reinforce your beneficial intestinal bacteria in circumstances when your microbiome might be disrupted.†

Detail Overview
Ther-Biotic® ABx Support™ is a blend of the non-pathogenic yeast Saccharomyces boulardii with Lactobacillus rhamnosus, Bifidobacterium bifidum, and Bifidobacterium breve. These species have been shown in controlled clinical trials to reinforce commensal gut bacteria.† This hypoallergenic formula is a great adjunct to antibiotic therapy and is provided as a convenient 14-day supply for concurrent use during antibiotic therapy, as well as in larger bottles of 60 capsules to continue to support GI health after antibiotic therapy.†


Suggested Use:
Adults: Take 1 capsule twice daily with meals or as directed by a healthcare professional. Children: As directed by a healthcare professional.

Serving Size: 1 Capsule
Amount Per Serving
Probiotic Blend ... 360mg (10 billion CFUs)
in a base of inulin (derived from chicory root)
Saccharomyces boulardii ... 5.0 billion CFUs
Lactobacillus rhamnosus ... 2.5 billion CFUs
Bifidobacterium bifidum ... 1.25 billion CFUs
Bifidobacterium breve ... 1.25 billion CFUs
Other Ingredients: Vegetarian capsule (hydroxypropyl methylcellulose, water).
Made without common allergens: milk/casein, eggs, fish, shellfish, tree nuts, peanuts, wheat/gluten, soybeans, and sesame. No synthetic colors, flavors, or preservatives. Non-GMO, Vegetarian.


Caution: Take 1 hour before or 2 hours after antibiotic use. Not recommended for severely immunocompromised individuals or those with central venous catheters. Consult with your physician if you are pregnant or lactating, or have any medical condition, or taking prescription drugs, or under the age of 5 years. KEEP OUT OF REACH OF CHILDREN.