Active B Complex
Seroyal/Genestra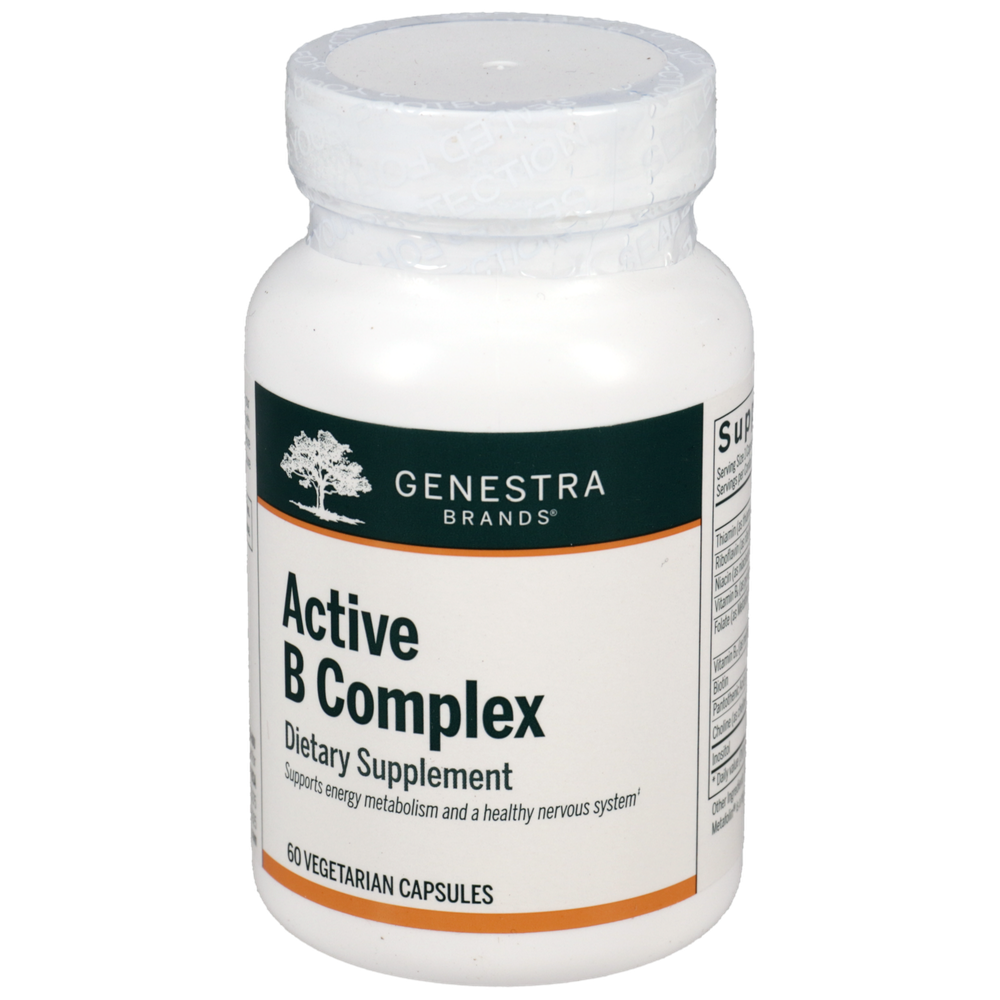 SKU: GN-02166
Combination of B-vitamins in their active forms
Supports normal carbohydrate, fat and protein metabolism*
Supports the formation of healthy red blood cells*
Provides the active forms of vitamins B2, B6, folate, and B12
ACTIVE B Complex supports the formation of healthy red blood cells and macronutrient metabolism. Each capsule provides the entire B-vitamin family, including vitamins B1, B2, B3, pantothenic acid B6, biotin, folate, and B12. Active B Complex uses the preferred active forms of vitamins B2 (riboflavin-5-phosphate), B6 (pyridoxal-5-phosphate), folate (Metafolin®), and B12 (methylcobalamin). Metafolin®, a calcium salt of L-methylfolate, may be more bioavailable than folic acid. In one study involving healthy women supplemented with 400 mcg of either L-methylfolate or folic acid for 24 weeks, the women receiving the L-methylfolate supplement had higher red blood cell folate concentrations.*
Adult Dose: Take one capsule daily or as recommended by your healthcare practitioner.
Serving Size: 1 Capsule
Amount Per Serving
Thiamine ... 50mg
(thiamine hydrochloride / thiamine diphosphate)
Riboflavin ... 25mg
(riboflavin 5-phosphate sodium)
Niacinamide ... 100 mg
Vitamin B6 ... 25mg
(pyridoxal 5-phosphate)
Folate ... 400mcg
(calcium L-5-methyltetrahydrofolate, Metafolin®*)
Vitamin B12 ... 400mcg
(methylcobalamin)
Biotin ... 300 mcg
D-pantothenic acid ... 110mg
(calcium d-pantothenate)
Choline ... 25mg
(choline bitartrate)
Inositol ... 25mg
Other Ingredients: Hypromellose, cellulose, silica, ascorbyl palmitate
Guaranteed to contain no added wheat, yeast, gluten, soy, sodium, sugar, artificial colouring or flavouring, antimicrobial preservatives, dairy or animal products. Ideal for vegans.
* Metafolin® is a registered trademark of Merck KGaA, Darmstadt, Germany
Quality Assurance: Safety-sealed for your protection and for product freshness. Do not use if outer seal is missing or broken. Store in a cool, dry place.