Active B12 5000
Seeking Health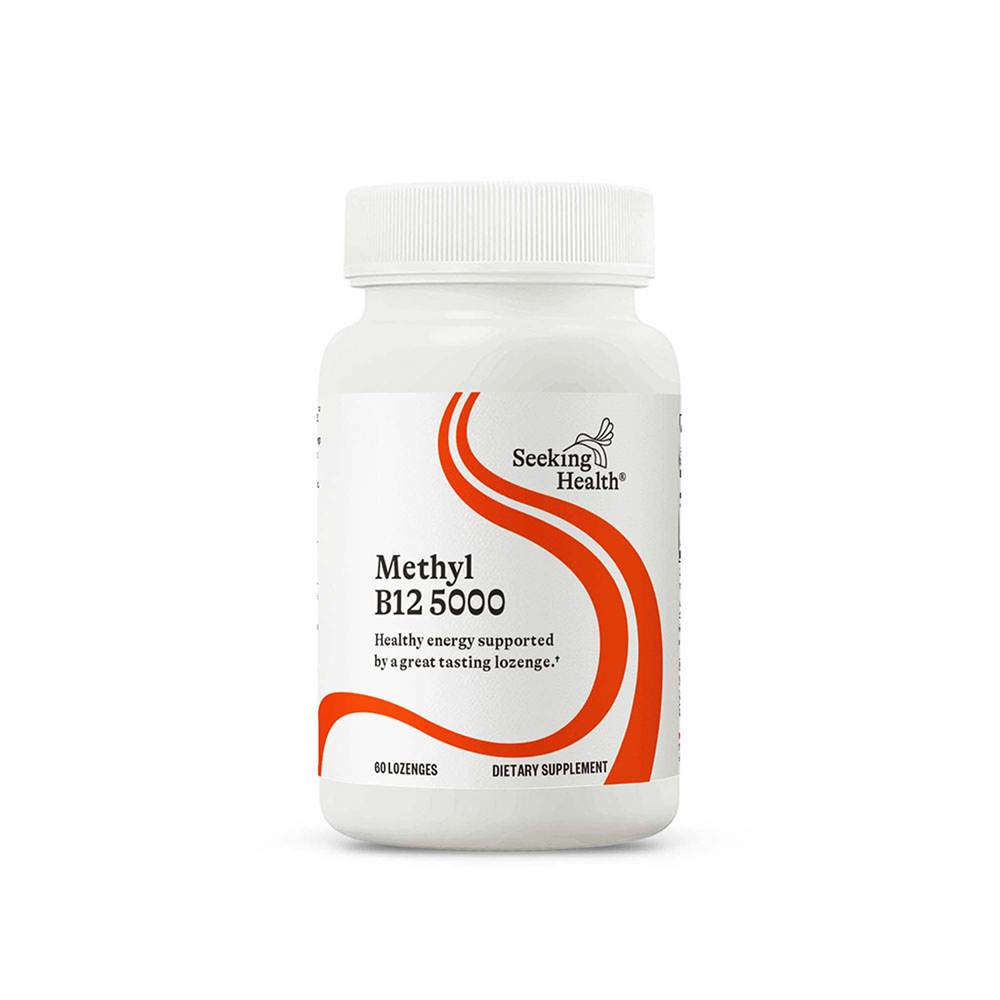 SKU: SKH-AB1260LOZ
Active B12 5000 by Seeking Health provides two active "coenzyme" forms of vitamin B12, methylcobalamin and adenosylcobalamin, in a high-potency, easy-to-take lozenge form. As "coenzyme" forms, methylcobalamin and adenosylcobalamin are the forms required by certain B12-dependent enzymes and reactions within the body. Vitamin B12 is required for proper red blood cell formation, neurological function, and DNA synthesis. Vitamin B12 functions as a cofactor for methionine synthase and L-methylmalonyl-CoA mutase. Methionine synthase catalyzes the conversion of homocysteine to methionine. Methionine is required for the formation of SAMe (S-adenosylmethionine), an important methyl donor.*
Vitamin B12 is naturally present in seafood, shellfish, liver, eggs and dairy products. It may be harder for vegetarians and vegans to meet their daily needs for vitamin B12 from food sources without relying on supplements or fortified foods.*
Typical absorption of vitamin B12 is facilitated by intrinsic factor (IF), a natural protein produced by the parietal cells of the stomach lining. Higher doses of vitamin B12 may be supportive for individuals with lower IF levels, as large doses of B12 may be able to use absorption mechanisms that do not rely on intrinsic factor.*
As each individual may have different needs for vitamin B12, the potent dose of this vitamin contained in Active B12 5000 may not be ideal for everyone. Working with a qualified healthcare professional is the best way determine the appropriate dose for your individual needs. The lozenges can be broken down into halves or quarters if a lower dose is desired.
May help support the normal conversion of homocysteine to methionine
May help support healthy methylation and metabolism
May help support cognitive health
May help support healthy energy levels
Take 1 lozenge daily or as directed by your healthcare professional. Lozenge may be broken into smaller pieces if lower dosage is desired.
Serving Size:
1 Lozenge
Amount Per ServingVitamin B12
... 5000mcg
(80% as methylcobalamin and 20% as adenosylcobalamin)
Other Ingredients:
Xylitol, ascorbyl palmitate, silica, and natural orange flavor.
Does not contain
dairy, egg, fish, shellfish, tree nuts, peanuts, wheat, soy, gluten, GMO
Suitable for vegetarians and vegans.Warning:
Children and pregnant or lactating women should consult their healthcare practitioner prior to use. Do not use if tamper seal is damaged. When taking high levels of B12, use under the care of a qualified physician and track blood levels. Consult with a healthcare professional before use if you are using antibiotics or other medications.