Active Chewable B12 + Methylfolate
Seroyal/Genestra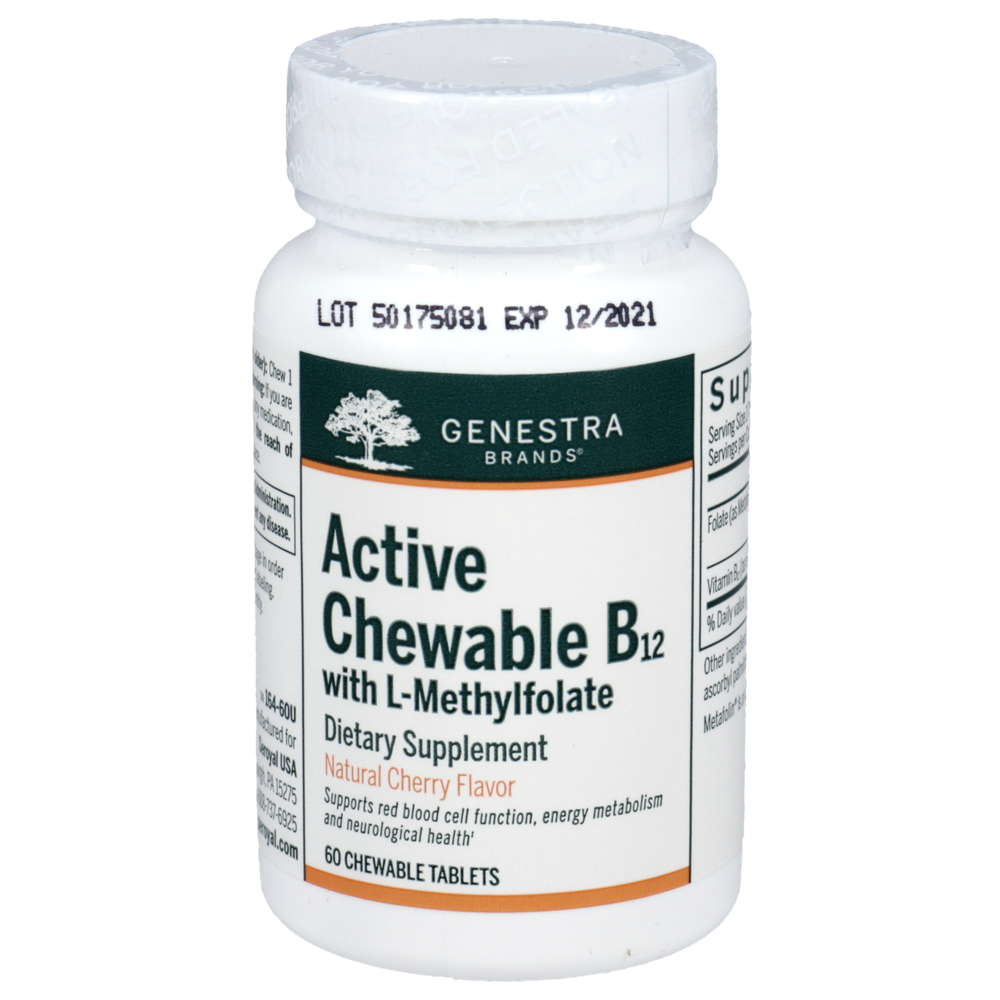 SKU: GN-02164
Vitamin B12 formula plus L-methylfolate
Promotes normal protein, fat and carbohydrate metabolism*
Supports normal red blood cell formation*
Convenient chewable tablet with natural cherry flavor
Contains 1, 000 mcg of methylcobalamin, an active form of vitamin B12, and 400 mcg Metafolin® (L-methylfolate), an active form of folate
ACTIVE Chewable B12 with L-Methylfolate supports normal macronutrient metabolism and red blood cell formation. Methylcobalamin and L-methylfolate help maintain already normal plasma levels of the protein metabolite homocysteine. In a recent study, high-dose supplementation with methylcobalamin and folic acid for two weeks supported already healthy plasma homocysteine levels.*
Adults and Children (4 years and older): Chew one tablet daily or as recommended by your healthcare practitioner.
Serving Size: 1 Tablet
Servings Per Container: 60
Amount Per Serving
Folate ... 667mcg DFE
(as Metafolin®, L-5-MTHF)(400mcg L-5-MTHF)
Vitamin B12 ... 1000mcg
(methylcobalamin)
Other Ingredient: Cellulose, xylitol, mannitol, hyprolose, silica, magnesium stearate, natural cherry flavor
Guaranteed to contain no added wheat, yeast, gluten, soy, sodium, sugar, artificial coloring or flavoring, antimicrobial preservatives, dairy or animal products. Ideal for vegans.
† Metafolin® is a registered trademark of Merck KGaA, Darmstadt, Germany
Quality Assurance: Safety-sealed for your protection and for product freshness. Do not use if outer seal is missing or broken. Store in a cool, dry place. Keep out of reach of children.