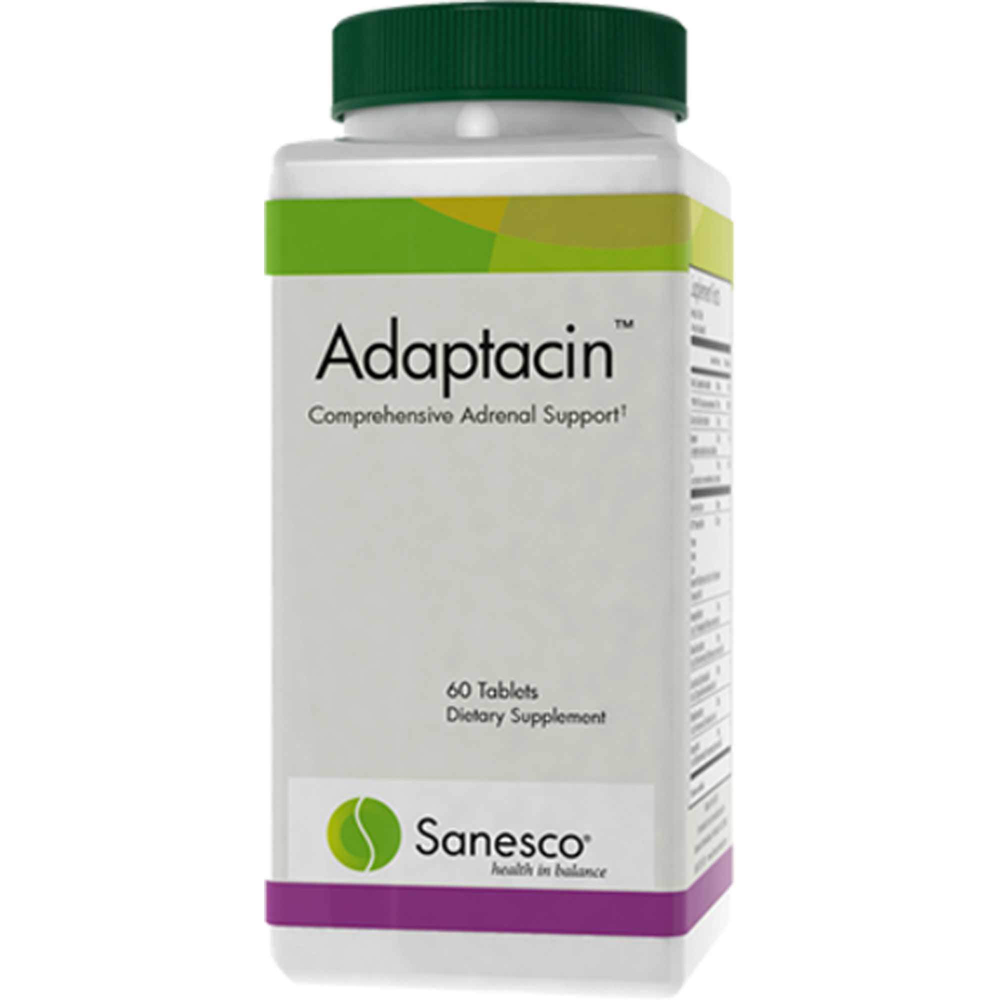 SKU: SAN-5009
The Adaptacin™ formula combines adaptogens with the adrenal cortex glandular. The adaptogens in Adaptacin are herbs that attenuate the effects of stress.* Together, these ingredients tonify the adrenal gland and support adrenal function.*
The NeuroSupport Blend™ (NSB) enhances absorption.* Improved absorption allows for smaller doses and fewer capsules.
Use Adaptacin to support a healthy adrenal rhythm during either the Initial, Restoration or Maintenance phases of the path to wellness.* Adaptacin is typically recommended once inhibitory support (Prolent™, Lentra™, Tranquilent™) begins. It may be used in conjunction with excitatory support (Contegra™ and  Procite-D™) for patients in need of adrenal support.*
2 capsules daily or as recommended by healthcare provider.
Serving Size:
1 tablet
Amount Per Serving:Vitamin C
… 100mg
(as magnesium ascorbate)
Pantothenic Acid
… 100mg
(as d-calcium pantothenate)
Magnesium
… 33mg
(as magnesium ascorbate and amino acid chelate)
Zinc
… 10mg
(as monomethionine)
Bovine Adrenal Cortex
… 300mg
(Freeze-Dried / Lyophilized)
NSB™ Proprietary Blend
... 102.5mg
[Protease, Amylase, Lipase, BioPerine® (Black Pepper Extract)(standardized to 95% piperine) (Piper nigrum) (fruit)]
Ashwagandha
… 100mg
(Withania somnifera) (root) (std. to 5% withanolides)
Siberian Ginseng Extract
… 50mg
(Eleutherococcus senticosus) (root) (std. to 0.8% eleutherosides)
Licorice Extract
… 50mg
(Glycyrrhiza glabra) (root) (std. to 20% glycyrrhizic acid)
Bioflavonoids 2:1 ratio with vitamin C
… 50mg
Panax Ginseng
… 25mg
(Panax quinquefolium) (stem, leaves, and root) (std. to 10% ginsenosides)
Other Ingredients:
Microcrystalline cellulose, croscarmellose sodium, silicon dioxide, dicalcium phosphate, and pharmaceutical glaze.
Contains:
Bovine Adrenal Cortex: BSE not known to exist in country of origin.
Does not contain
: wheat, soy protein, peanuts, tree nuts, yeast, dairy, corn, artificial colors, flavors, sugars, or preservatives.
Trademarks:
BioPerine® is a registered trademark of Sabinsa Corporation, U.S. Patent #5,536,506
NSB™ is a trademark of Sanesco International Inc.
If you are pregnant, nursing or taking any medications, consult your clinician before use. Discontinue use and consult your clinician if any adverse reactions occur.