AdreCor with Licorice Root
NeuroScience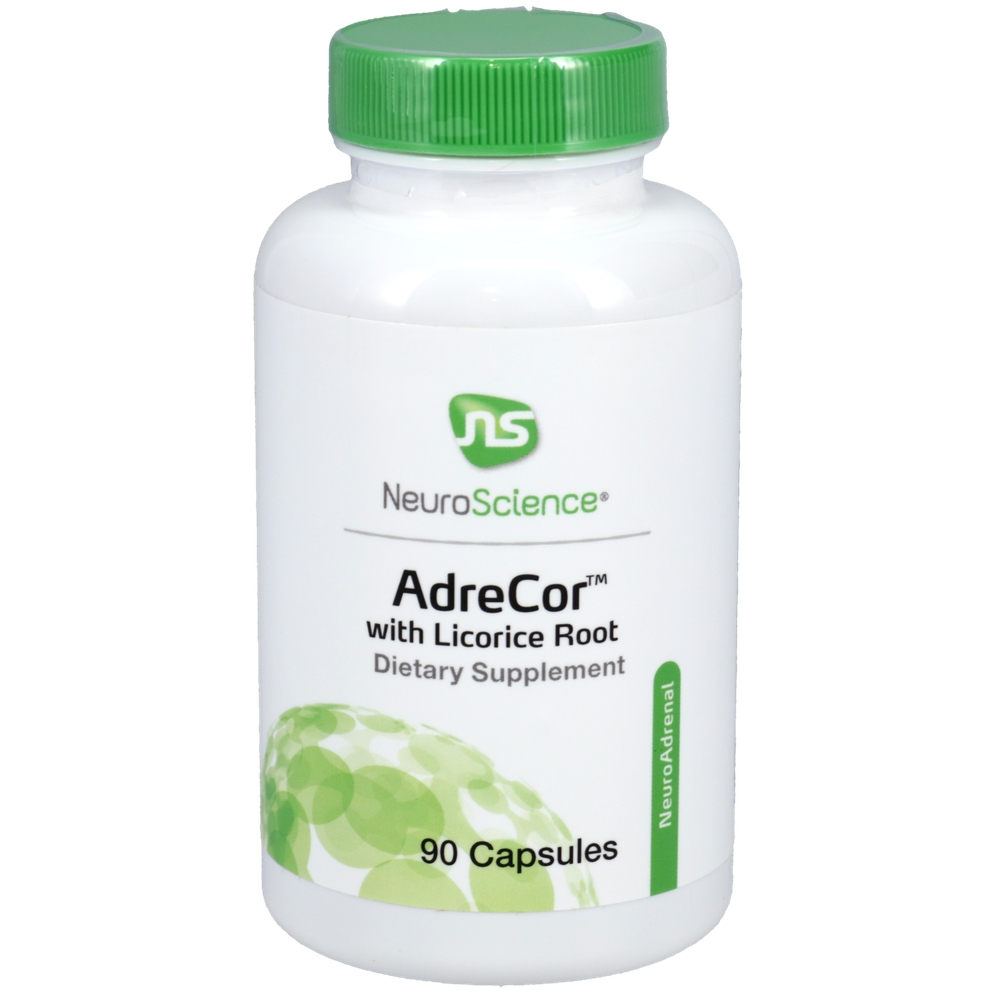 SKU: NEU-2097
Increases cortisol levels and provides non-glandular ingredients important for adrenal health, energy, wakefulness, and stress management*
Key ingredients
Glycyrrhizic acid (from Licorice root extract): Glycyrrhetinic acid (metabolite of glycyrrhizic acid) binds 11β-hydroxysteroid dehydrogenase 2 (11β-HSD2) to inhibit the breakdown of cortisol (1, 2).*
L-histidine: Precursor to histamine. In the central nervous system, histamine plays an important role in the release of pituitary hormones and wakefulness (3).
L-methionine: Precursor to S-adenosylmethionine (SAMe) (4). SAMe is directly involved in methylation processes including catecholamine synthesis (5).
L-tyrosine: Precursor to catecholamines including dopamine, norepinephrine, and epinephrine.
Rhodiola Rosea root extract (5% rosavins): Adaptogen that has been shown to reduce stress-induced effects (6, 7).* In a randomized, double-blind, placebo-controlled study, Rhodiola Rosea was shown to significantly improve mental fatigue and general well-being under stress (7).*
Green tea leaf extract (Camellia sinensis) (65% EGCG): Epigallocatechin gallate (EGCG) is a polyphenol in green tea that provides antioxidant protection by its ability to scavenge free radicals and metal ions (8).* EGCG has been shown to increase resistance to fatigue in animal models (9).*
Vitamins B and C: Active forms of pantothenic acid, niacin, B6, folate, B12, and C are important for the synthesis of adrenal hormones and neurotransmitters (10-14).*
References
van Gelderen C, et al. Hum Exp Toxicol. 2000;19(8):434-9.
Chapman K, et al. Physiol Rev. 2013;93(3):1139-206.
Krystal A, et al. Sleep Med Rev. 2013;17(4):263-72.
Duncan T, et al. Mol Nutr Food Res. 2013;57(4):628-36.
Mischoulon D and Fava M. Am J Clin Nutr. 2002;76(5):1158S-61S.
Chiang H, et al. J Food Drug Anal. 2015;23(3):359-69.
Spasov A, et al. Phytomedicine. 2000;7(2):85-9.
Legeay S, et al. Nutrients. 2015;7(7):5443-68.
Teng Y and Wu D. Pharmacogn Mag. 2017;13(50):326-31.
Ragaller V, et al. J Anim Physiol Anim Nutr (Berl). 2011;95(1):6-16.
Vrecko K, et al. Biochim Biophys Acta. 1997;1361(1):59-65.
May J, et al. Brain Res Bull. 2013;90:35-42.
Antoniades C, et al. Circulation. 2006;114(11):1193-201.
Mattson M and Shea T. Trends Neurosci. 2003;26(3):137-46.
Take 1-3 capsules one to two times daily or as directed by your healthcare provider.
Serving Size: 3 Capsules
Amount Per Serving
Vitamin C ... 300mg
(as ascorbic acid)
Niacin ... 6mg
(as niacinamide)
Vitamin B6 ... 12mg
(as pyridoxal 5-phosphate)
Folate ... 120mcg
(from (6S)-5-methyltetrahydrofolic acid, glucosamine salt**)
Vitamin B12 ... 60mcg
(as methylcobalamin)
Panthothenic acid ... 300mg
(as D-calcium pantothenate)
Magnesium ... 14mg
(as magnesium bisglycinate chelate)
Zinc ... 3mg
(as zinc bisglycinate chelate)
Glycyrrhizic acid ... 120mg
(from Licorice root extract)
Proprietary Blend ... 587mg
L-histidine, L-methionine, L-tyrosine, Rhodiola Rosea root extract (5% rosavins), and Green tea (Camellia sinensis) leaf extract (65% epigallocatechin gallate)
Other Ingredients: Microcrystalline cellulose, Vegetable capsule (Hypromellose, water), and Magnesium stearate (vegetable source).
**This product uses Gnosis S.p.As (6S)-5-methyltetrahydrofolic acid, glucosamine salt (Quatrefolic®) and is protected by U.S. Patent No. 7, 947, 662. Quatrefolic is a registered trademark of Gnosis S.p.A., Milan, Italy.
If you are pregnant or nursing, consult your healthcare provider before use.