Adreno Restore
Seroyal/Genestra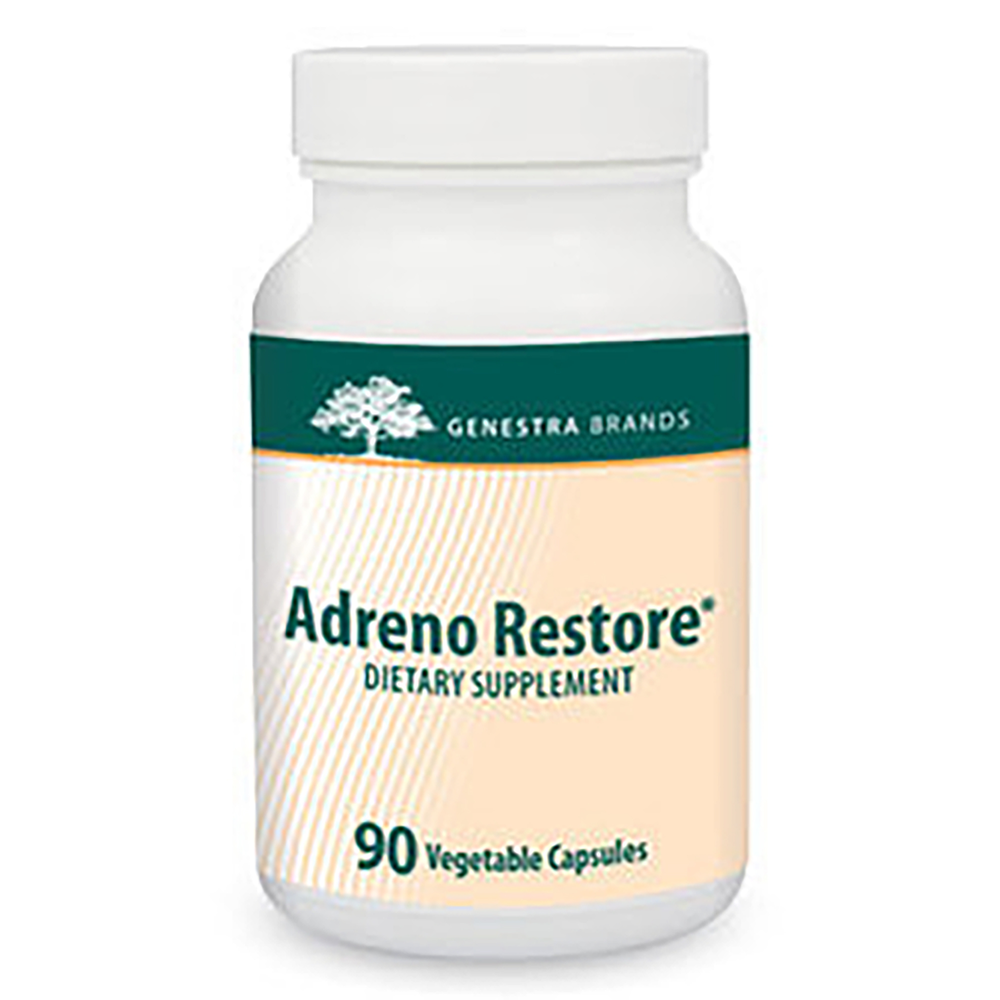 SKU: GN-07333
Restorative combination of adaptogenic herbal extracts*
Includes standardized extracts from ashwagandha, rhodiola, and eleuthero root
Helps the body respond to mental and physical stress*
Promotes energy metabolism and physical working capacity*
Maintains healthy adrenal hormone function*
Supports general mental wellness*
Adreno Restore* is a restorative formula containing rhodiola and eleuthero root extracts. By mediating neurotransmitter activity and nervous system responses, these adaptogenic herbs support cognitive function and mental performance, even after occasional mental and physical stress. Clinical research demonstrates that daily supplementation with 100-200 mg of rhodiola extract significantly supports mental and physical wellbeing during stress, promotes coordination in athletes, regulates fatigue in stressful situations, and provides antioxidant protection. Daily supplementation with eleuthero root has been shown to help the body adjust to mental, physical and metabolic stress, and support physical working capacity. Adreno Restore* also includes a standardized extract from ashwagandha, a plant used in traditional Ayurvedic medicine.*
Recommended Adult Dose: Take three capsules daily with a meal, a few hours before or after taking medications, or as recommended by your healthcare practitioner. Not to be taken immediately before bedtime.
Serving Size: 3 capsules
Amount per serving
Vitamin C … 375mg
(as magnesium ascorbate)
Vitamin B6 … 24mg
(as pyridoxal 5-phosphate)
Vitamin B12 … 400mcg
(as methylcobalamin)
Pantothenic Acid … 100mg
(as calcium d-pantothenate)
Magnesium … 105mg
(as magnesium glycinate / ascorbate)
Zinc … 6mg
(as zinc citrate)
Ashwagandha … 200mg
(Withania somnifera) (Root Std. Extract) (5-8:1) (1000-1600 mg Dried Equivalent / 7% Withanolides)
Rhodiola … 200mg
(Rhodiola rosea) (Root Std. Extract) (3% Rosavin, 1% Salidroside)
Eleuthero … 200mg
(Eleutherococcus senticosus) (Root Std. Extract) (15:1) (3000 mg Dried Equivalent / 0.8% Eleutherosides)
Other Ingredients: Hypromellose, ascorbyl palmitate, cellulose, silica
Guaranteed to contain no added wheat, starch, yeast, gluten, soy, sodium, sugar, artificial coloring or flavoring, dairy or animal products.
Ideal for vegans.
The capsules are made from 100% pure vegetable sources, free of preservatives and additives.
Quality Assurance: Safety-sealed for your protection and for product freshness. Do not use if outer seal is missing or broken. Store in a cool, dry place. Keep out of reach of children.
Risk Information: If you have bipolar disorder, bipolar spectrum disorder, or high blood pressure, do not use. If you are pregnant or breastfeeding; if you are taking any prescription medication including antidepressant or sedative medication, birth control, or hormone replacement therapy (HRT); or if you have any type of acute infection, consult your healthcare practitioner prior to use. If you experience irritability or insomnia, discontinue use.