Advanced Enzyme System™
Rainbow Light Nutrition
90 capsules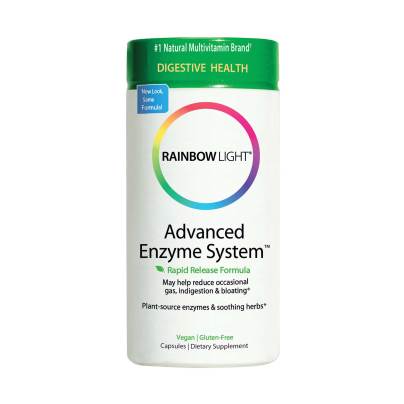 SKU: RLN-35101
Advanced Enzyme System
Suggested Usage: 1 capsule with or before each meal, or may be sprinkled on food immediately prior to consumption.

Supplement Facts:
Serving Size 1 Capsule
Ingredients:
Plant-Source Enzymes 86 mg
Amylase 3,000 DU
Glucoamylase 7 AGU
Lipase 60 LU
Protease 7,500 HUT
Invertase 100 SU
Malt diastase 243 DP
Cellulase 200 CU
Bromelain 39,800 PU
Lactase 100 ALU
Papain 38,870 PU
Digestive Food & Herb Blend 135 mg
Green Papaya 30 mg
Apple Pectin 30 mg
Ginger [rhizome] 20 mg
Turmeric [rhizome] 15 mg
Fennel [seed] 15 mg
Sea Vegetable Complex (Bladderwrack, Nori, Wakame) 15 mg
Peppermint [herb] 10 mg
Other Ingredients: microcrystalline celulose, beet root fiber, magnesium stearate. Capsule: modified vegetable cellulose, water.
It looks like there are no similar
products available