Advanced Neurotransmitter Support
Neurobiologix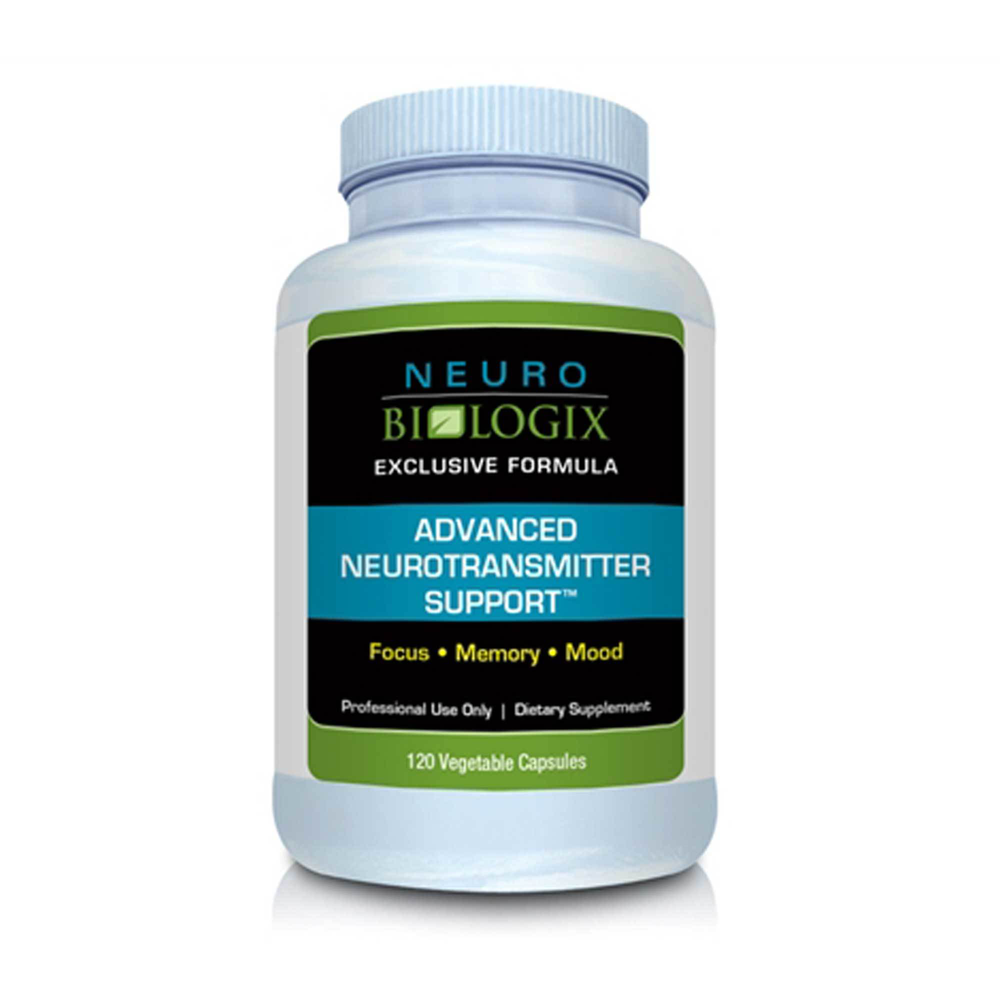 SKU: NEU866-37
Optimal Methylation and Dopamine Processing Support Formula
EXCLUSIVE Formula created by Dr. Kendal Stewart, M.D. This product may help:
Improve Attention & Concentration Levels*
Boost Cognition & Motor Activity Skills*
Improve Learning & Behavior*
Improve Sleep Patterns*
Reduce Cravings*
Improve Mood*
This neurotransmitter support formula features nine key ingredients that have been shown to assist in dopamine production and processing and to maximize vitamin transport to the nervous system. This EXCLUSIVE formula for Neurobiologix was created by Kendal Stewart, M.D., a nationally renowned Neurotologist/NeuroSensory Specialist. This formula is custom designed for optimal methylation support as indicated by abnormal homocysteine levels and/or symptoms of dopamine deficient neurological disorders. Dopamine is an important neurotransmitter in the brain that has many functions, including important roles in behavior, cognition, motor activity, sleep, mood, attention, concentration and learning.
Suggested Use:
Children take 1-2 capsules daily / Adults take 4 capsules daily or as recommended by your healthcare practitioner.
Below is the following recommendation for those who cannot swallow pills and for mixing in liquid:
Pour 3 oz of water or beverage of choice in a blender, pour in the recommended powder from capsules and blend for 10 seconds. Drink immediately after mixing
Serving Size:
4 Capsules
Amount Per ServingNiacin
... 500mg
(as nicotinamide)
Vitamin B-6
... 10mg
(as pyridoxal-5'-phosphate)
Vitamin B-12
... 250mcg
(as methylcobalamin)
Choline Citrate
... 100mg
Magnesium
... 100mg
(as magnesium citrate)
Inositol Hexanicotinate
... 500mg
Trimethylglycine
... 500mg
L-Methionine
... 400mg
L-Taurine
... 300mg
Phosphatidylserine Serine
... 100mg
(from sunflower, soy-free)
Huperzine A extract
... 200mcg
(Huperzia serrata)(aerials) (from 20 mg Toothed Clubmoss)
Other Ingredients:
Hydroxypropyl methylcellulose (vegetable capsule), microcrystalline cellulose, rice flour, natural orange flavor, stevia extract (steviol glycosides), ascorbyl palmitate, silica.
Free of:
Wheat, gluten, corn protein, yeast, dairy products, artificial sweeteners, colors or preservatives.
Caution:
Temporary flushing, itching or warming of the skin may occur. Do not use if you have gout, diabetes, liver dysfunction or are pregnant. Keep out of reach of children.
Storage:
Keep tightly closed in a cool, dry place.