Albizia Complex
MediHerb
40 tablets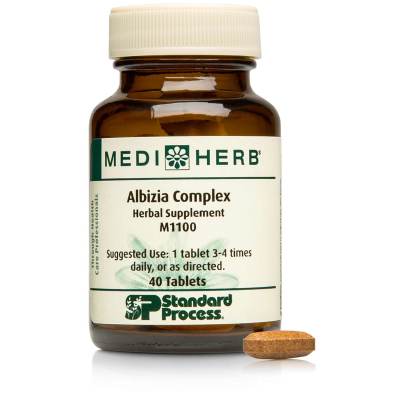 SKU: MDH-M1100
Albizia Complex contains Albizia, Chinese Skullcap and Feverfew to support a healthy response to seasonal stressors and maintain normal respiratory tract function. These herbs have been traditionally used in herbal preparations to:
Maintain normal respiratory tract and healthy skin
Assist in maintaining healthy breathing passages to support normal breathing
Respond normally to occasional seasonal stresses*
Take 1 tablet 3 - 4 times daily, or as directed.
Serving Size:
1 Tablet
Amount Per ServingCalories
... 2
Calcium
... 50mg
Chinese Skullcap root 4:1 extract
... 200mg
from Scutellaria baicalensis root 800 mg
Albizia stem bark 8:1 extract
... 100mg
from Albizia lebbeck stem bark 800 mg
Feverfew leaf & stem 5:1 extract
... 10mg
from Tanacetum parthenium leaf & stem 50 mg
Other Ingredients:
Cellulose, calcium phosphate, sodium starch glycollate, silica, hypromellose and magnesium stearate.
Caution:
Contraindicated in individuals with known hypersensitivity to Feverfew, parthenolide or other members of the daisy family. Not to be used during pregnancy and lactation unless otherwise directed by a qualified healthcare professional.