Alive! Once Daily Womens Multi (Ultra Potency)
Nature's Way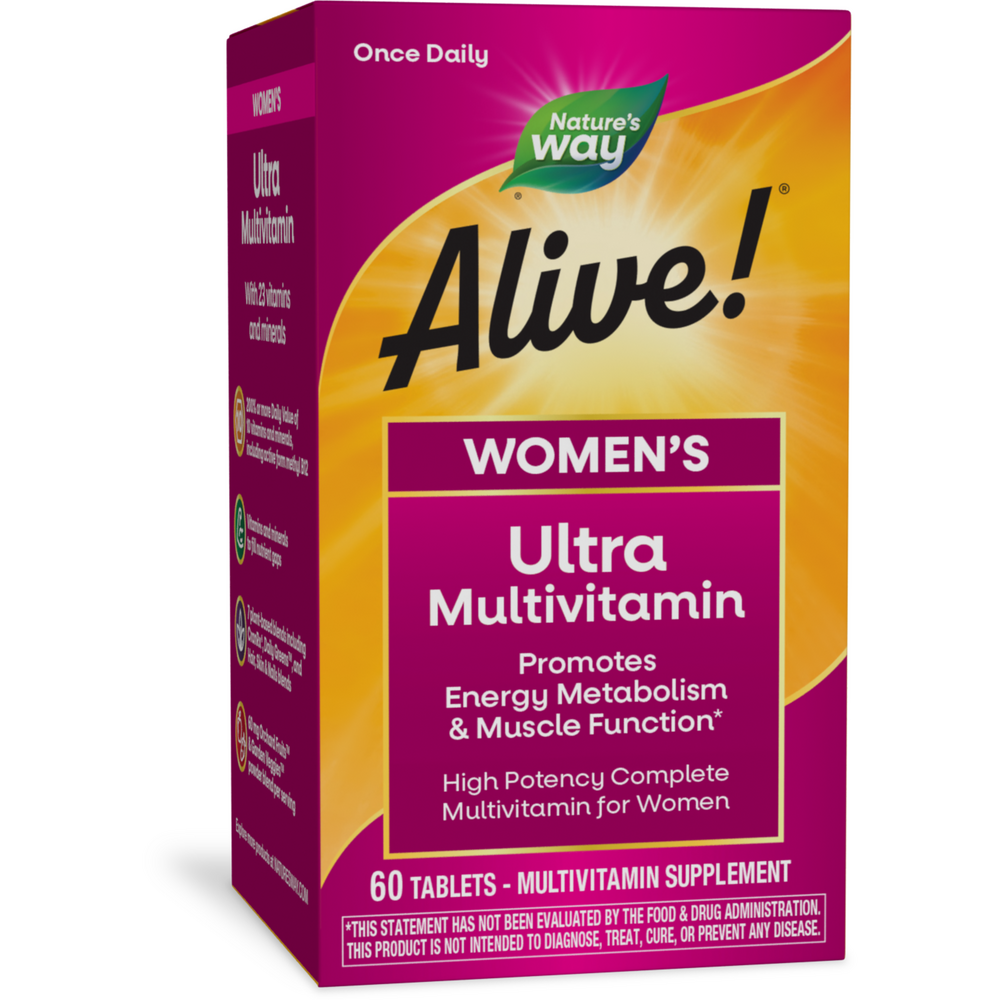 SKU: NW-15686
Alive! Once Daily Womens is the most complete and nutritionally diverse once daily multivitamin optimally balanced to support womens health; featuring unique nutrient blends such as horsetail, MSM and Tru-OPCsTM to support hair, skin and nails, CranRx for urinary anti-adherence and resveratrol, CoQ10 and hawthorn for cardiovascular support, and higher potencies of ingredients to support bone health and breast health.
Alive! Ultra Potency formulas are the most complete, nutritionally diverse and invigorating once daily multivitamins complete with:
-24 vitamins and minerals
-12 digestive enzymes
-14 green foods
-12 organically grown mushrooms
As with all Alive! Multivitamins, theyre also packed with high potency B-vitamins, 26 fruits and vegetables and nutrients for whole body nourishment to help support bone health, daily energy, colon health, eye health, heart health, and immune defense.
Take 1 tablet daily, preferably with food. As with any supplement, if you are pregnant, nursing or taking medication, consult your doctor before use. Not formulated for children. Do not exceed recommended use.
Serving Size: 1 tablet
Amount Per Serving:
Vitamin A ... 7, 500IU
(50% [3, 750 IU] as vitamin A acetate and 50%
[3, 750 IU] as beta carotene)
Vitamin C ... 120mg
(ascorbic acid)
Vitamin D ... 1, 000IU
(as cholecalciferol)
Vitamin E ... 100IU
(as d-alpha tocopheryl succinate)
Vitamin K ... 100mcg
(as phytonadione)
Thiamin ... 25mg
(as thiamin mononitrate)
Riboflavin ... 25mg
(Vitamin B2)
Niacin ... 50mg
(as niacinamide)
Vitamin B6 ... 40mg
(as pyridoxine HCl)
Folic Acid ... 800mcg
Vitamin B12 ... 100mcg
(as cyanocobalamin)
Biotin ... 325mcg
Pantothenic Acid ... 40mg
(as d-calcium pantothenate)
Calcium ... 200mg
(from Aquamin calcified mineral source Red
Algae Lithothamnion sp. [whole plant])
Iron ... 18mg
(as ferrous fumarate)
Iodine ... 150mcg
(as potassium iodide)
Magnesium ... 100mg
(from Aquamin calcified mineral source Red Algae
Lithothamnion sp. [whole plant], as oxide)
Zinc ... 15mg
(as zinc oxide)
Selenium ... 250mcg
(as sodium selenate)
Copper ... 2mg
(as copper sulfate)
Manganese ... 5mg
(as manganese sulfate)
Chromium ... 250mcg
(as chromium picolinate)
Molybdenum ... 75mcg
(as sodium molybdate)
Orchard Fruits Blend ... 30mg
Pomegranate (seed); Acai Extract (whole palm fruit);
Juice Powders; Grape; Plum; Cranberry; Blueberry;
Strawberry; Blackberry; Bilberry; Cherry; Apricot;
Papaya; Orange; Pineapple
Garden Veggies Juice Powder Blend ... 30mg
Parsley; Kale; Spinach; Wheat Grass; Brussels Sprout;
Asparagus; Broccoli; Cauliflower; Beet; Carrot;
Cabbage; Garlic
Cardiovascular Blend with Resveratrol ... 20mg
Hawthorn (berry); Japanese Knotweed standardized to
50% resveratrol; Coenzyme Q10 (ubiquinone)
CranRx ... 20mg
Urinary Anti-Adherence 100% Whole Cranberry fruit
solids (Early Black variety) standardized to PACs
(proanthocyanidins)
Hair, Skin & Nail Blend with MSM ... 20mg
Horsetail grass (stem, leaf); Methylsulfonylmethane
(MSM); Tru-OPCs grape seed extract standardized to
95% antioxidants (65% oligomeric procyanidins [OPCs],
30% other active polyphenols)
Flax Lignan Blend with SDG Lignans ... 20mg
High lignan flax fiber (seed); Flax lignan extract
(seed hulls) standardized to 20% secoisolariciresinol
diglycoside (SDG) lignans
Green Food/Spirulina Blend ... 20mg
Spi


Warning
Accidental overdose of iron-containing products is a leading cause of fatal poisoning in children under 6. Keep this product out of reach of children. In case of accidental overdose, call a doctor or poison control center immediately.

*This statement has not been evaluated by the Food and Drug Administration. This product is not intended to diagnose, treat, cure or prevent any disease.