Alive! Rice Pea Shake (vanilla)
Nature's Way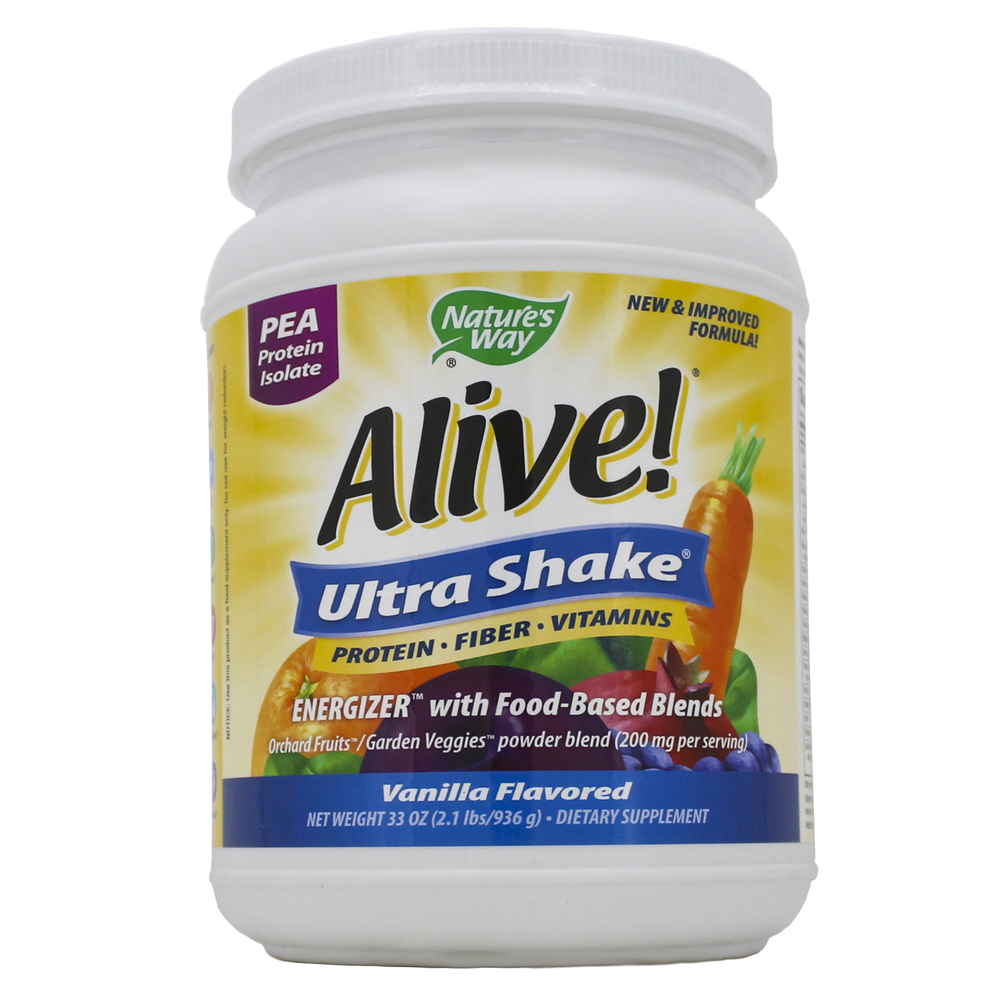 SKU: NW-15545
Alive! Ultra-Shake Pea Protein is a comprehensive whole food multivitamin that serves
as the ultimate nutritional energy source. Each serving contains more fiber and fewer
carbohydrates than other whole food energy shakes PLUS the added benefit of pea protein which is better digested with less allergen potential than whey or soy protein. The powder is easy to mix with water, juice or milk no blender required. Alive! Ultra-Shake Pea Protein is a delicious, protein enhanced, shake mix version of the Alive! Max Potency formula, which means you get the same power-packed nutrients including:
25 vitamins and minerals
10 amino acids
12 digestive enzymes
14 green foods
12 organically grown mushrooms
40+ antioxidants
As with all Alive! Multivitamins theyre also packed with high potency B-vitamins,
20+ fruits and vegetables and nutrients for whole body nourishment to help support bone health, daily energy, colon health, eye health, heart health, and immune defense.
As a dietary supplement, add 1 heaping scoop to 8 fluid ounces of cold water, milk
or juice (scoop included). Shake or stir until smooth. Mixes instantly, no blender
required. Intended to be taken once daily.
Serving Size: 1 Scoop (37g)
Amount per Serving:
Calories ... 120
Calories from fat ... 5
Total Carbohydrate ... 15g
Dietary Fiber ... 4g
Sugars ...9g
Protein ... 15g
Vitamin A ... 15, 000IU
(33% [5, 000 IU] as retinol palmitate and 67% [10, 000 IU] as beta carotene)
Vitamin C ...1g
(as ascorbic acid)
Vitamin D ... 1, 000IU
(as ergocalciferol)
Vitamin E ... 200IU
(as d-alpha tocopheryl succinate)
Vitamin K ... 80mcg
(as phytonadione)
Thiamin ... 25mg
(as thiamine mononitrate)
Riboflavin ... 25mg
(Vitamin B2)
Niacin ... 125mg
(as niacinamide)
Vitamin B6 ... 50mg
(as pyridoxine HCl/pyridoxal 5-phosphate)
Folic Acid ... 400mcg
Vitamin B12 ... 200mcg
(as cyanocobalamin)
Biotin ... 325mcg
Pantothenic Acid ... 125mg
(as d-calcium pantothenate)
Calcium ... 250mg
(as citrate/carbonate)
Iron ... 2mg
(from pea protein)
Iodine ... 150mcg
(as potassium iodide, from kelp/bladderwrack powder)
Magnesium ... 125mg
(as citrate/oxide)
Zinc ... 15mg
(as amino acid chelate)
Selenium ... 200mcg
(as L-selenomethionine)
Copper ... 2mg
(as amino acid chelate)
Manganese ... 5mg
(as amino acid chelate)
Chromium ... 250mcg
(as picolinate)
Molybdenum ... 75mcg
Sodium ... 210mg
Potassium ... 75mg
(as amino acid chelate, from xanthan gum/kelp)
Pea Protein (non-GMO isolate) ... 15g
(Providing amino acids: Glutamic acid, Aspartic acid, Arginine, Leucine, Lysine,
Serine, Phenylalanine, Valine, Isoleucine, Alanine, Proline, Glycine, Threonine,
Tyrosine, Histidine, Methionine, Cysteine, Tryptophan)
Multi-Fiber Blend ... 3.5g
(Oat Fiber, Chicory (root) Extract; Xanthan Gum)
Green Food/Spirulina Blend ... 550mg
(Spirulina (microalgae); Kelp/Bladderwrack (whole thallus); Alfalfa (leaf, stem);
Barley Grass (grass); Dandelion (leaf); Wheat Grass (grass); Melissa (leaf); Lemon
Grass (grass); Nettle (leaf); Blessed Thistle (stem, leaf, flower); Chlorella (broken-
cell microalgae); Plantain (leaf); Blue Green Algae (microalgae); Cilantro (leaf) )
Citrus Bioflavonoid Complex ... 100mg
(from lemon, sweet orange, bitter orange, grapefruit)
(providing: Hesperidin, Naringin, Narirutin, Eriocitrin, Flavonols and Flavones)
Garden Veggies Juice Powder Blend ... 100mg
(Parsley; Kale; Spinach; Wheat Grass; Brussels Sprout; Asparagus; Broccoli;
Cauliflower; Beet; Carrot; Cabbage; Garlic)
Orchard Fru


For those persons with extreme gluten intolerance, they should consult their
healthcare provider before using the Alive! products containing the Green Foods
Blend.

As with any supplement, if you are taking medication consult your doctor before
use.

Do not exceed recommended use.

Keep tightly sealed and out of reach of children.

Store in cool, dry place.

*This statement has not been evaluated by the Food and Drug Administration. This product is not intended to diagnose, treat, cure or prevent any disease.

This information is for information purposes only and is not intended as a
substitute for advice from a physician or other health care professional or any
information contained in product labeling. You should consult a healthcare
professional before starting any diet, supplement or exercise program, before
taking any medication, or if you have or suspect you might have a health problem.