All Natural Gainer Chocolate
Metabolic Response Modifier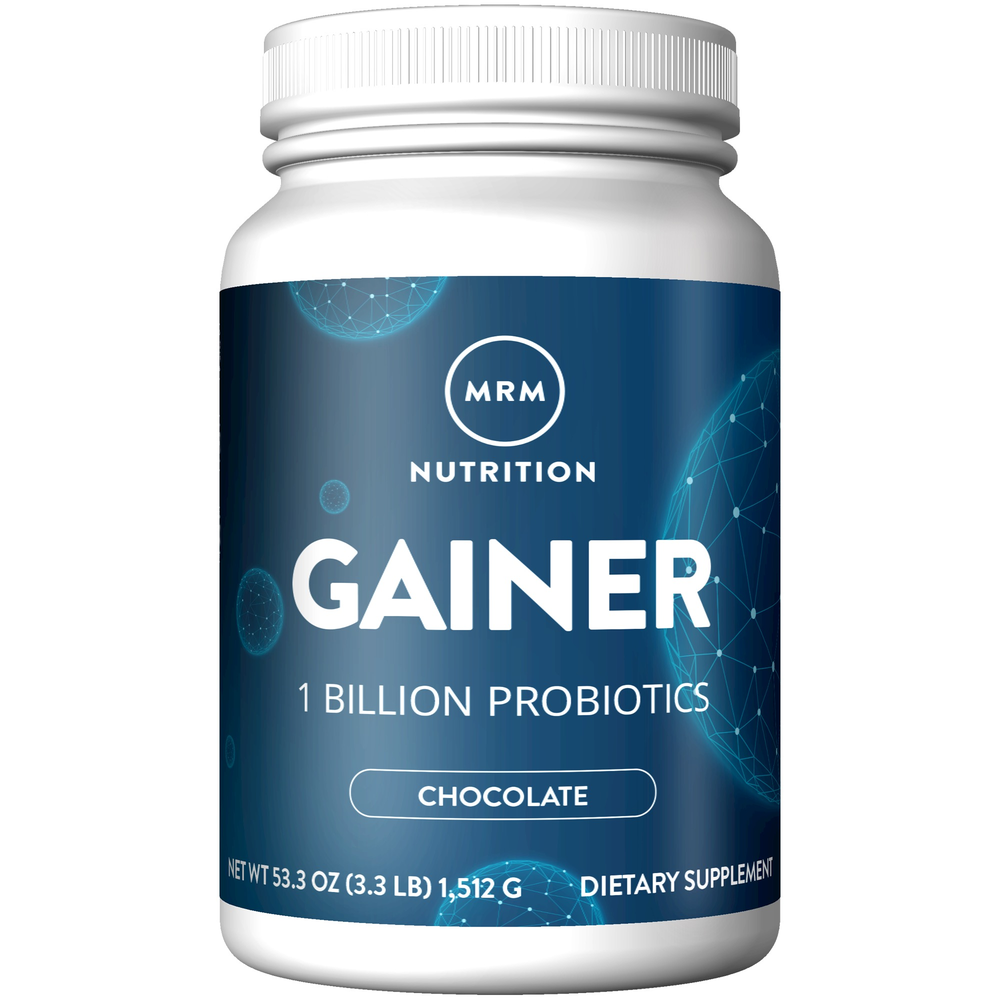 SKU: ME2-73004
All Natural Gainer Chocolate 3.3 lbs.
Dietary Supplement
• NO ARTIFICIAL FLAVORS OR SWEETENERS
• HORMONE FREE AND BSE FREE
• EXCELLENT SOURCE OF FIBER AND OMEGA-3 DHA & EPA
MRM's All Natural Gainer is an ideal health supplement for individuals looking to add useful calories to their diets as well as to increase or maintain lean body mass.** All Natural Gainer makes it simple to add extra calories, in an easy to make, delicious beverage without the hassle of preparing another to-go meal. It was designed for all age groups and active lifestyles.
Three Essential Food Categories with Optimal Ingredients
MRM's unique protein complex provides all the essential amino acids to enhance lean muscle growth.** Natural Protein OptimizerTM is a special combination of ultra-filtered, low temperature processed whey protein concentrate, instantized calcium caseinate, crossflow microfiltered whey protein isolate, micellar casein and enzymes to provide with both immediate and sustained release of amino acids. Natural Protein Optimizer provides optimal amounts of essential amino acids that growing muscles crave, especially BCAA's, Glutamine and Arginine. MRM emphasizes the amount of protein per serving since it is the most prominent macronutrient proven to increase lean muscle mass.**
Additionally, MRM has added trehalose, a slow release energy substrate that renders little to no effect on insulin with maximum effect on energy and minimal fat storage.** All Natural Gainer contains a unique carbohydrate complex consisting of VitaFiber (isomalto-oligosaccharide), glucose polymers (maltodextrin) and "low glycemic index" fructose. This preferable combination of fast, slow and indigestible carbohydrates provides and excellent source of fiber and calories that are less prone to increase "body fat" while offering a long-lasting source of energy and satiety.**
Although fat is a highly concentrated source of energy (double that of protein and carbohydrates), MRM's Opti-Fat blend was precisely chosen for its ability to be metabolized quickly for energy while offering unique benefits to the heart and cell membrane.** Opti-Fat is an all natural fat complex that includes Medium Chain Triglycerides (MCTs), sunflower oil and provides 32 mg of omega-3 fatty acids DHA (docosahexaenoic acid) and EPA (eicosapentaenoic acid) combined. MCTs are well known for their ability to be metabolized quickly into energy, which can spare protein and aid in building lean muscle tissue.** DHA and EPA are long chain omega-3 fatty acids which are mostly deficient in the standard American diet. DHA, specifically, has been widely acclaimed for its structural benefits in brain development and cognition during adolescence and maintaining mental acuity in the elderly.** Combine MRM's All Natural Gainer with a sensible diet and physical exercise program for best overall lean body mass gains.**
Suggested Usage:
Add one serving (2 scoops) to 8-10 ounces of water, skim milk, whole milk or your favorite beverage and shake for 30-60 seconds. Use a serving once a day, or ½ of a serving 2 times a day.
Serving Size: 2 Scoops (approx. 84 grams)
Amount Per Serving
Calories 360
Calories from Fat 60
Sugars 6g
Total Fat 7g
Saturated Fat 2g
Trans Fat 0g
Cholesterol 65mg
Sodium 150mg
Potassium 240mg
Total Carbohydrates 49g
Dietary Fiber 5g
Sugars 6g
Protein 25g
Omega-3 Blend (Algae Source of DHA & EPA) 32mg
Typical Amino Acid Profile
Per 84g - 2 Scoop
Alanine 1180mg
Arginine 590mg
Aspartic Acid 2810mg
Cysteine 320mg
Glutamic Acid 4410mg
Glycine 590mg
Histidine 370mg
Isoleucine 1630mg
Leucine 2400mg
Lysine 2270mg
Methionine 490mg
Phenylalanine 780mg
Proline 1570mg
Serine 1340mg
Threonine 1530mg
Tryptophan 560mg
Tyrosine 650mg
Valine 1530mg

Ingredients: Natural Protein Optimizer [Ultra-filtered, Low Temperature Processed Whey Protein Concentrate (milk), Instantized Calcium Caseinate (milk), Crossflow Microfiltered Whey Protein Isolate (milk), Micellar Casein (milk), Soy Lecithin & Digest-All AP (a vegan enzyme blend)], Maltodextrin, Opti-Fat [sunflower oil, soy lecithin, medium chain triglycerides, omega-3 oil (from algae), Conjugated Linoleic Acid], Fructose, VitaFiber (Isomalto-oligosaccharide), Natural Vanilla Flavors, TreLEAFia (Stevia Leaf Extract, Trehalose, and Monk Fruit Extract) and Salt.

Contains milk and soy.

Contains NO egg, peanut, tree nut, fish, shellfish, wheat, gluten or yeast. Contains less than 1% soy lecithin. No MSG. NO Aspartame or Acesulfame K