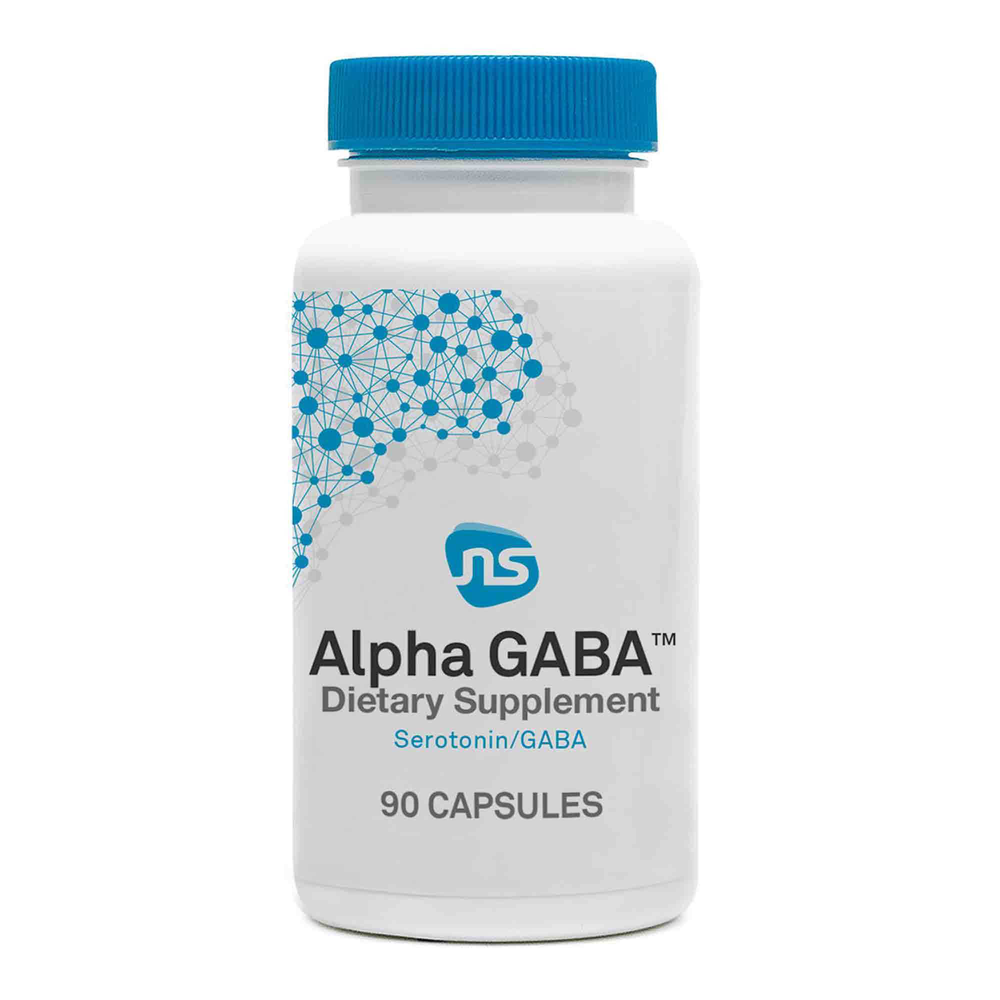 SKU: NEU-20057
Featuring 250mg of ashwagandha (Sensoril®) and 400mg of L-theanine, Alpha GABA™ is a comprehensive anytime blend containing ingredients to promote calm during times of anxiousness while also supporting a healthy response to stress.* Alpha GABA™ is designed for those looking for help handling stress and anxiousness, needing to "downshift" from feeling mentally engaged, or seeking support for relaxation.*

The formula uniquely targets GABA (the primary neurotransmitter for calm and sleep) by utilizing impactful amounts of ashwagandha, passion flower, lemon balm, and L-taurine to broadly support GABA levels and its activity (1).* L-theanine is also included to support the generation of alpha brain waves, which indicate a state of relaxation (2).*

Stress and glutamate increase corticotropin-releasing hormone (CRH), stimulating the HPA axis and adrenal production (3). GABA signaling inhibits CRH, but long-term stress causes decreased GABA receptor expression (3, 4). This in turn increases glutamate receptor expression, which perpetuates the stress response cycle (4).

For those seeking a similar stress blend specifically for sleep support, consider the alternative product Alpha GABA PM.*

NeuroScience is a two decade old, healthcare provider trusted brand whose supplements undergo product specific, independent testing to guarantee label amounts of each ingredients and the absence of heavy metals and microbes.

*These statements have not been evaluated by the Food and Drug Administration. This product is not intended to diagnose, treat, cure, or prevent any disease.

References:
1. Petroff O. Neuroscientist. 2002;8(6):562-73.
2. Juneja L, et al. Trends Food Sci Tech. 1999;10:199-204.
3. Levy B and Tasker J. Front Cell Neurosci. 2012;6(24):1-13.
4. Herman J, et al. Prog Brain Res. 2008;170:353-64.
Take 2-3 capsules up to two times daily or as directed by your healthcare provider. Do not exceed suggested use.

Serving Size: 3 Capsules

Amount Per Serving

Vitamin B6 (as pyridoxal 5'-phosphate) … 2mg
L-theanine … 400mg
Ashwagandha extract (Withania somnifera) (root and leaf) (Sensoril®) … 250mg

Proprietary Blend … 620mg
Passion flower extract (Passiflora incarnata) (aerial parts), Lemon balm extract (Melissa officinalis) (root), and L-taurine.

Other ingredients: Vegetable capsule (hypromellose, water), microcrystalline cellulose, organic rice concentrate, and silica.

Does not contain: Artifical colors or flavors, casein, corn, dairy/milk, egg, fish, gluten, GMO ingredients, hydrogenated oil, lactose, peanut, preservatives, shellfish, soy, or tree nuts.

Ideal for: Vegans and vegetarians.

Sensoril® is protected under U.S. Patent No. 7,318,938 and CA Patent No. 2,508,478, and is a registered trademark of Natreon, Inc.
If you are pregnant or nursing, consult your healthcare provider before use.