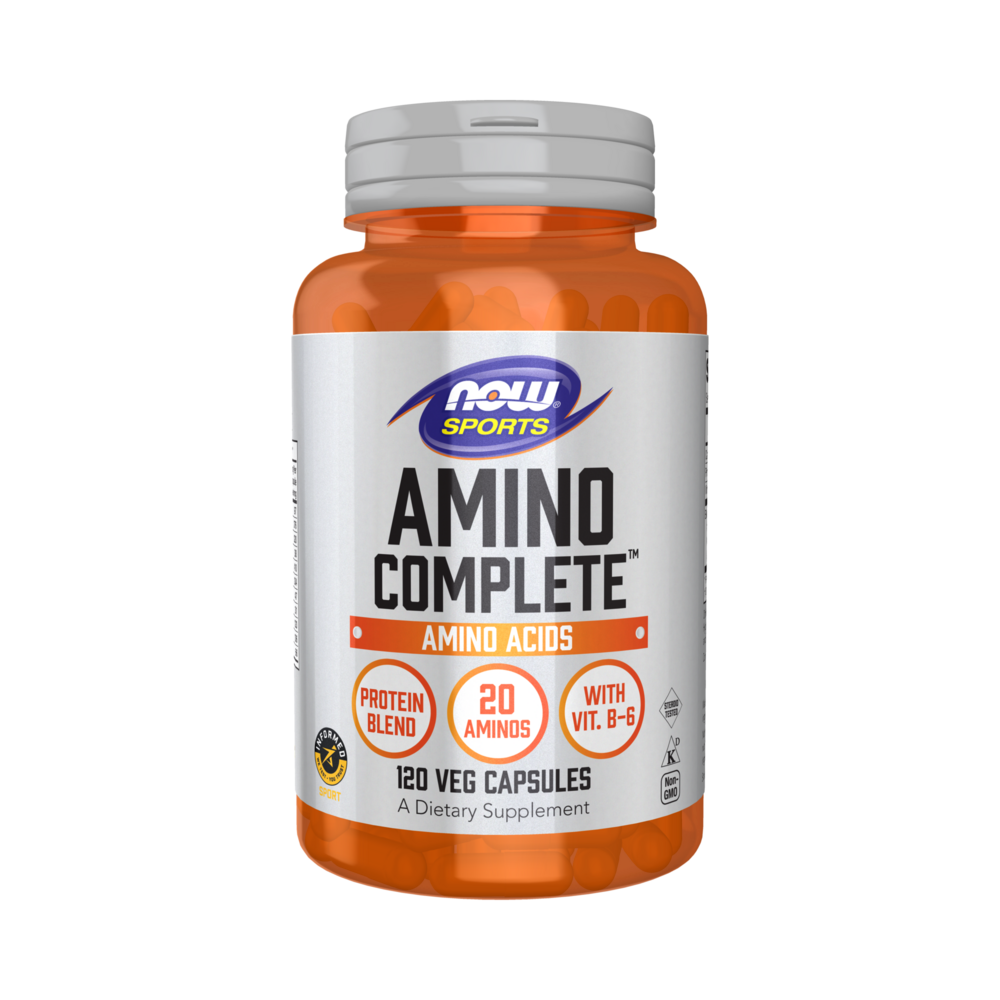 SKU: NOW-0011
Amino acids are the subunits that make up proteins. They are necessary for the function of all cells, for tissue repair, and for the production of enzymes and neurotransmitters. The body uses 20 amino acids to construct proteins. People with limited diets or poor digestion may not get enough essential amino acids from their diet.
As a dietary supplement, take 4 capsules 1 to 3 times daily with or between meals, preferably with juice.
Serving Size: 4 Capsule

Amount Per Serving:
Calories ... 15
Protein ... 3g
Vitamin B-6 ... 13mg
(from Pyridoxine HCl)
Proprietary Blend of Amino Acids from Whey Protein Isolate, Soy Protein Isolate, L-Glutamine, L-Arginine, Sodium Caseinate, L-Ornithine and Gelatin ... 3.0g
(Contains milk and soy proteins)

TYPICAL AMINO ACID PROFILE
Essential Amino Acids
L-Histidine ... 37mg
L-Isoleucine ... 115mg
L-Leucine ... 205mg
L-Lysine ... 185mg
L-Methionine ... 35mg
L-Phenylalanine ... 72mg
L-Threonine ... 141mg
L-Tryptophan ... 37mg
L-Valine ... 141mg
Non-Essential Amino Acids
L-Alanine ... 135mg
L-Arginine ... 306mg
L-Aspartic Acid ... 246mg
L-Cysteine ... 38mg
L-Glutamic Acid ... 454mg
L-Glutamine ... 200mg
Glycine ... 167mg
L-Hydroxyproline ... 44mg
L-Ornithine ... 24mg
L-Proline ... 179mg
L-Serine ... 106mg
L-Tyrosine ... 66mg
Other Ingredients:
Gelatin (capsule), Cellulose, Stearic Acid (vegetable source), Magnesium Stearate (vegetable source) and Silica.
Contains no: sugar, salt, starch, yeast, wheat, gluten, corn, egg, shellfish or preservatives.
Natural color variations may occur in this product.
Do Not Eat Freshness Packet. Keep in Bottle.
Store in a cool, dry place. Please Recycle.