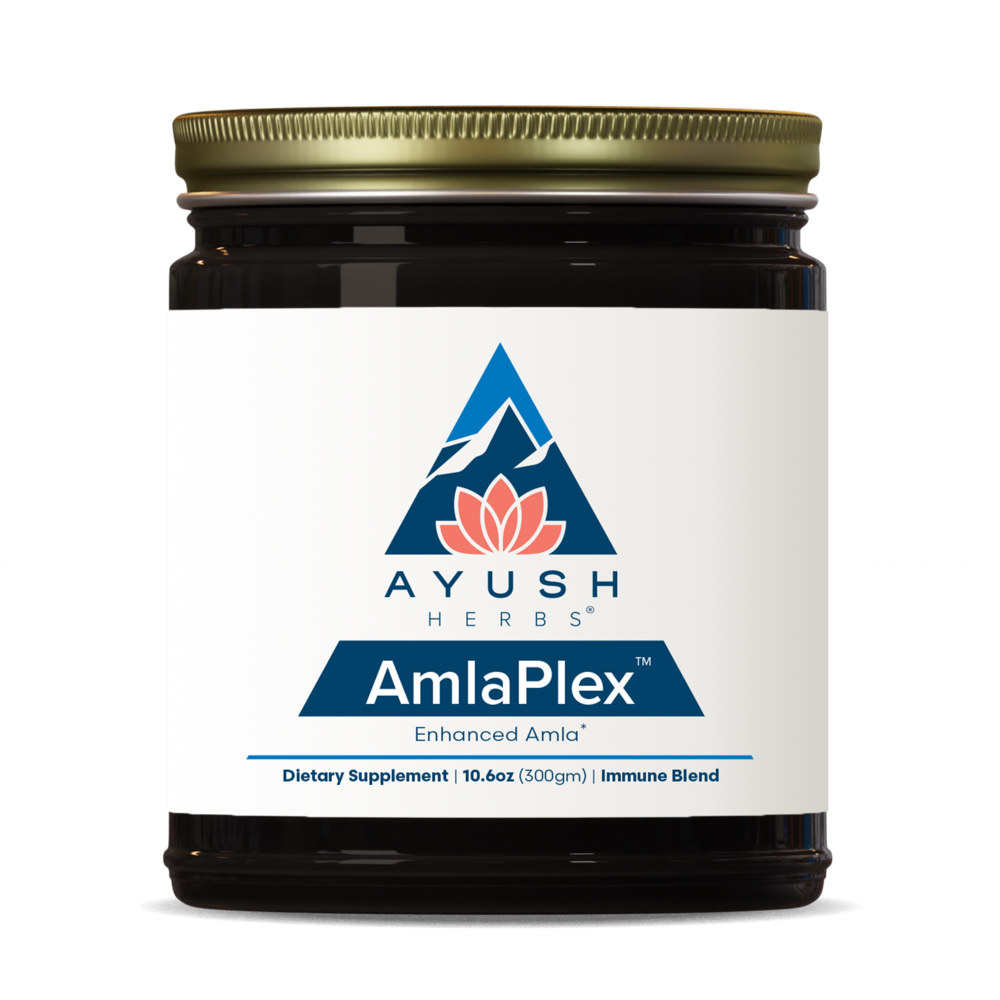 SKU: AY-0001
AMLA PLEX™ is made from 35 select ingredients, including spices and herbal extracts. It is based on a traditional chavanprash recipe from Ayurvedic tradition. This ancient recipe is considered one of the world's finest immune enhancers, and is a natural source of vitamin C, bioflavonoids, and tannins. Its primary ingredient, the amla fruit Emblica officinalis, has traditionally been used as a rejuvenative and an adaptogen. The fruit has documented antioxidant properties.

In Ayurveda, amla is used to promote lean body mass, immune function, and general well-being, and helps maintain blood sugars already within a normal range. In addition, we use only raw organic honey as a sweetener. Along with its many other benefits, it also provides great nutritional support for all ages. Amla Plex™ is a dosha balancer, a rasayana in Ayurveda, and is said to help maintain vitality and youthfulness.



Suggested Use: Take 1 teaspoon daily or as advised by your health care provider.


Serving Size: 1 teaspoon (10 grams)

Amount per serving
Calories … 28
Total Carbohydrate … 6 g
Total Sugars … 4 g
Sodium … 6.6 mg
Proprietary Blend ... 10 mg
Amla, Honey, Sesame oil, Cinnamon, Long pepper, Indian cassia, Adder's mouth orchid, Agarwood heart, Bael tree, Boerhaavia, Chebulic myrobalan, Clerodendrum, Indian elecampane, Indian tinospora, Indian kudzu, Malabar nut tree, Leptadenia, Malay bush beech, Oroxylum, Phyllanthus, Polygonatum cirrhifolium, Sandalwood, Sarivan Tribulu, Three-lobe-leaf cowpea, Uraria picta, Ashwagandha, White Himalayan Lily, Yellow-fruit nightshade, Clove, water, Blue wiss, Jeevak, Cardamom, Mesua, Spanish pellitory

Other Ingredients: water

Dairy Free
Warning: During pregnancy or lactation, please consult your physician before use.

This product can expose you to lead, which is known to the State of California to cause cancer and birth defects or reproductive harm.