AntiOx Original
Allergy Research Group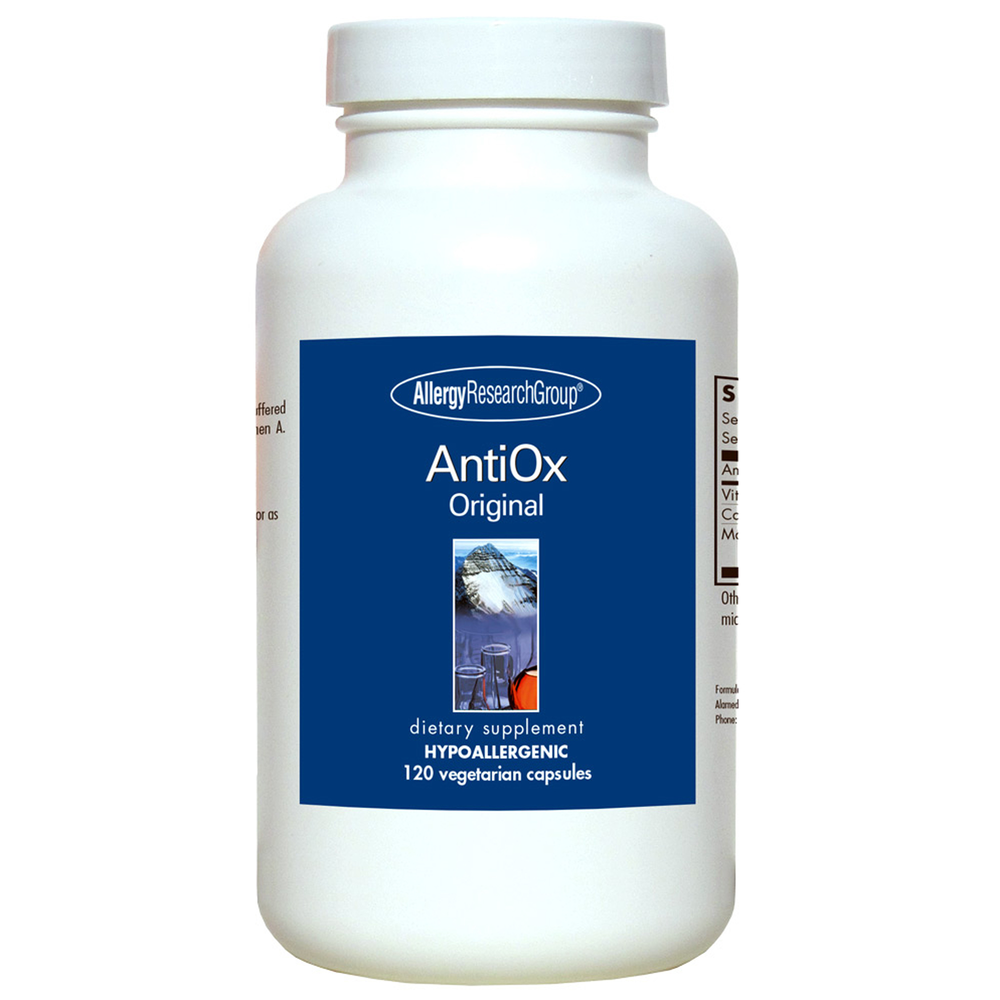 SKU: ARG-70130
Formulated by Stephen A. Levine, Ph.D., this product set the industry standard for antioxidant formulations.
Combines vitamins A, E, and assorted B vitamins along with minerals necessary for healthy cellular detoxification*
Trace minerals selenium and zinc along with B vitamins support antioxidant enzyme function*
Enhanced with L-cysteine, reduced glutathione, and trimethylglycine (TMG)*
As a dietary supplement, 1 capsule one to four times daily with meals, or as directed by a healthcare practitioner.
Serving Size: 1 Capsule
Amount Per Serving:
Vitamin A ... 3750IU
(as Beta-Carotene)
Vitamin C ... 45mg
(as Ascorbic Acid)
Vitamin D3 ... 100IU
(as Cholecalciferol)
Vitamin E ... 150IU
(dl-alpha tocopheryl acetate)
Thiamine ... 19mg
(as Thiamine Hydrochloride)
Riboflavin ... 19mg
(as Riboflavin-5-Phosphate)
Niacin ... 37.5mg
(as Niacinamide)
Vitamin B6 ... 4.5mg
(as Pyridoxal-5-Phosphate)
Pantothenic Acid ... 16.5mg
(as Calcium Pantothenate)
Zinc ... 11mg
(as Zinc Sulfate)
Selenium ... 56mcg
(as Sodium Selenite)
L-Cysteine ... 75mg
Glutathione ... 37.5mg
(reduced)
Trimethylglycine ... 30mg
Other ingredients: Hydroxypropyl methylcellulose, microcrystalline cellulose, silicon dioxide, L-leucine.
Variations in product color may occur. Keep in a cool, dry place, tightly capped.
Taking more than 400mcg of selenium per day from all sources should only be done under the guidance of a healthcare professional.
This statement has not been evaluated by the U.S. Food and Drug administration. The product is not intended to diagnose, treat, cure, or prevent any disease.