Apple Wise Apple Polyphenol Extract
Life Extension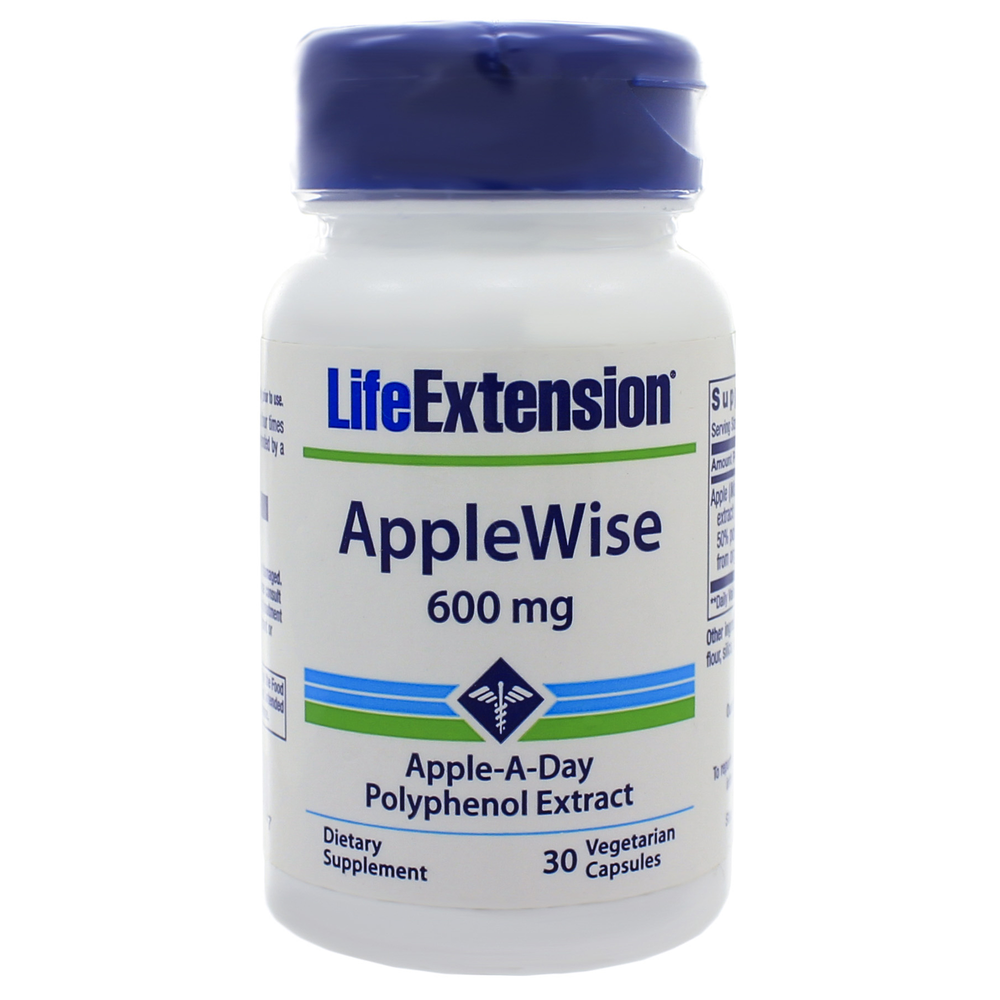 SKU: LIF-01625
Apple polyphenols are powerful antioxidants. They act as powerful anti-glycation agents and promote a healthy inflammatory response. Apple polyphenols also help support a healthy cardiovascular system, cell division, blood sugar levels already within normal range, and healthy immune function.
Benefits at a Glance:
Lowers oxidative stress
Supports blood sugar levels already within the normal range
Supports cardiovascular health
Supports healthy cell division in the colon
Apple Polyphenols May Extend Life by Lowering Oxidative Stress
Apple skins contain many of the polyphenols found in other fruits, but in higher concentrations. One of those compounds is a polyphenol called phloridzin.1-3 Scientists conducting initial investigations found that the use of apple polyphenols increased the life span of various species by 10% to 12% by ramping up gene expression of vital natural cellular antioxidant systems.4-6
Phloridzin Supports Healthy Blood Sugar Levels Already Within Normal Range
The apple polyphenol phloridzin is especially active against glycation, one of the most common causes of normal aging. Phloridzin attacks glycation and its effects at many different levels, starting with blood sugar. Studies show that phloridzin significantly inhibits glucose uptake into intestinal cells, as well as the active transport of glucose out of those cells and into the bloodstream.2-7
Some sugar, of course, is inevitably absorbed, where it forms carbonyl molecules which react with proteins and DNA to form advanced glycation end-products, or AGEs. Phloridzin prevents formation of those carbonyl compounds. Phloridzin also traps any remaining carbonyls that are produced, inhibiting them from reacting with more vulnerable body molecules.3, 8, 9
Supports Cardiovascular Health
Animal studies show that apple polyphenols slow triglyceride absorption by blocking pancreatic lipase, an enzyme specifically required to break down triglyceride fats.10, 11 Blocking pancreatic lipase causes some triglycerides to pass out of the body as waste.12 Additional research has shown that apple polyphenols can increase the protective antioxidant molecule, paraoxonase, by as much as 23%13 to inhibit lipid peroxidation and inflammatory factors.
Supports Healthy Cell Division in the Colon
Apple polyphenols promote colon health by scavenging oxygen free radicals, a potent means of increasing cellular mechanisms and supporting DNA function.14, 15 They also enhance production of natural antioxidant enzymes that colon cells use to protect themselves, 16-19 inhibit enzymes which produce inflammatory cytokines, 20-23 and have been shown to help protect the DNA of colon cells.18, 24 Since health conscious people today obtain a wide range of polyphenols (such as green tea and pomegranate extracts), a daily dose of 300 mg to 600 mg of apple polyphenols may be all that is needed to obtain desired benefits.
Try AppleWise Polyphenol Extract formula today.
References
Phytochemistry. 2010 Jun;71(8-9):838-43.
Mol Biol Rep. 2012 May;39(5):5299-306.
Chem Res Toxicol. 2008 Oct;21(10):2042-50.
Biosci Biotechnol Biochem. 2011;75(5):854-8.
Planta Med. 2011 Jan;77(2):122-7.
J Agric Food Chem. 2011 Mar 9;59(5):2097-106.
Mol Nutr Food Res. 2010 Dec;54(12):1773-80.
Food Funct. 2012 Feb;3(2):178-86.
Chem Res Toxicol. 2011 Aug 15;24(8):1304-11.
J Agric Food Chem.2007 May 30;55(11):4604-9.
Planta Med. 2011 May;77(8):773-85.
J Nutr. 2003 Jun;133(6):1860-5.
Eur J Nutr. 2011 Feb;50(1):53-60.
Mol Nutr Food Res.2006 A


Take one (1) capsule one to four times daily with or without food, or as recommended by a healthcare practitioner.




Serving Size: 1 vegetarian capsule

Amount Per Serving
Apple extract ... 600mg
(Malus domestica) (fruit and skin)
[std. to 50% polyphenols and 5% phloridzin, from organically grown apples]

Other Ingredients: vegetable cellulose (capsule), rice flour, silica, vegetable stearate.




Warnings

KEEP OUT OF REACH OF CHILDREN
DO NOT EXCEED RECOMMENDED DOSE
Do not purchase if outer seal is broken or damaged.
When using nutritional supplements, please consult with your physician if you are undergoing treatment for a medical condition or if you are pregnant or lactating.



It looks like there are no similar
products available