Appley Ever After - Apple Cider Vinegar Tablets
Ora Organic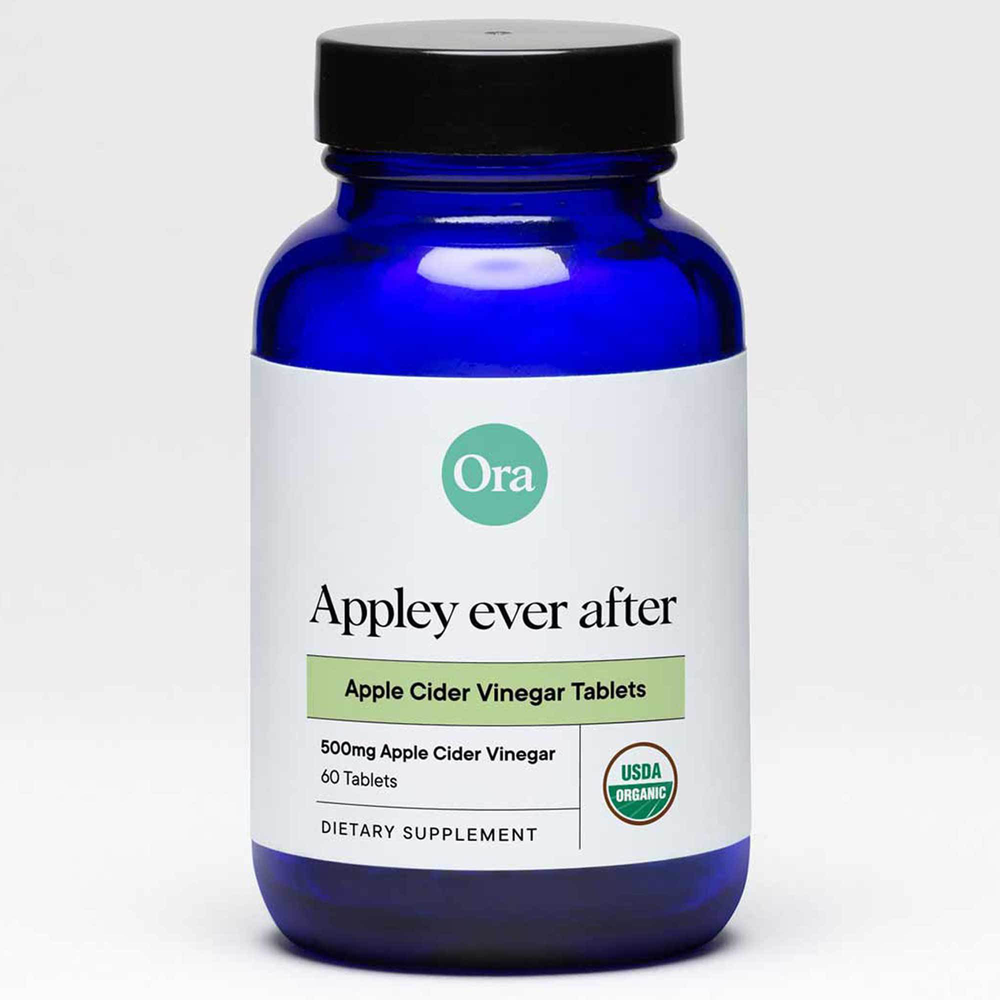 SKU: ORA858-1260T
Have you had a tablespoon of Apple Cider Vinegar before? If you have, you probably remember the pungent smell and acidic taste.
Ora Organics wanted to create a pill which bypasses that burning taste and replaces it with a fresh apple aroma. By taking apple cider vinegar in tablet instead of a liquid, you're also preventing erosion of tooth enamel from acetic acid. Just a little something to smile about.
Appley Ever After is made from the fermented juice of crushed organic apples. These Organic Apple Cider Vinegar Pills contain 500mg of organic apple cider vinegar extract per serving. To help support your body's natural detox reaction to unwanted toxins, we've also included organic milk thistle and organic lemon - both found to be high in antioxidants.
Last but not least, organic black pepper extract is also included in this product to aid in the absorption of the acetic acid (the active ingredient in apple cider vinegar.) Sounds like an Appley Ever After!
Apple cider vinegar has been known to assist the body in its detox reaction to unwanted toxins and for helping maintain healthy weight levels. It's always good to be wary of anything promising to magically reduce your waistline.
Suggested Use:
Take 2 tablets daily. We recommend taking with food in the morning or at lunch.
Serving Size
: 2 Tablets
Amount Per Serving
Ora ACV Blend
... 590mg
Organic Apple Cider Vinegar Powder, Organic Milk Thistle Seed Extract, Organic Black Pepper Extract, Organic Lemon (fruit)


Other Ingredients
: Organic Tapioca Starch, Organic Tapioca Maltodextrin, Organic Apple Flavor.


Contains NO:
Dairy, gluten, soy, GMOs, tree nuts, added sugars, artificial colors, flavors, sweeteners or preservatives.
Warning
: If pregnant, nursing, or taking prescription drugs, consult your healthcare professional prior to use.

Storage: Store in a cool, dry place and keep away from moisture. Refrigeration is not required.