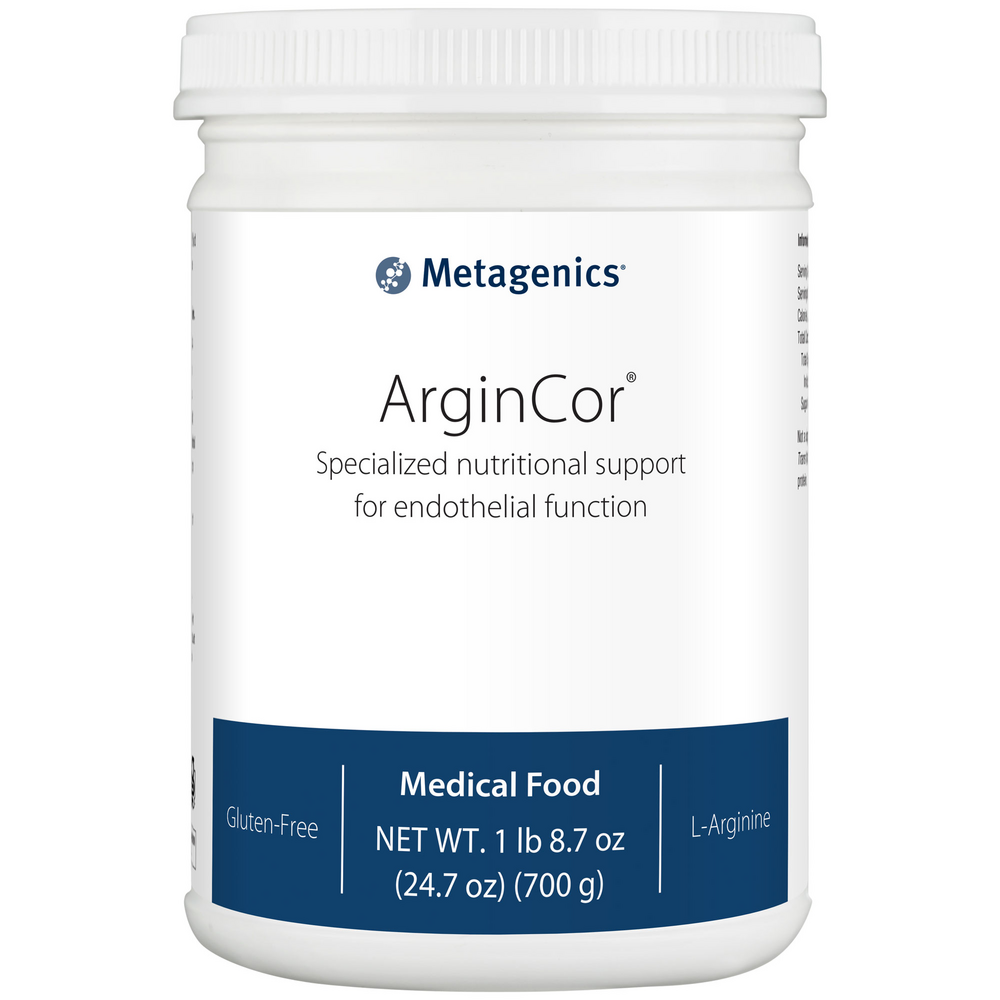 SKU: MET-ARGC
Specialized Nutritional Support for Endothelial Function
ArginCor® is a medical food formulated to provide specialized nutritional support for endothelial function, wound care and blood flow. It provides high quality L-arginine to support wound healing through improved blood flow.
Suggested Use:
Take about two scoops (25 grams) with 8 fluid ounces of water daily or as directed by your healthcare practitioner.
Serving Size:
About 2 scoops (25 g)
Amount Per ServingCalories
... 70
Total Carbohydrate
... 17g
Total Sugars
... 17g
Includes 11g Added Sugars
Thiamin
... 10mg
Folate
... 680mcg DFE
Magnesium
... 200mg
L-Arginine
... 3g
Beet Powder
... 2g
Glycine
... 40mg
Ingredients:
Fructose, L-arginine, citric acid, sorbitol, beet powder, magnesium citrate, natural flavors,† silica, xanthan gum, guar gum, glycine, thiamine mononitrate, and calcium L-5-methyltetrahydrofolate.††
This product is non-GMO, gluten-free, and vegetarian.
This product does not contain high-fructose corn syrup.
†No MSG
††As Metafolin®. Metafolin® is a registered trademark of Merck KGaA, Darmstadt Germany
Caution:
If pregnant or nursing, or taking medications, consult your healthcare practitioner before use. If you have had a myocardial infarction (heart attack), consult your physician before use. Excess consumption of sorbitol may cause gastrointestinal upset. Keep out of the reach of children.
Storage:
Store in a cool dry place.
Contents sold by weight, not volume. Some settling may occur during shipping and handling. Serving size is measured by weight with a scoop included for your convenience. The amount of product contained in 2 scoops may be above or below 25 grams due to variations in handling and product density.
NOTICE:
THIS PRODUCT IS TO BE USED UNDER THE DIRECT SUPERVISION OF A PHYSICIAN OR OTHER LICENSED HEALTHCARE PRACTITIONER.