Arterial Therapy
Integrative Therapeutics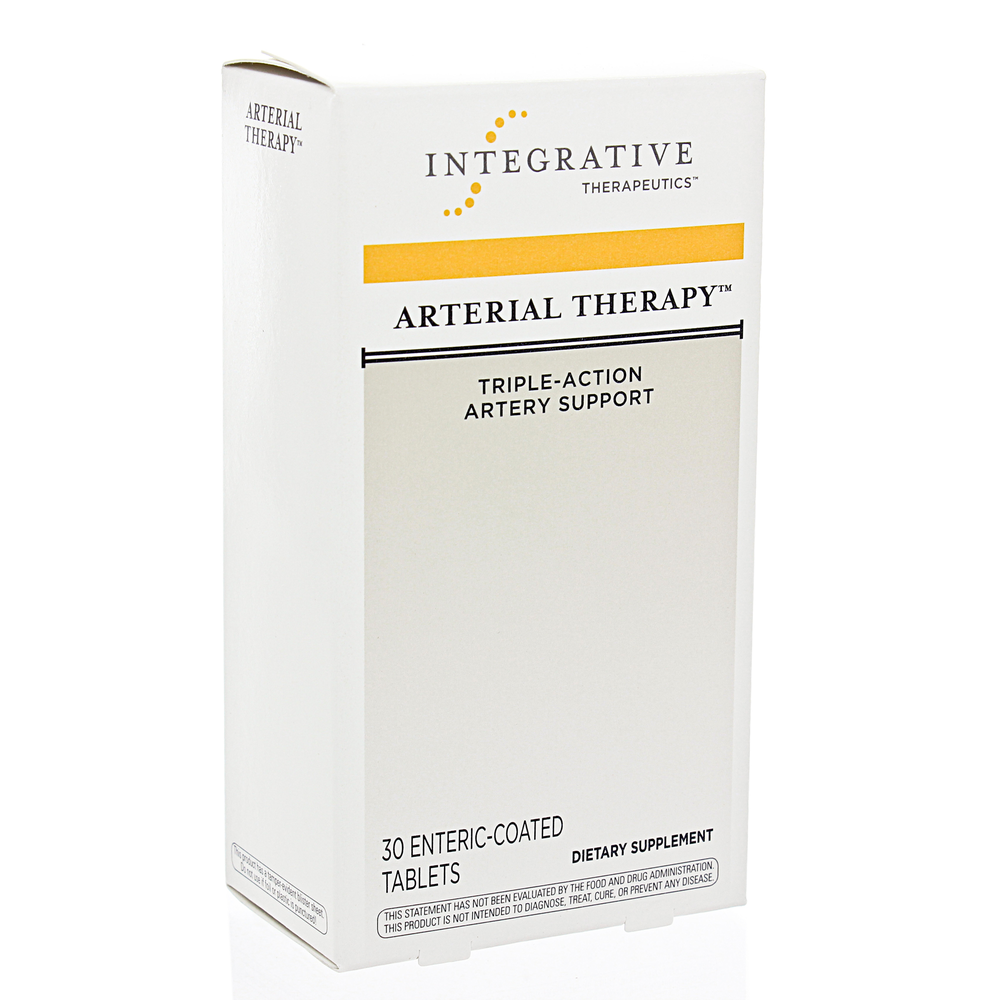 SKU: ITI-72883
Arterial Therapy promotes healthy arteries and blood flow. Arterial Therapy™ triple-action artery promotes calcium transfer from blood to bones.
Arterial Therapy™ triple-action artery support combines an extract of garlic with B vitamins, pomegranate, and Vitamin K2, which promotes calcium transfer from blood to bones to help maintain healthy arteries and support strong bones.
These ingredients work together to provide comprehensive support for:
Healthy arteries
Support of healthy blood homocysteine levels
Maintenance of healthy cholesterol levels (already within healthy limits)
Take 1 tablet daily with food, or as recommended by your healthcare professional. Do not chew or crush.
Serving Size: One Enteric Coated Tablet
Amount Per Serving
Vitamin B6 ... 20mg
(as pyridoxine HCl)
Folic Acid ... 800mcg
Vitamin B12 ... 400mcg
(as methylcobalamin)
Garlic Bulb Extract ... 320mg
(Allium sativum)
standardized to contain 3.8% alliin
Pomegranate Seed Extract ... 50mg
(Punica granatum)
Vitamin K2 ... 45mcg
(menaquinone-7) from Natto (fermented soybean extract)
Other Ingredients: cellulose, rice maltodextrin, sodium carboxymethyl cellulose, hydroxypropyl methylcellulose, silicon dioxide, titanium dioxide color, magnesium stearate, sodium alginate, ethylcellulose, hydroxypropyl cellulose, glycerin, medium chain triglycerides, oleic acid, stearic acid
Contains soy.
This product does not contain
artificial flavoring
corn
dairy products
gluten
ingredients of animal origin
preservatives
salt
sugar
wheat
yeast
WARNING
Do not use this product if you have a bleeding disorder, are taking blood thinning medication, or are within a week of any surgical procedure. If pregnant, nursing, taking Coumadin®‡ (warfarin) or taking any other prescription drugs, consult your healthcare professional prior to use.
It looks like there are no similar
products available