Arthromax Advanced w/UC-II & ApresFlex
Life Extension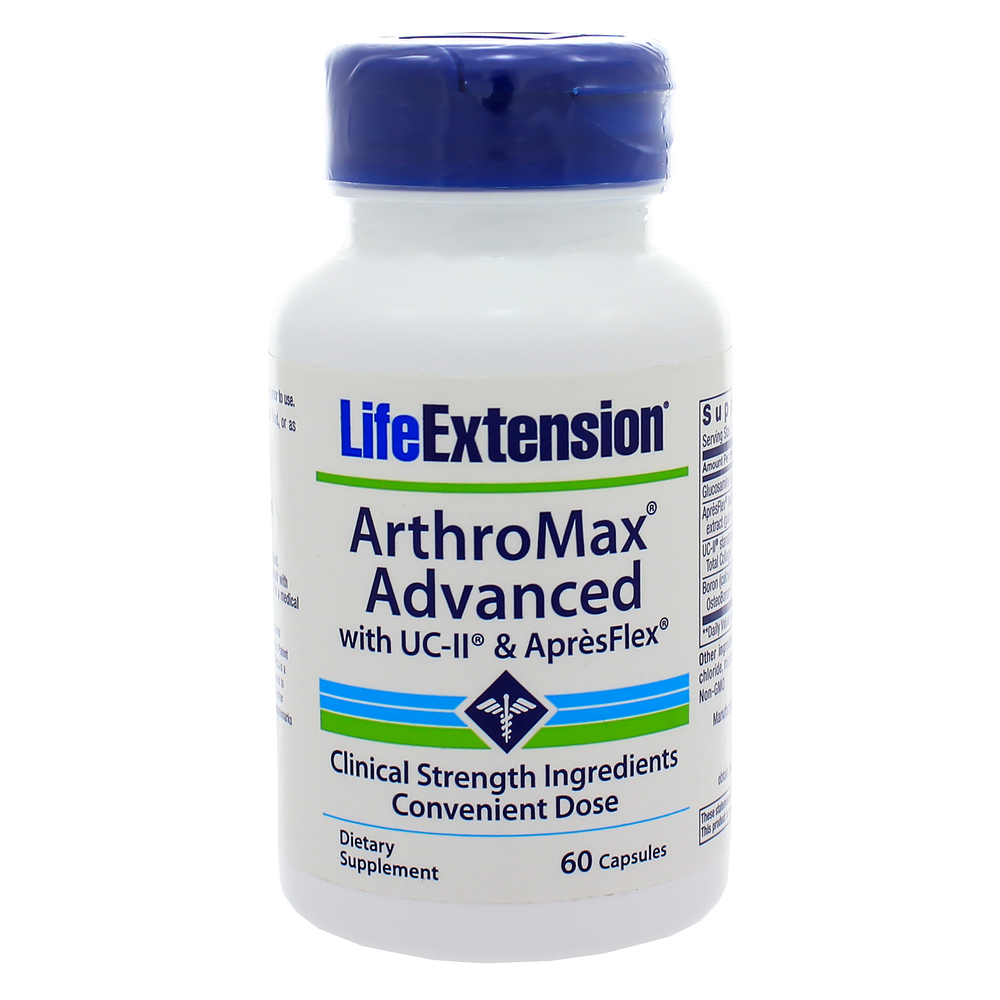 SKU: LIF-01618
As you grow older, age-related stiffness and discomfort in the joints becomes a fact of life. Activities once routine become a challenge as limited mobility hampers your every move.
You now have a more potent option to provide broad-spectrum support for aging joints. ArthroMax® Advanced with UC-II® and AprèsFlex® is a multi-nutrient formula based on the very latest data on natural support for joint health. This ArthroMax™ formula provides more joint support with two innovative, clinically validated ingredients: AprèsFlex® and UC-II®.
AprèsFlex® represents a quantum leap forward in the delivery of boswellia to aging joints. Long prized for its ability to help inhibit inflammatory factors, boswellia is especially effective at inhibiting the 5-LOX (5-lipoxygenase) enzyme.
Excess activity of 5-LOX results in the accumulation of leukotriene B4, a pro-inflammatory compound that affects aging joints. Boswellia has been shown to bind directly to the 5-LOX enzyme, preventing it from facilitating production of pro-inflammatory leukotrienes.69, 70
AprèsFlex® boswellia absorbs into the blood 52% better than previously available forms of boswellia, for superior effectiveness.71
In addition to AprèsFlex®, this ArthroMax® formulation contains a standardized chicken cartilage called UC-II®. Data shows it supports immune health, joint comfort and ease of motion in aging individuals.
References available upon request.
Take two (2) capsules daily with food, or as recommended by a healthcare practitioner.
Serving Size: 2 capsules
Amount Per Serving
Glucosamine sulfate 2KCI ... 1500mg
(derived from corn)
AprèsFlex® Indian frankincense extract ... 100mg
(Boswellia serrata)(gum resin) [std. to 20% AKBAΔ (20 mg)]
UC-II® standardized cartilage ... 40mg
Total Collagen ... 10mg
Boron ... 1.5mg
(calcium fructoborate as patented FruiteX B® OsteoBoron®)
Other ingredients: vegetable cellulose (capsule), potassium chloride, microcrystalline cellulose, vegetable stearate, silica.
Non-GMO
Warnings
KEEP OUT OF REACH OF CHILDREN
DO NOT EXCEED RECOMMENDED DOSE
Do not purchase if outer seal is broken or damaged.
When using nutritional supplements, please consult with your physician if you are undergoing treatment for a medical condition or if you are pregnant or lactating.
Δ3-O-acetyl-11-keto-ß-boswellic acid
UC-II® is a registered trademark of InterHealth N.I. (U.S. Patents 7, 846, 487, 7, 083, 820 and EPO Patent EP1435906B1; Canadian Patent CA 2459981C; and Japanese Patent JP 4800574B2).
AprèsFlex® is a registered trademark of Laila Nutraceuticals exclusively licensed to PL Thomas - Laila NUTRA LLC. U.S. Patent No. 8, 551, 496 and other patents pending.
FruitX B® and OsteoBoron® are registered trademarks of VDF FutureCeuticals, Inc. U.S. Patent No. 5, 962, 049.
These statements have not been evaluated by the Food and Drug Administration. These products are not intended to diagnose, treat, cure, or prevent any disease.