Nutri-Dose B-12 10,000mcg
Protocol for Life Balance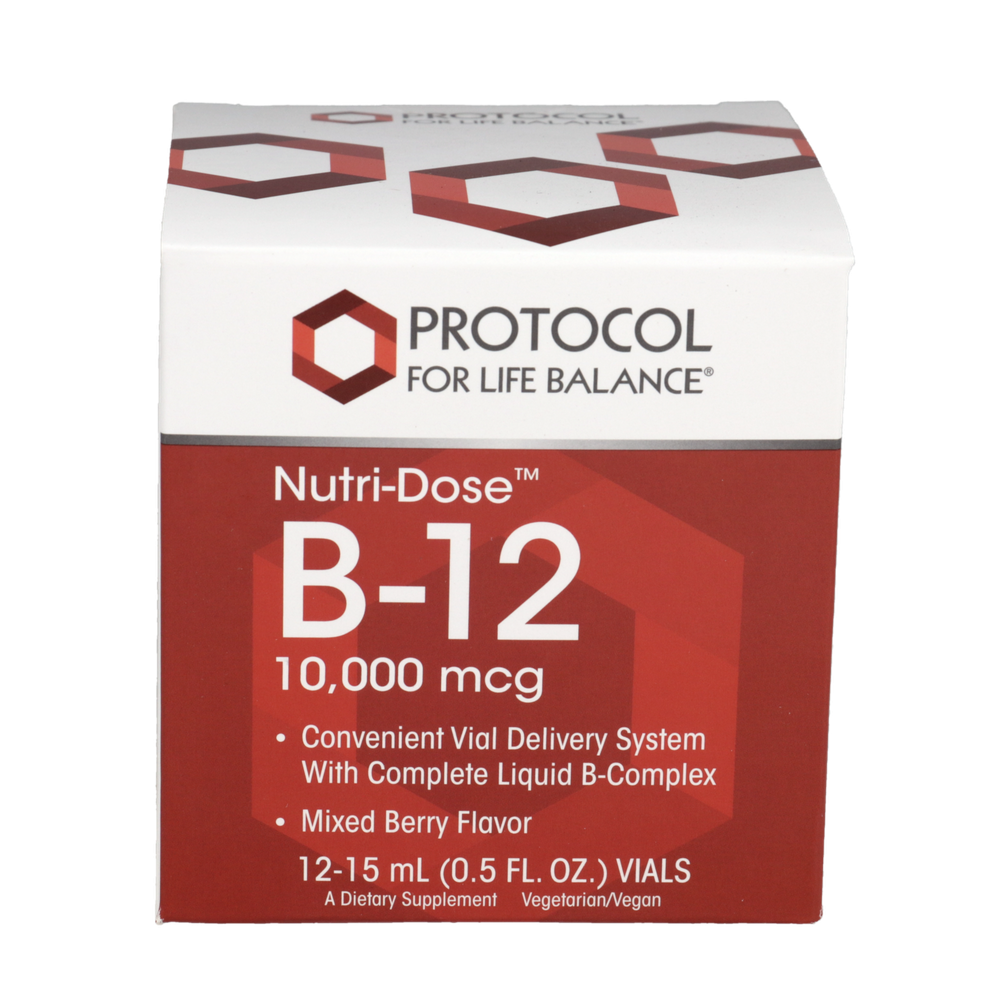 SKU: PROT-P0453
Convenient Vial Delivery System With Complete Liquid B-Complex
Quickly Delivers 10, 000 mcg of Vitamin B12
Provides a Full Spectrum of B Vitamins
Sugar Free, Sweetened with Xylitol
No Artificial Colors or Flavors
Refreshing, Natural Flavor Blend of Raspberry, Strawberry and Cherry
B Vitamins are essential components in most major metabolic reactions as they play an important role in energy production, including the metabolism of lipids, carbohydrates, and proteins.* Vitamin B12 facilitates energy production and is required for nucleic acid (DNA) synthesis, methionine synthesis from cysteine, and normal myelin synthesis in the nervous system.* Along with vitamin B6 and folic acid, adequate levels of vitamin B12 are required to maintain healthy plasma homocysteine levels.* The elderly and strict vegetarians are often at risk for Vitamin B12 deficiency, either due to low dietary intake or decreased absorption.* B12 10, 000 mcg Nutri-Dose™ is a convenient and palatable liquid formulation that is absorbed quickly by the body, delivering rapid, energizing nutrition.*
Shake plastic vial before using. Snap top off of vial and squeeze liquid contents into mouth and swallow. Take 1 vial daily with a meal, preferably in the morning, or as directed by your healthcare practitioner. Please recycle plastic vial.
Serving Size: One Vial (15ml)
Amount Per Serving
Calories ... 25
Total Carbohydrate ... 9g
Total Sugars ... 0g
Added Sugars ... 0g
Sugar Alcohols ... 4g
(Xylitol & Erythritol)
Thiamin ... 3mg
(Vitamin B-1)(from Thiamin HCl)
Riboflavin ... 3.4mg
(Vitamin B-2)(from Riboflavin-5-Phosphate Sodium)
Niacin ... 50mg
(Vitamin B-3)(as Niacinamide)
Vitamin B-6 ... 10mg
(from Pyridoxine HCl)
Folate ... 667mcg DFE (400mcg folic acid)
Vitamin B-12 ... 10mg (10, 000mcg)
(as Cyanocobalamin)
Biotin ... 300mcg
Pantothenic Acid ... 50mg
(from Calcium Pantothenate)
Choline ... 5mg
(from Choline Bitartrate)
Inositol ... 5mg
Other Ingredients: De-ionized Water, Vegetable Glycerin, Xylitol, Erythritol, Natural Flavors, Malic Acid and Potassium Sorbate (as preservative).
This product does not contain
wheat
gluten
soy
milk
egg
fish
shellfish
Produced in a GMP facility that processes other ingredients containing these allergens.
Caution
For adults only. Consult physician if pregnant/nursing, taking medication, or have a medical condition. Keep out of reach of children. Contains Xylitol, do not feed to pets.