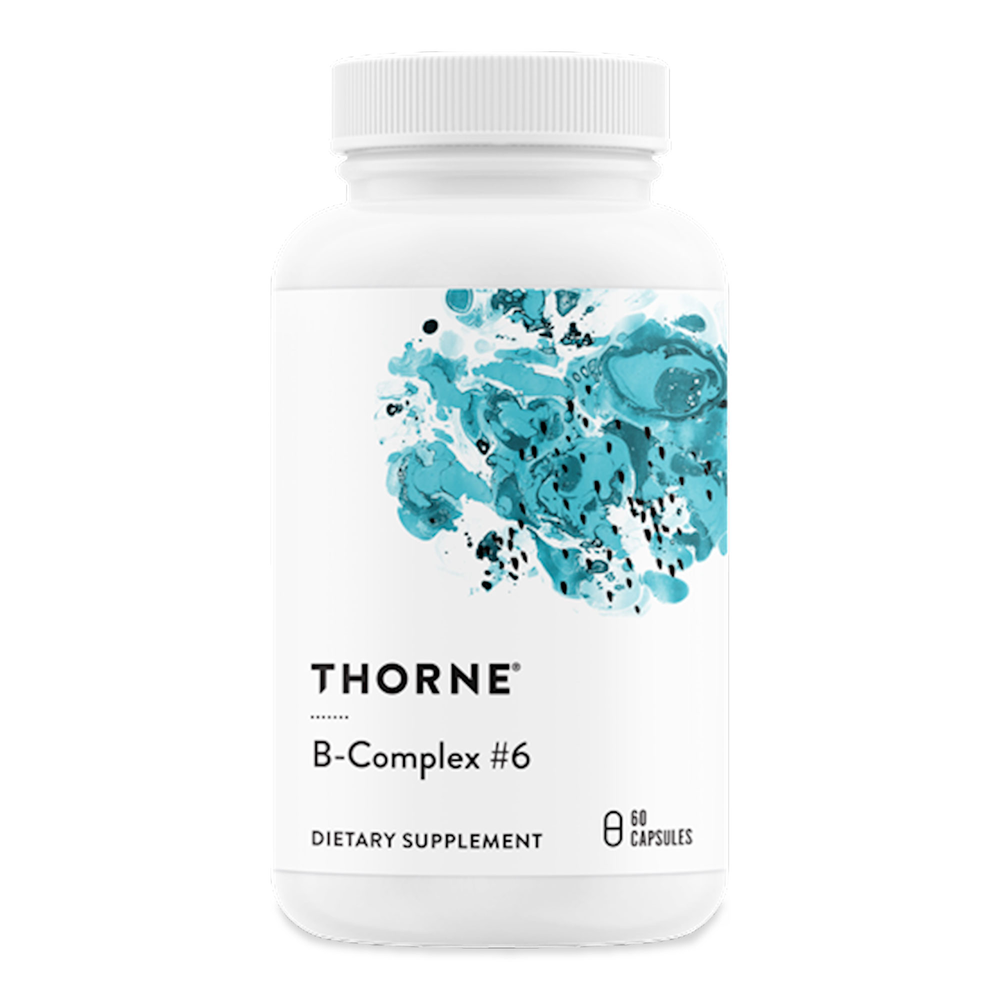 SKU: THO-B106
B-Complex #6 is NSF Certified for Sport®. Most B vitamins, with the exception of vitamin B12, are not stored in the body; consequently, they must be acquired daily from the diet in order to maintain optimal health.* Thorne's B-Complex #6 contains an optimal balance of essential B vitamins with extra vitamin B6. B-Complex #6 contains thiamine (vitamin B1), riboflavin and riboflavin 5'-phosphate (vitamin B2), niacinamide (vitamin B3), pantothenic acid (vitamin B5), pyridoxine and pyridoxal 5'-phospate (vitamin B6), methylcobalamin (vitamin B12), methyl-folate (5-MTHF), and biotin. Although each B vitamin is chemically distinct, they often work together in various biochemical functions throughout the body – from cellular energy production, to healthy red-blood-cell formation, to healthy neurological function.* B-Complex #6 offer both pyridoxine and active pyridoxal 5'-phosphate to support brain function through neurotransmitter synthesis and neurological function through the formation of the myelin sheath surrounding nerve cells.* B6 can also help relieve the symptom of fluid retention and support a good mood in individuals with premenstrual syndrome (PMS).*
Supplementing with active B vitamins is important for everyone, and especially for individuals whose livers may not be able to convert the non-active B vitamin forms to their active forms because of compromised liver function, poorly functioning enzymes, digestive disturbances, or age.*
Pyridoxine (vitamin B6) and its bioactive form, pyridoxal 5'-phosphate (P5P), are essential for such processes as amino acid metabolism, neurotransmitter synthesis, and glycogen (storage sugar) breakdown.* Pyridoxine and P5P are also involved in heme synthesis (necessary for hemoglobin), conversion of tryptophan to niacin, and the proper metabolism of fatty acids.* Thorne's B-Complex #6 supplies 106 mg of pyridoxine HCl, 25 mg pyridoxal 5'-phosphate, and the bioactive forms of other B vitamins in each capsule to provide an optimally bioavailable B complex.*
Because an athlete needs to know that his or her supplements are trustworthy and compliant, every batch of an NSF Certified for Sport® product is tested for compliance with label claims and to ensure the absence of more than 200 substances banned by many major athletic organizations, including stimulants, narcotics, steroids, diuretics, beta-2 agonists, and masking agents.
Take 1 capsule daily or as recommended by your health professional.

Serving Size: 1 Capsule

Amount Per Serving
Amount Per Serving
Biotin ... 80mcg
Choline ... 14mg
(Citrate)
Folate ... 334mcg DFE
(L-5-MTHF)
Vitamin B1 ... 40mg
(Thiamin HCI)
Vitamin B12 ... 100mcg
(Methylcobalamin)
Vitamin B2 ... 5mg
(Riboflavin 5'-Phosphate Sodium)
Vitamin B2 ... 25mg
(Riboflavin)
Vitamin B3 ... 80mg
(Niacinamide)
Vitamin B5 ... 45mg
(Pantothenic Acid)
Vitamin B6 ... 15mg
(Pyridoxal 5'-Phosphate)
Vitamin B6 ... 85mg
(Pyridoxine HCL)

Other Ingredients: Calcium Laurate, Hypromellose Capsule, Microcrystalline Cellulose, Silicon Dioxide
ALLERGY WARNING
This product is contraindicated in an individual with a history of hypersensitivity to any of its ingredients.
PREGNANCY
If pregnant, consult your health professional before using this product.
INTERACTIONS/CONTRAINDICATIONS
5-methyltetrahydrofolate (5-MTHF) supplementation is not recommended concurrent with methotrexate cancer therapy, as it can interfere with methotrexate's anti-neoplastic activity; however, this folate source has not been shown to interfere with the anti-inflammatory activity of methotrexate. An individual taking methotrexate for psoriasis or rheumatoid arthritis can safely take a supplement containing folate.
Doses of vitamin B6 above 200 mg may inhibit breast milk production.