B-Complex
Metabolic Maintenance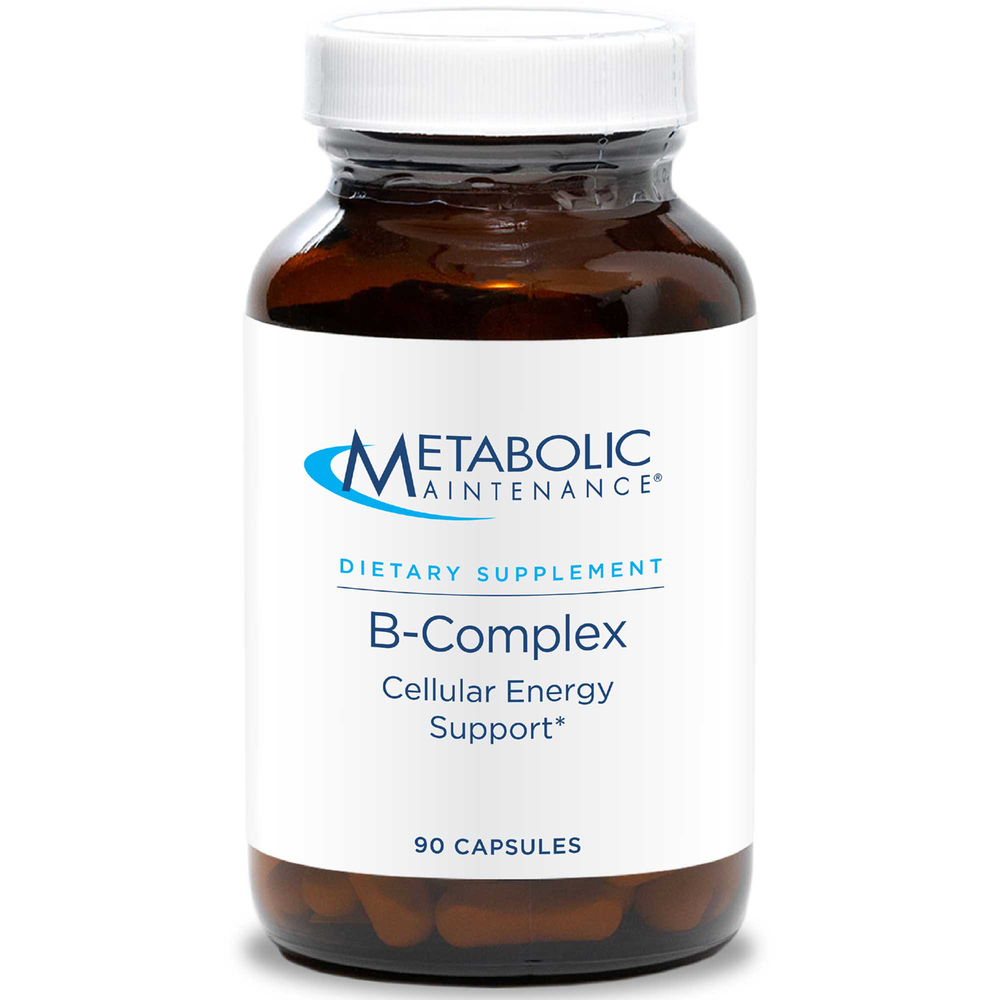 SKU: ME3-00500
High potency B-Complex formula provides all eight essential B vitamins, plus choline, inositol, and PABA. Though each ingredient has unique roles in the body, they work together to support mood, energy production, nerve function, and a healthy cardiovascular system. Our B-complex contains the active, phosphorylated forms of B-2 (Riboflavin) and B-6 and the methylated forms of B-12 and L-methylfolate for superior bioavailability and maximum benefit.
Supports cellular energy production*
Promotes conversion of homocysteine for heart health*
Provides essential nutrition for healthy nerve cells and neurotransmitter formation*
Aids in healthy red blood cell formation*
Suggested Use:
One (1) capsule daily with a meal, or as directed by a healthcare professional.
Serving Size: 1 Capsule
Amount Per Serving
Vitamin C ... 15mg
(as Ascorbyl Palmitate)
Thiamine ... 25mg
(as Thiamine Mononitrate)
Riboflavin ... 25mg
(as Riboflavin 5 Phosphate)
Niacin ... 150mg NE
(as Niacinamide)
Vitamin B-6 ... 55mg
(as Pyridoxine HCl and Pyridoxal 5 Phosphate)
Folate ... 1,333mcg DFE
(900 mcg as L-5-Methylfolate, glucosamine salt)
Vitamin B-12 ... 1000mcg
(as Methylcobalamin)
Biotin ... 400mcg
Pantothenic Acid ... 150mg
(as Calcium Pantothenate)
Choline ... 50mg
(as Choline Bitartrate)
Inositol ... 50mg
PABA ... 50mg
(Para Amino Benzoic Acid)
Other Ingredients: Vegetarian cellulose capsule.


This product is Egg Free, Gluten Free, Nut Free and Dairy Free. Suitable for Vegans.

Allergens: According to information provided by our suppliers, these capsules are free of the eight major allergens as identified by the Food Allergen Labeling and Consumer Protection Act of 2004 (FALCPA): Wheat (gluten), eggs, milk, soybeans, shellfish, fish, peanuts, tree nuts.
Precautions: Pregnant or lactating women and individuals taking prescription medications should consult with a healthcare professional before taking any supplement.