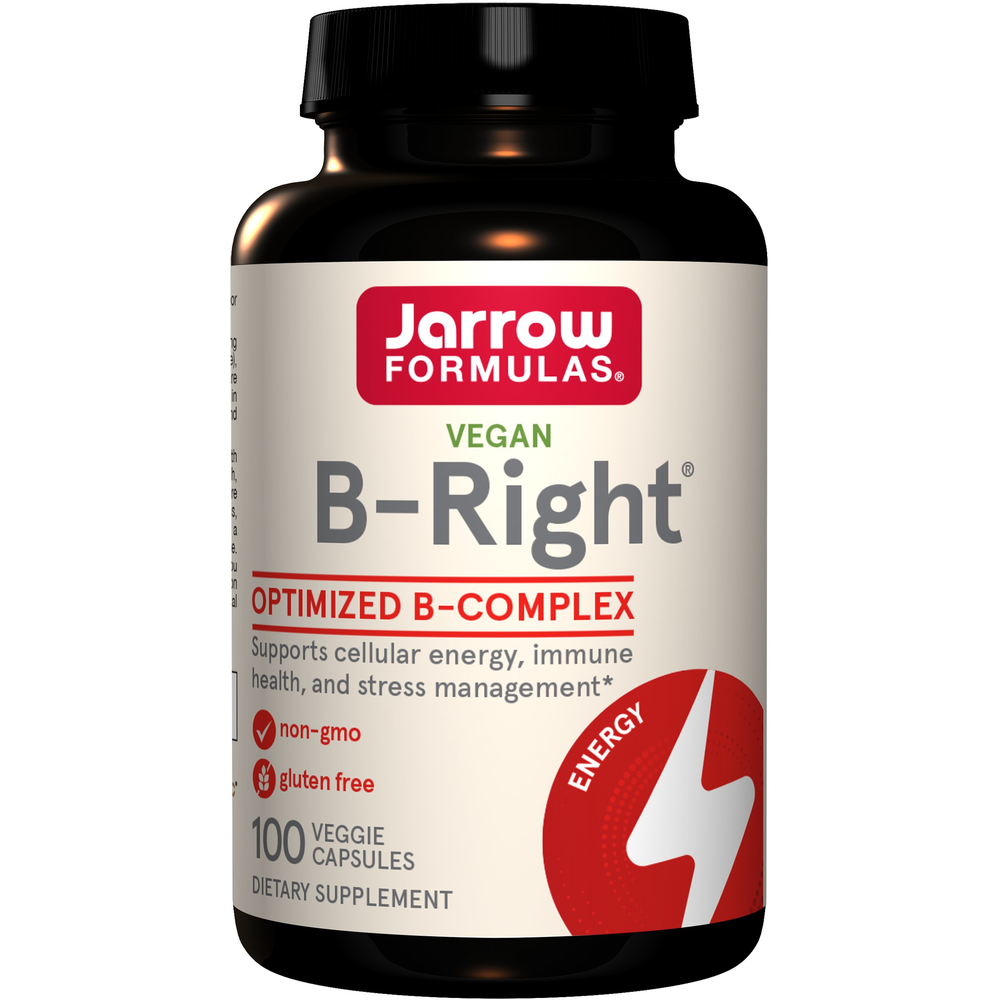 SKU: JAR-B
Optimized B-ComplexMethylcobalamin B12 + Pantethine + P-5-P
B-Right® is a carefully-balanced, low-odor vitamin B-Complex formula.
Methyl folate ((6S)-5-methyltetrahydrofolic acid or (6S)-5-MTHF) is the most biologically active form of folic acid (folate). Quatrefolic® is the 4th generation development in folate delivery.
Methylcobalamin is better absorbed, retained and utilized than other forms of B12. Methylcobalamin and niacinamide support brain and nerve tissue.*
Pantethine is a derivative of vitamin B5 and is a precursor to Coenzyme A (CoA), which is involved in oxidative metabolism.*
Pyridoxal 5-Phosphate (P-5-P) is the coenzyme form of vitamin B6 and is necessary for the metabolism of proteins and amino acids.*
Take 1 capsule per day with a meal or as directed by your qualified healthcare professional.
Serving Size: One Capsule
Amount Per Serving
Vitamin B1 ... 25mg
(as Thiamin Mononitrate)
Vitamin B2 ... 25mg
(as Riboflavin)
Niacin ... 25mg
(as Nicotinic Acid)
Niacin ... 100mg
(as Nicotinamide)
Vitamin B6 ... 25mg
(as Pyridoxine HCl)
Vitamin B6 ... 10mg
(as Pyridoxal 5-Phospahte)
Folate ... 400mcg DFE
(as Quatrefolic® (6S-5-Methyltetrahydrofolic Acid Glucosamine Salt)
Vitamin B12 ... 100mcg
(as Methylcobalamin)
Biotin ... 300mcg
Vitamin B5 ... 100mg
(as Calcium D-Pantothenate)
Choline ... 50mg
(as Choline Bitartrate)
Pantethine ... 25mg
(Vitamin B5 Derivitive)
Inositol ... 50mg
Other Ingredients: Magnesium stearate (vegetable source), calcium phosphate, cellulose and silicon dioxide. Capsule consists of hydroxypropylmethylcellulose.
This product does not contain
wheat
gluten
soybeans
dairy
egg
fish
shellfish
peanuts
tree nuts
GMOs
Quatrefolic® is a registered trademark of Gnosis S.p.A.
WARNING: This product contains vitamin B3 (niacin), which may cause a "niacin flush, " especially when taken on an empty stomach. Symptoms are transient – typically lasting for approximately one-half hour – and may include burning, tingling, and itching sensations along with reddening of the skin. In some cases, dizziness and/or shortness of breath may occur. If a severe reaction occurs, drink plenty of water and discontinue use.
NOTE: If you have a medical condition, are pregnant, lactating, trying to conceive, under the age of 18, or taking medications, consult your healthcare professional before using this product.
Keep out of reach of children.