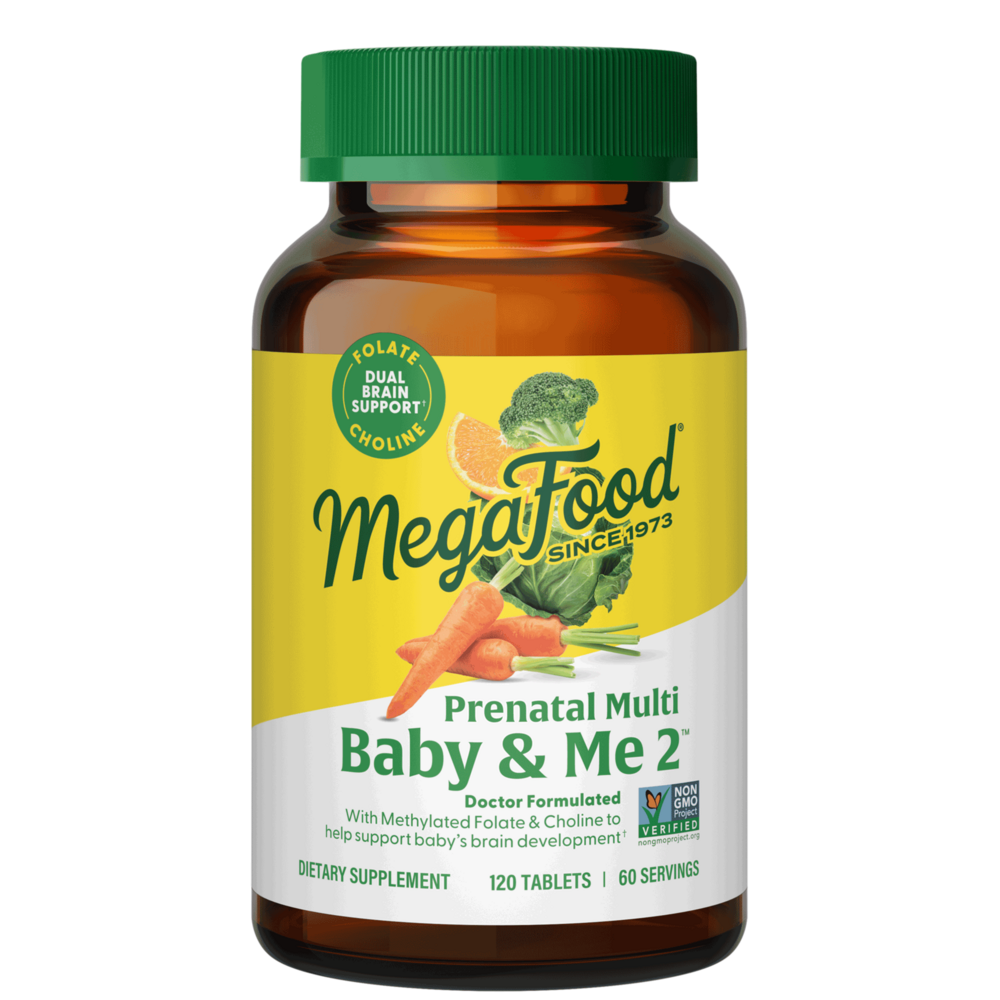 SKU: MEG-10315
Baby & Me 2™ Prenatal Multi
Prenatal multivitamin supports optimal nutrition for mom and developing baby*

Benefits
Help nourish your body & baby*
Supports optimal nutrition before & during pregnancy* with key nutrients like iron & vitamin B12 paired with real food like organic oranges & broccoli
Doctor-formulated by Tieraona Low Dog, M.D., MegaFood Chief Medical Advisor & award-winning expert in women's health & dietary supplementation
Includes choline to support fetal health*
Also includes methylated folate, the active form of folic acid, to support fetal health*
Pair your multi with Prenatal DHA & Choline for baby's healthy brain development*; once baby arrives, switch to our Postnatal Multivitamin for the added nourishment you need while breastfeeding*
Suggested Use:
Take 2 tablets daily with a beverage. May be taken anytime throughout the day, even on an empty stomach.


Serving Size: 2 Tablets

Amount per Serving
Vitamin A ... 750mcg RAE
(beta carotene in carrot)
Vitamin C ... 100mg
(ascorbic acid in organic orange†)
Vitamin D3 ... 15mcg
(as fermented cholecalciferol)
Vitamin E ... 20mg
(as d-alpha tocopherol from sunflower seed oil)
Vitamin K ... 60 mcg
(phytonadione from cabbage)
Thiamin ... 1.5 mg
(as thiamine hydrochloride with S. cerevisiae)
Riboflavin ... 1.7 mg
(as riboflavin 5'-phosphate sodium in organic brown rice†)
Niacin ... 20 mg NE
(as niacinamide in S. cerevisiae)
Vitamin B6 ... 8 mg
(as pyridoxal-5-phosphate with organic brown rice†)
Folate ... 1020 mcg DFE
(as L-5-methyltetrahydrofolate with broccoli) (600 mcg L-5-MTHF)
Vitamin B12 ... 8 mcg
(as methylcobalamin with S. cerevisiae)
Biotin ... 300 mcg
(as biotin with organic brown rice†)
Pantothenic Acid ... 10 mg
(d-calcium pantothenate with organic brown rice†)
Choline ... 300mg
(as choline bitartrate)
Iron ... 18 mg
(as fermented iron bisglycinate)
Iodine ...150 mcg
(as fermented Iodine glycinate)
Zinc ... 15 mg
(as zinc bisglycinate)
Selenium ... 50 mcg
(as fermented selenium glycinate)
Copper ... 0.2mg
(as fermented copper bisglycinate)
Manganese ... 1 mg
(as fermented manganese bisglycinate)
GTF Chromium ... 50 mcg
(as fermented chromium glycinate, nicotinate, glutamate)
Molybdenum ... 10 mcg
(as fermented molybdenum bisglycinate)
Other Ingredients: Microcrystalline cellulose, fermented media (rice protein, organic brown rice, autolyzed yeast extract, yeast (inactive), organic brown rice, silicon dioxide, rice protein, stearic acid, autolyzed yeast extract, hypromellose.


This product is Non-GMO Project Verified, Glyphosate Residue Free, Certified Gluten Free, Vegetarian, Certified Kosher, Dairy and Soy Free.

WARNING
:
Accidental overdose of iron-containing products is a leading cause of fatal poisoning in children under six. Keep this product out of reach of children.
Storage
:
Store tightly sealed in a cool, dry place. Once opened, tablet color may naturally change over time. If the tablets darken they continue to be safe to consume and meet label claims for all active ingredients.
Biotin is an important nutrient, especially during pregnancy. Biotin may interfere with lab tests. If you are taking medication or planning to undergo lab testing, consult with your doctor before use.