BackPack
Metabolic Maintenance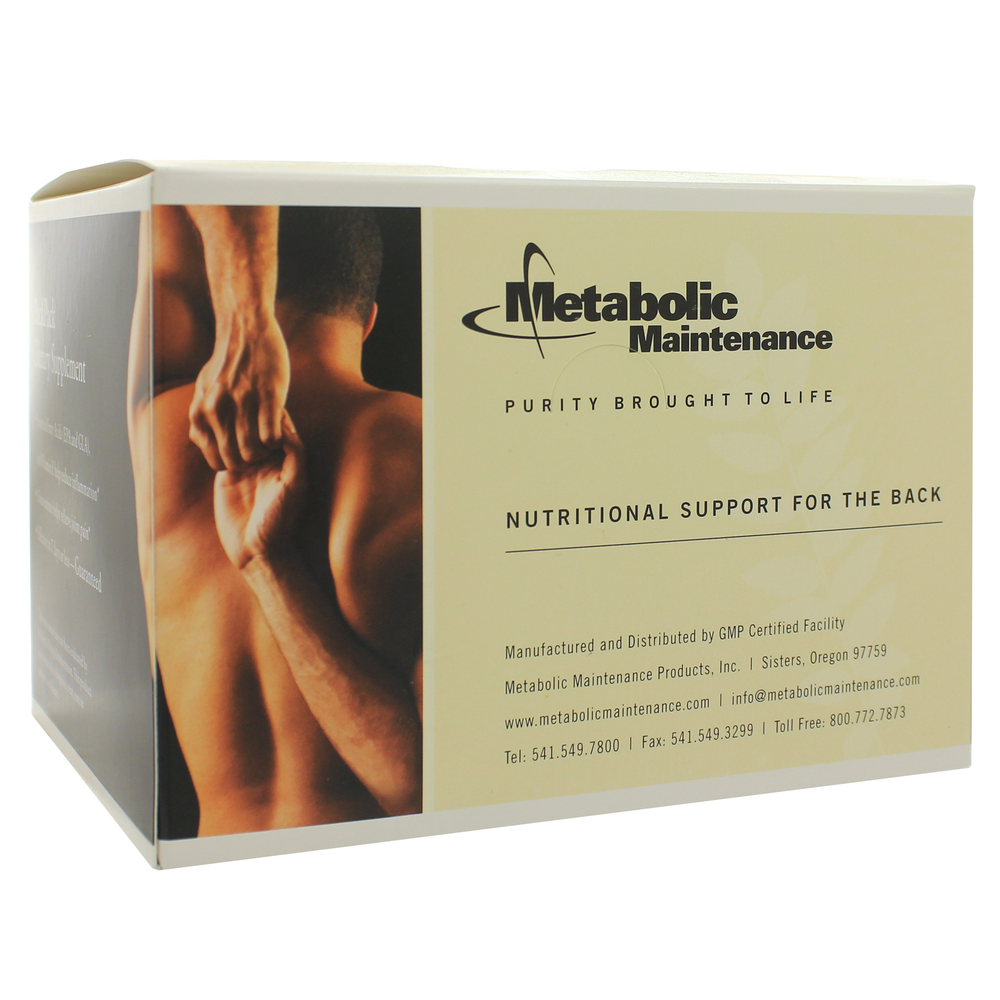 SKU: ME3-00603
BackPack packets contain a unique combination of nutrients designed to maintain healthy joints. Our new formula packets contain two Glucosamine/Chondroitin and Hyaluronic Acid for improved cartilage lubrication, resiliency, and shock absorption properties. Gamma Linolenic Acid (GLA, Omega-6) is a precursor for prostaglandins-important compounds linked to muscle contraction and the regulation of normal healthy inflammatory response. Studies show Omega 3s support normal flexibility and joint comfort. A powerful antioxidant, Vitamin E has also been shown to support joint comfort.
One packet daily with a meal as a dietary supplement, or as directed by a healthcare practitioner.
Serving Size: 1 packet (5 capsules)
Amount Per Serving
Calories ... 25
Calories from Fat ... 20
Total Fat ... 2.3g
Vitamin E ... 400IU
(as Mixed Tocopherols)
Glucosamine Sulfate ... 1000mg
(as 1350mg of d-Glucosamine Sulfate 2KCI)
Chondroitin Sulfate ... 800mg
(as 850mg of Chondroitin Sulfate Na)
Hyaluronic Acid ... 80mg
(as Sodium Hyaluronate)
Concentrated Fish Oil ... 1000mg
EPA ... 450mg
(Eicosapentaenoic Acid)
DHA ... 340mg
(Docosahexaenoic Acid)
Borage Oil ... 1000mg
GLA ... 200mg
(Gamma linoleic acid)
Other Ingredients: gelatin, glycerin, water (all softgels), soybean oil (vitamin E softgel), vegetarian cellulose capsules (glucosamine/chondroitin/HA).
Glucosamine sulfate is derived from shellfish. Contains oil from one or more of the following fish species: sardines, anchovies, mackerel, sprat, salmon, culpea.
Gluten and Excipient-free
Caution: Pregnant or lactating women, consult your healthcare professional before taking this product.
Keep tightly closed in a cool, dry place, out of the reach of children.
It looks like there are no similar
products available