Basic Maintenance Plus w/Vitamin D
Metabolic Maintenance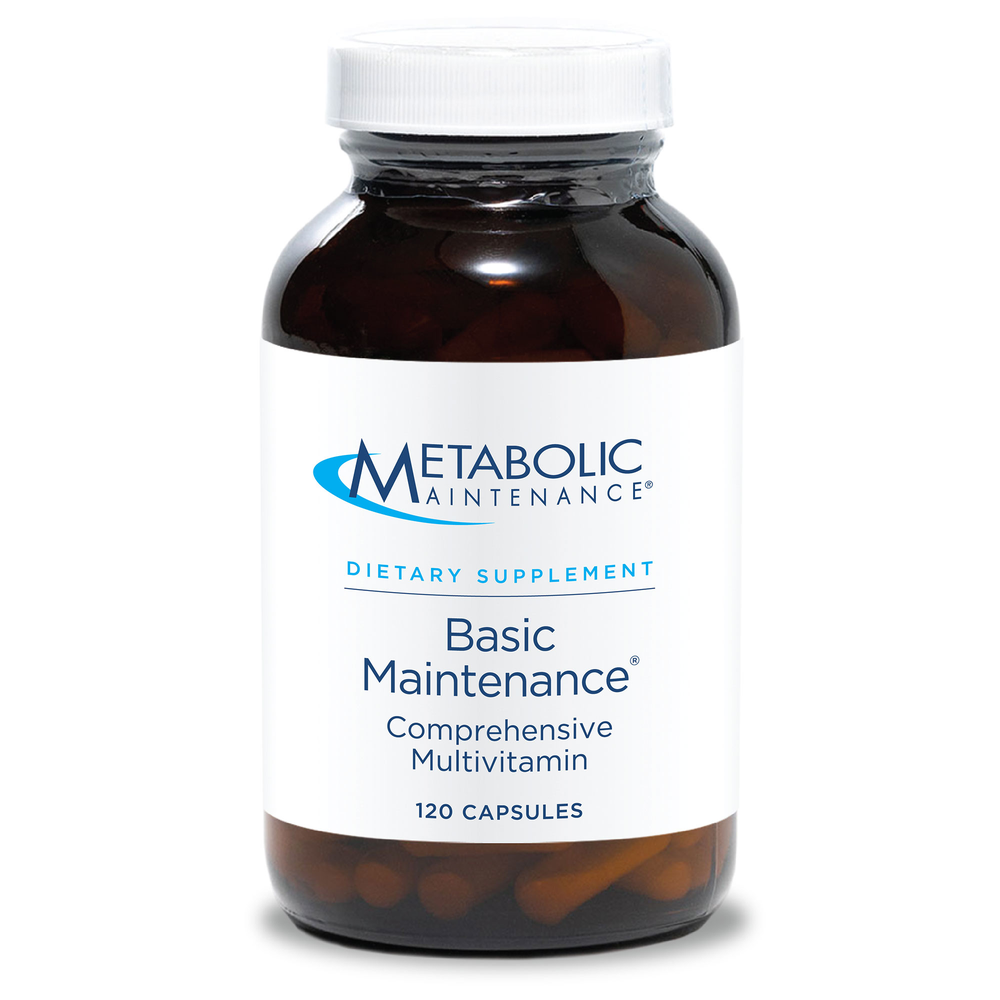 SKU: ME3-00521
Basic Maintenance Plus w/Vitamin D
-We took our multivitamin, Basic Maintenance without Iron, and re-created it
to contain 2000 IU Vitamin D-3 and 400 mcg of 5-MTHF (L-5-
methyltetrahydrofolate), the only form of folate to cross the blood-brain
barrier. This multiple Vitamin/Mineral supplement has been scientifically
formulated based on emerging research to provide valuable nutrients to
support breast and colon health, cardiovascular health and immune health, as
well as bone-supporting nutrients including vitamin D-3 and Boron. It also
contains vitamins and minerals newly recognized for their potency and
bioavailability, including carotenoids, B-12 (Methylcobalamin) and 5-MTHF
(L-5-methyltetrahydrofolate).
Two Capsules daily with meals. Use as a dietary supplement as directed by a Healthcare professional. Best taken with a meal.
Serving Size: 2 capsules
Amount Per Serving:
Vitamin A ... 4000IU
(as 70% Beta Carotene and 30% Palmitate)
Vitamin C ... 125mg
(as Ascorbic Acid)
Vitamin D3 ... 1000IU
(as Cholecalciferol)
Vitamin E ... 50IU
(as d-Alpha Tocopheryl Acid Succinate)
Vitamin K1 ... 50mcg
Thiamine ... 2.5mg
(as Thiamine Mononitrate)
Riboflavin ... 2.5mg
Niacin ... 2.5mg
(as Niacinamide)
Vitamin B6 ... 7.5mg
(as Pyridoxine HCI)
Folate ... 200mcg
(as L-5-Methyltetrahydrofolate)
Vitamin B12 ... 25mcg
(as Methylcobalamin)
Biotin ... 50mcg
Pantethenic Acid ... 12.5mg
(as d-Calcium Pantothenate)
Calcium ... 250mg
(as Calcium Citrate and Carbonate)
Iodine ... 37.5mcg
(as Potassium Iodide)
Mangesium ... 125mg
(as Magnesium Citrate)
Zinc ... 7.5mg
(as Zinc Citrate)
Selenium ... 100mcg
(as L-Selenomethionine)
Copper ... 0.75mg
(as Copper Gluconate)
Manganese ... 2.5mg
(as Manganese Gluconate)
Chromium ... 100mcg
(as Chromium Niacinate)
Molybdenum ... 12.5mg
(as Molybdenum Glycinate)
Boron ... 0.5mg
(as Boron Citrate)
Other Ingredients: vegetarian capsule, L-leucine,
Vitamin E is derived from soy oil.
*These statements have not been evaluated by the FDA. This product is not intended to diagnose, treat, cure, or prevent any disease.