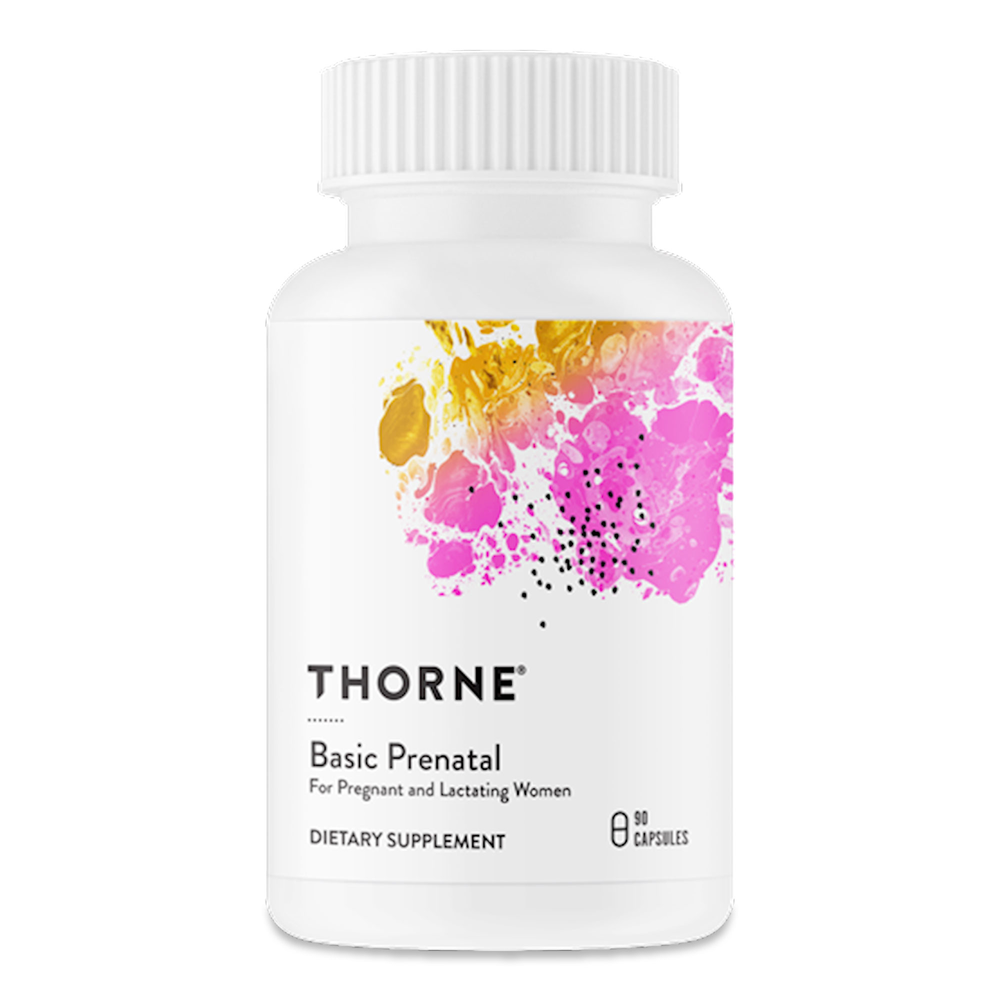 SKU: THO-VMP
Pre-conception, pregnancy, and nursing are critical times to optimize a mother's health and nutrition, which is important for both for mom and baby. Overall nutritional and caloric needs greatly increase during this time. However, it is often difficult for a woman to fulfill her daily nutrient needs through diet alone.
Thorne's Basic Prenatal is specifically formulated with the special needs of conception, pregnancy, and breastfeeding in mind.* Our formula contains well-absorbed, tissue-ready vitamins and minerals that are gentle on the stomach and non-constipating.*
Benefits of Thorne's Basic Prenatal at each stage:
Pre-Conception
• Daily multi-vitamin/mineral support for a woman of childbearing age.
• Provides beneficial nutrients that are important from the moment of conception.
First Trimester
• Folate facilitates healthy brain and spinal cord development.* Basic Prenatal includes the bioactive form of folate – 5-MTHF.
• Vitamins C, B6, and K have been shown to benefit "morning sickness."*
Second Trimester
• Contains the well-absorbed and well-researched iron bisglycinate to meet a pregnant woman's increased need for iron.
Third Trimester
• Provides the extra nutrients needed for continued healthy fetal development and to prepare mom and baby for birth.*
After Pregnancy through Nursing
• Nutritional support for increased demand for calcium and vitamin D in the diet.

Suggested Use:
Take 3 capsules daily or as recommended by your health professional.


Serving Size: 3 Capsules

Amount Per Serving
Biotin ... 50mcg
Boron ... 1mg
(Glycinate Complex)
Calcium ... 90mg
(Citrate)
Calcium ... 90mg
(Malate)
Choline ... 110mg
(Citrate)
Chromium ... 100mcg
(Nicotinate Glycinate)
Copper ... 2mg
(Bisglycinate)
Folate ... 1.7mg DFE
(L-5-MTHF)
Iodine ... 150mcg
(Potassium Iodide)
Iron ... 45mg
(Bisglycinate)
Magnesium ... 45mg
(Citrate)
Magnesium ... 45mg
(Malate)
Manganese ... 5mg
(Bisglycinate Chelate)
Selenium ... 50mcg
(Selenomethionine)
Vitamin A ... 450mcg
(Beta carotene)
Vitamin A ... 600mcg
(Palmitate)
Vitamin B1 ... 5mg
(Thiamin)
Vitamin B12 ... 200mcg
(Methylcobalamin)
Vitamin B2 ... 5mg
(Riboflavin 5'-Phosphate Sodium)
Vitamin B3 ... 30mg
(Niacinamide)
Vitamin B5 ...18mg
(Pantothenic Acid)
Vitamin B6 ...12mg
(Pyridoxal 5'-Phosphate)
Vitamin C ... 150mg
(Ascorbic Acid)
Vitamin D3 (1,000 IU) ... 25mcg
Vitamin E ... 33.5mg
(d-Alpha-Tocopheryl)
Vitamin K ... 100mcg
(as Vitamin K1)
Zinc ... 25mg
(Bisglycinate Chelate)

Other Ingredients: Hypromellose (derived from cellullse) capsule, Calcium Laurate.

Gluten Free, Dairy Free, Soy Free.

ALLERGY WARNING
This product is contraindicated in an individual with a history of hypersensitivity to any of its ingredients.
Iodine may occasionally cause an allergic reaction in some individuals.
PREGNANCY
If pregnant, consult your health professional before using this product.
INTERACTIONS
As vitamin K interferes with the effect of anticoagulant drugs (like Coumadin), the concurrent use of these agents should be avoided.
5-methyltetrahydrofolate (5-MTHF) supplementation is not recommended concurrent with methotrexate cancer therapy, as it can interfere with methotrexate's anti-neoplastic activity; however, this folate source has not been shown to interfere with the anti-inflammatory activity of methotrexate. An individual taking methotrexate for psoriasis or rheumatoid arthritis can safely take a supplement containing folate.
ADDITIONAL WARNINGS
Accidental overdose of iron-containing products is a leading cause of fatal poisoning in children under six. Keep this product out of reach of children. In case of accidental overdose, call a doctor or poison control center immediately.
Vitamin C can cause diarrhea in some individuals in large doses, which can vary from person to person and resolves when the amount is reduced.