Basic Preventive 5
Douglas Labs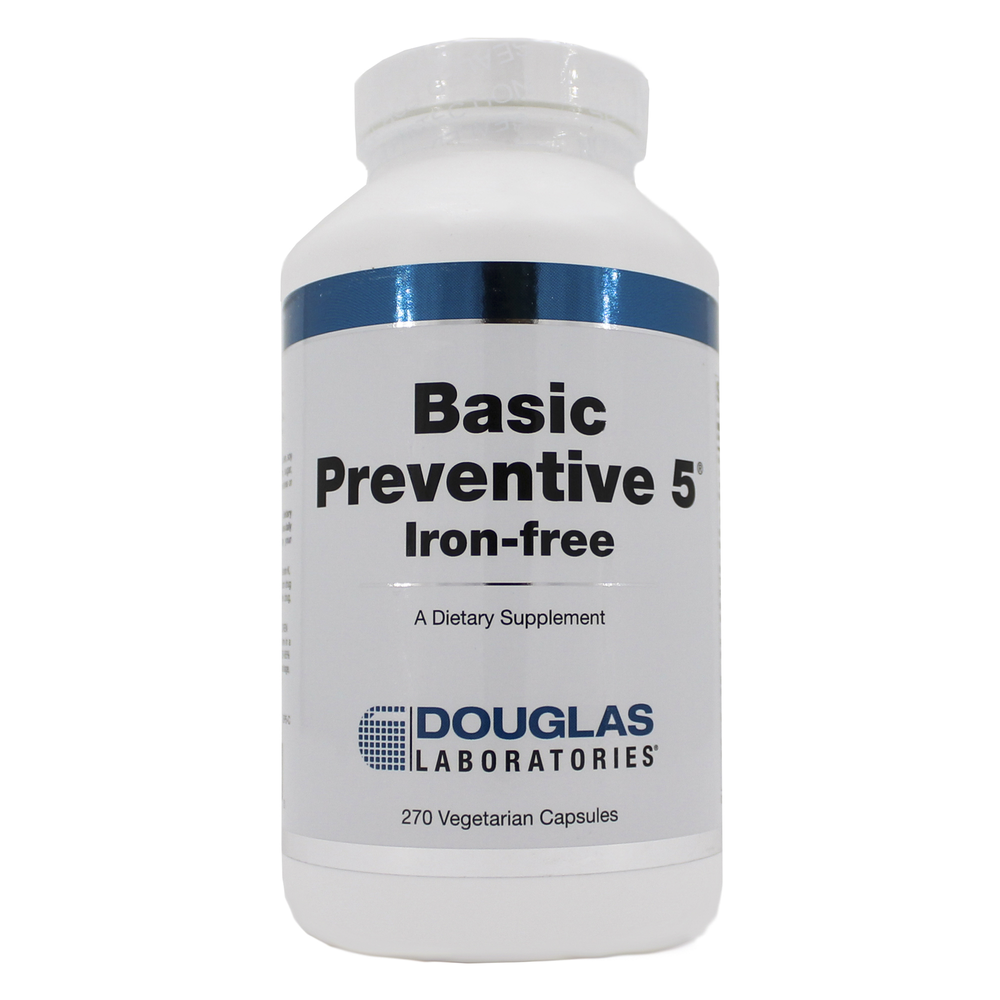 SKU: DL-BP5C
Basic Preventive® 5 is a comprehensive, highly concentrated vitamin-mineral-trace element supplement containing more than 30 essential nutritional ingredients. Basic Preventive 5 is more than just another multivitamin supplement. It is a potent antioxidant formula with natural beta-carotene (from D. salina) and natural vitamin E; a high-potency B-complex supplement; a significant source of bioavailable calcium and magnesium; and a full-spectrum trace element supplement.
Suggested Use:
As a dietary supplement, adults take 4 capsules daily with food or as directed by your health professional.


Serving Size: 4 Vegetarian Capsules

Amount Per Serving
Vitamin A ... 3,330mcg
(as 40% [1,330 mcg] vitamin A palmitate and 60% [2,000 mcg] as natural beta carotene)
Vitamin C ... 535mg
(as calcium ascorbate and magnesium/potassium aspartate-ascorbate/ascorbic acid complex)
Vitamin D3 ... 1.1 mcg (44IU)
(as cholecalciferol)
Vitamin E ... 119mg
(as d-alpha tocopheryl succinate)
Vitamin K1 ... 27mcg
(as phytonadione)
Thiamine ... 44mg
(as thiamine mononitrate)
Riboflavin ... 20mg
Niacin ... 85mg
(as niacinamide and niacin)
Vitamin B6 ... 22mg
(as pyridoxine hydrochloride)
Folate ... 529mcg DFE
(as folic acid) (355mcg folic acid)
Vitamin B12 ... 44mcg
(as cyanocobalamin)
Biotin ... 133mcg
Pantothenic Acid ... 178mg
(as d-calcium pantothenate)
Choline ... 65mg
(as choline bitartrate)
Calcium ... 220mg
(as calcium citrate/ascorbate/carbonate complex)
Iodine ... 70mcg
(from kelp)
Magnesium ... 220mg
(as magnesium aspartate-ascorbate complex/magnesium amino acid chelate/magnesium oxide)
Zinc ... 9mg
(as zinc amino acid chelate)
Selenium ... 90mcg
(as selenium krebs††)
Copper ... 0.8mg
(as copper amino acid chelate)
Manganese ... 9mg
(as manganese amino acid chelate)
Chromium ... 85mcg
(as chromium polynicotinate)
Molybdenum ... 65mcg
(as molybdenum manganese krebs††)
Potassium ... 44mg
(as potassium aspartate-ascorbate/potassium chloride complex)
Citrus Bioflavanoids Complex ... 44mg
Inositol ... 22mg*
Para-Aminobenzoic Acid ... 20mg*
Boron ... 0.9mg
(as boron aspartate-citrate)
Vanadium ... 18mcg
(as vanadyl sulfate)

Other Ingredients: Hydroxypropyl methylcellulose (capsule), microcrystalline cellulose, vegetable stearate and silica.


††Krebs = Citrate, Fumarate, Malate, Glutarate, and Succinate Complex

Gluten-Free, Non-GMO.
Warning: If you are pregnant, nursing, have any health condition or taking any medication, consult your health professional before using this product. Consult a health professional prior to use if taking blood thinners.

KEEP OUT OF REACH OF CHILDREN.

Store in a cool, dry place.