BerberActiv QR
Tesseract Medical Research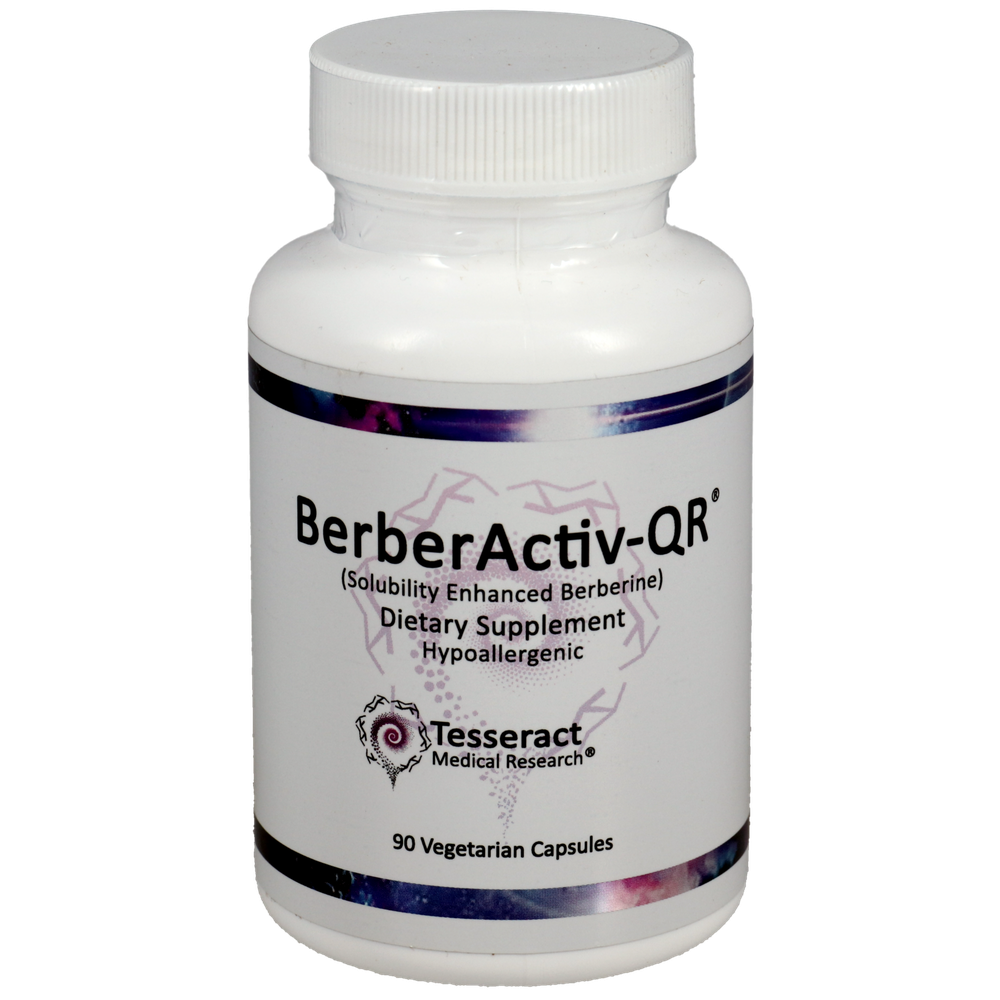 SKU: TES617-EX010
BerberActiv™ features a berberine complex that transcends the compound's usual absorption and bioavailability characteristics. Via The Tesseract Effect™, this revolutionary patent-pending delivery system, comprised of a CyLoc™ molecular matrix compounded with a DexKey™ release agent, provides nano-delivery (one molecule at a time) of berberine to the body's tissues where it exerts its many effects.*
Maintains normal blood glucose levels*
Helps maintain healthy weight*
Supports optimal cardiovascular function*
Supports a normal inflammatory response*
Promotes optimal immune function*
Provides antioxidant support*
Supports optimal liver function*
Modulates hepatic lipid metabolism*
Supports optimal gastrointestinal function*
Supports healthy mood and modulates anxiety*
Promotes healthy cell growth and dierentiation*

*These statements have not been evaluated by the Food and Drug Administration. This product is not intended to diagnose, treat, cure, or prevent any disease.

BerberActiv™ Features:

Effective nutritional support for management of healthy blood glucose, insulin, and blood lipid levels.*
Powerful activator of AMPK, the body's primary energy regulatory switch involved in modulating a number of biochemical pathways.*
Supports a healthy immune and inflammatory response and provides antioxidant support.*
Bioactive berberine complex powered by The Tesseract Eect ensures optimal bioavailability and targeted nano-delivery to the tissues where it can exert its powerful positive effects.*
Take 1-2 capsules two times daily or as recommended by your health-care practitioner.



Serving Size: One Capsule

Amount Per Serving
Berberine complex** ... 350mg

Other Ingredients: CyLoc™ gamma dextrin fiber matric, hypromellose (derived from cellulose) capsule, capsule, calcium laurate and plant amylase.

**Solubility enhanded Berberine (from Berberis aristata (root) extract) in an octadextrin matrix molecular trap compounded with DexKey™ release agent (patend pending Al Czap R&D, licensed by Tesseract Medical Research, LLC.)
Tamper Evident: Use only if bottle is sealed.

If pregnant, consult your health-care practitioner before using this product.

Store tightly sealed in a cool, dry place.