Berberine Complex
Integrative Therapeutics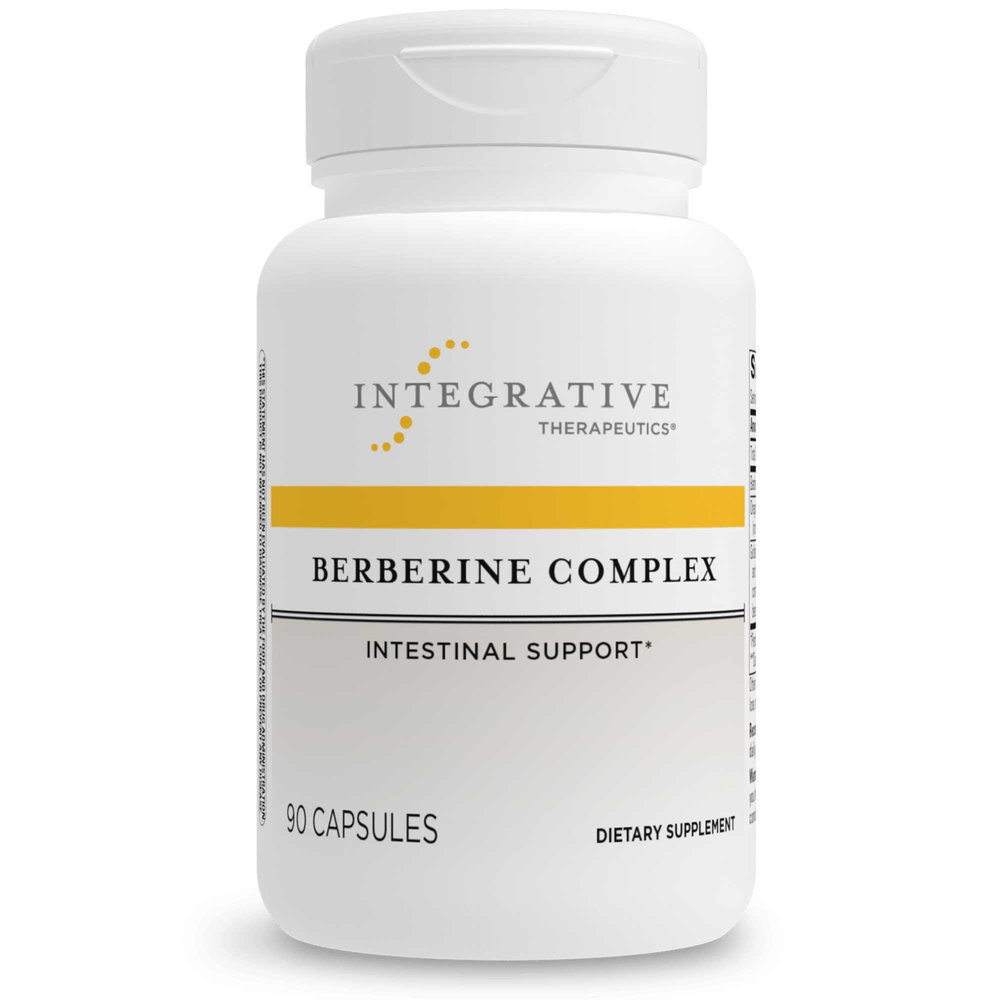 SKU: ITI-78169
Berberine Complex is formulated to support the healthy balance of bacteria.*1
HOW IT WORKS
Berberine is a constituent of some plants including Barberry (Berberis vulgaris), Oregon Grape (Berberis aquifolium), and Goldenseal (Hydrastis canadensis). Berberine Complex contains extracts of berberine-containing plants: barberry, Oregon grape, and goldenseal. In addition to berberine, Goldenseal extract also contains other alkaloids such as hydrastine. Traditional use of herbs and extracts often rely on the complex nature of plants rather than isolated bioactive compounds. Berberine Complex is intended for traditional gastrointestinal support.*
BERBERINE SUPPORTS HEALTHY BALANCE OF BACTERIA*
Goldenseal, which contains alkaloids including berberine, has been traditionally used in North American for gastrointestinal support.* Mechanistic studies in animals and cell culture models suggest berberine may modulate gut microbiota by binding to DNA of bacteria.1-3
In animal and cell culture studies, berberine has demonstrated an ability to support the intestinal microenvironment.1 In a human Caco-2 cell model, berberine exhibited an ability to maintain tight junctions and support epithelial barrier function.4
Suggested Use:
Take 2 capsules three times daily, or as recommended by your healthcare professional.
Serving Size: 2 Capsules
Amount Per Serving
Total Carbohydrate ... <1g
Barberry Root Extract ... 400mg
(Berberis vulgaris)
Oregon Grape Root Extract ... 400mg
(Berberis aquifolium)
Goldenseal Root and Rhizome Extract ... 100mg
(Hydrastis canadensis)
(standardized to contain 5% total alkaloids including berberine, hydrastine, and canadine)
Other Ingredients: plant-derived capsule (hypromellose), magnesium stearate, silica.


Contains NO: Wheat, gluten, soy, dairy, ingredients of animal origin, or artificial colors, flavors, or preservatives.
Warning:
Keep out of reach of children.

Safety sealed with printed inner seal. Do not use if seal if broken or missing.

Keep tightly closed.
Store at room temperature.
Avoid excessive heat and direct sunlight.

REFERENCES
Imenshahidi M et al. Phytother Res. 2016;30:1745-64.
Habtemariam S. Pharmacol Res. 2020;155:104722.
Tian Y et al. Drug Metab Dispos. 2019;47:86-93.
Cao M et al. PLoS ONE. 2013;8(5):e61944.