Greens Blend Superfood, Berry
Amazing Grass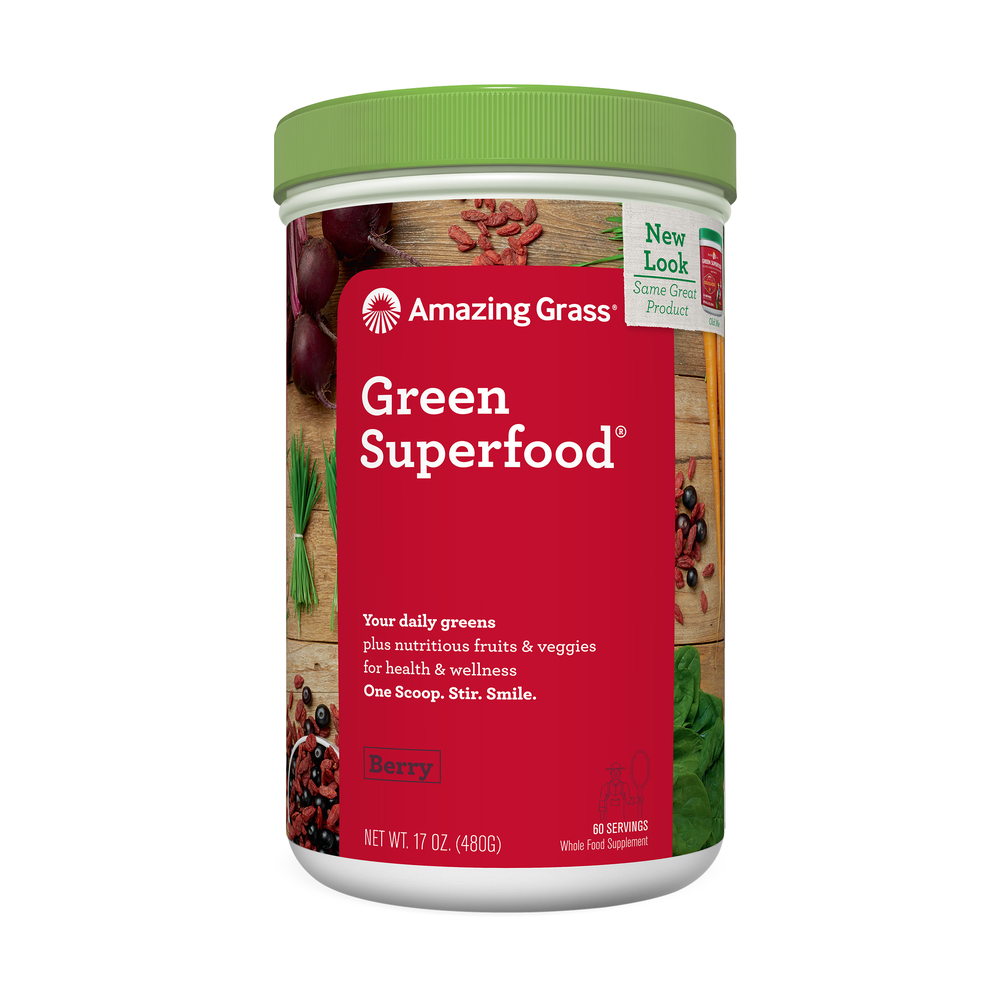 SKU: AZG-17OXBGSF
Formerly Green Superfood, our most popular powder blend, in a great tasting berry flavor, is an easy way to add more nutrition to your health routine. This nutritious blend thoughtfully combines our alkalizing farm fresh greens and wholesome fruits and veggies with nutrient-rich superfoods for a delicious way to feel amazing everyday. It's a simple way to support your overall health and wellness.
CONVENIENT POWDER | SIMPLY ADD TO WATER OR SMOOTHIE NATURAL ENERGY | NUTRITIOUS GREENS & ANTIOXIDANT SUPERFOODS SUPPORTS DIGESTIVE HEALTH | SOURCE OF FIBER SUPPORTS IMMUNITY | SOURCE OF VITAMINS C & K
Suggested Use:
Mix 1 scoop with 8 or more oz of water, juice or your favorite smoothie
Serving Size: 8g (About 1 Scoop/packet)


Amount Per Serving
Calories ... 30
Total Carbohydrate ... 5g
Dietary Fiber ... 2g
Sugars ... <1g
Protein ... 2g
Vitamin A ... 60mcg
Vitamin C ... 15mg
Vitamin K ... 65mcg
Calcium ... 40mg
Iron ... 1.4mg
Sodium ... 30mg
Potassium ... 160mg
Amazing Grass® Green Food Blend ... 5.5g
Organic wheat grass, organic barley grass, organic alfalfa, organic spirulina, organic spinach, organic chlorella (cracked cell-wall), organic broccoli
Amazing Grass® Antioxidant Blend ... 994mg
Organic acai, organic maca root, organic carrot, organic beet root, raspberry, organic rose hips, organic pineapple, organic acai berries, green tea, acerola cherry extract, green tea leaf extract, organic goji
EFA Fiber Blend ... 636mg
Organic flax seed, apple pectin
Digestive Enzyme & Active Culture Pre & Probiotic Blend ... 406mg
F.O.S. (Fructooligosaccharide from Chicory Root), Lactobacillus Acidophilus, Protease (Aspergillus oryzae), Amylase (Aspergillus oryzae), Lipase (Aspergillus niger), Lactase (aspergillus oryzae), Cellulase (Trichoderma reesei)

Other Ingredients: Natural Flavors, Peppermint, silica.


This product is Gluten Free, Non-GMO, Plant Based.