Bifido Complex Advanced - Hypoallergenic
Kirkman Professional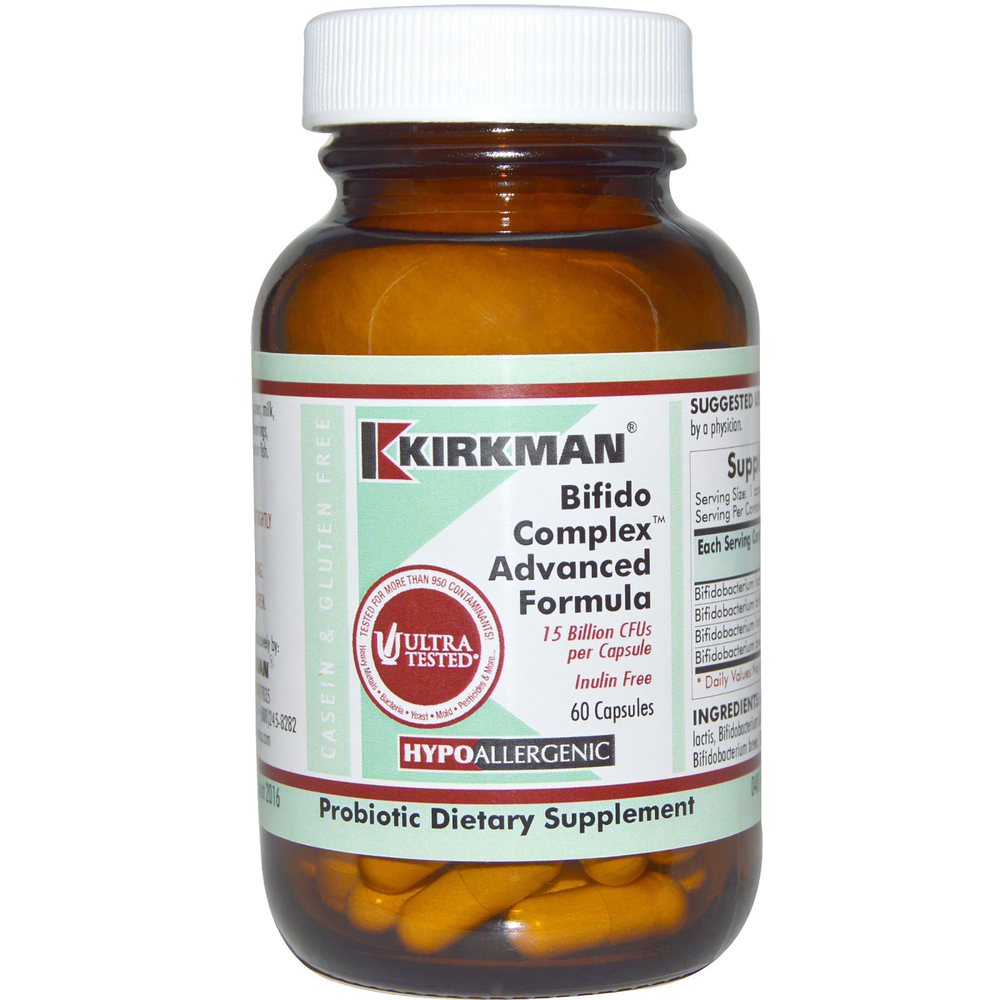 SKU: KRK-5481060
Primary Use: Provides "friendly" flora to support intestinal good health and functioning.
All Kirkman probiotics are stabilized by a patented process which protects the probiotic cells with a polymer system which guards against damage from stomach acids and fluids. All Kirkman probiotics are guaranteed to be fully potent through the best buy date not just at the time of manufacture like most brands of probiotics.
1-2 capsules daily or as directed by a physician
Serving Size: 2 capsules
Amount Per Serving:
Bifidobacterium lactis ... 7 billion CFUs
Bifidobacterium bifidum/lactis ... 4 billion CFUs
Bifidobacterium longum ... 2 billion CFUs
Bifidobacterium breve ... 2 billion CFUs
Ingredients: Microcrystalline Cellulose, Bifidobacterium lactis,
Bifidobacterium bifidum/lactis, Bifidobacterium longum,
Bifidobacterium breve, Silicon Dioxide, Plant Cellulose Capsule.
Free Of Soy, Wheat, Casein, Gluten, Milk, Corn, Egg, Yeast, Gelatin,
Artificial Flavorings, Artificial Colorings, Peanuts, Tree Nuts, Fish
WARNINGS KEEP OUT OF THE REACH OF CHILDREN.
These statements have not been evaluated by the Food & Drug Administration. This product is not intended to diagnose, treat, cure or prevent any disease.
It looks like there are no similar
products available