Essential Mulitvitamin
EuroMedica
60 tablets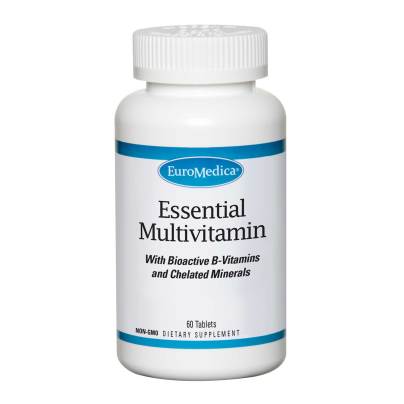 SKU: EUR866-67006
No one knows your needs better than yourself and your doctor. We've provided you with the HIGHEST QUALITY ingredients your body can actually utilize, making Bio Active Essentials the best "insurance" policy you can buy. Great for the entire family, this multi provides the nutrients you need to THRIVE because superior absorption is ESSENTIAL.
Easy to swallow


NO "vitamin" aftertaste or smell


Premium forms of vitamins and minerals—easy to digest! Active B Vitamins and Chelated TRAACS® Minerals


Beneficial Ginger—ensures NO upset stomach!
2 tablets daily, or as recommended by your healthcare practitioner. May increase to 2 tablets twice daily. 1 tablet daily for children ages 12 and up.
Serving Size:
2 Tablets
Amount Per ServingVitamin A
... 750 mcg RAE (2,500 IU)
(as retinyl palmitate)

Vitamin C
... 62.5 mg
(from calcium ascorbate)

Vitamin D3
... 12.5 mcg (500 IU)
(as cholecalciferol)

Vitamin E
... 16.75 mg (25 IU)
(as d-alpha and mixed tocopherols)

Vitamin K2
... 22.5 mcg
(as menaquinone-7 (MK-7 as MenaQ7®))

Riboflavin
... 25 mg
(Vitamin B2)

Niacin
... 25 mg
(Vitamin B3)
(as niacin and from niacinamide)

Vitamin B6
... 12.5 mg
(from pyridoxal-5-phosphate)

Folate
... 340 mcg DFE
(from (Calcium-L-5-Methyltetrahydrofolate)
Vitamin B12
... 125 mcg
(as methylcobalamin)

Biotin
... 250 mcg
(as D-biotin)

Pantothenic Acid
... 25 mg
(from d-calcium pantothenate)

Choline
... 25 mg
(from choline bitartrate)

Calcium
... 200 mg
(from TRAACS® Calcium Bisglycinate Chelate, calcium fructoborate, calcium ascorbate, and d-calcium pantothenate)
Iodine
... 75 mcg
(from potassium iodide)

Magnesium
... 150 mg
(TRAACS® Magnesium Bisglycinate Chelate Buffered (Magnesium Bisglycinate Chelate and Magnesium Oxide))
Zinc
... 7.5 mg
(from TRAACS® Zinc Bisglycinate Chelate)

Selenium
... 50 mcg
(as selenium yeast)(Saccharomyces cerevisiae)

Copper
... 0.5 mg
(from TRAACS® Copper Glycinate Chelate)

Manganese
... 2.5 mg
(from TRAACS® Manganese Glycinate Chelate)

Chromium
... 125 mcg
(from TRAACS® Chromium Nicotinate Glycinate Chelate)

Molybdenum
... 62.5 mcg
(from TRAACS® Molybdenum Glycinate Chelate)

Potassium
... 25 mg
(from Potassium Glycinate Complex)

Ginger Rhizome Extract
... 100 mg
(Zingiber officinale) Standardized for ≥ 5% gingerols (5 mg)
Benfotiamine
... 25 mg
Inositol
... 25 mg
Bioflavonoids from Citrus Peel Extract
... 25 mg
(Citrus aurantium)

PABA
... 7.5 mg
(para-aminobenzoic acid)

Boron
... 750 mcg
(from calcium fructoborate)

Vanadium
... 62.5 mcg
(from TRAACS® Vanadium Nicotinate Glycinate Chelate)

Other Ingredients:
Microcrystalline cellulose, maltodextrin, hydroxypropyl cellulose, citric acid, croscarmellose sodium, starch, stearic acid, glycerol monostearate, silica, hydroxypropyl methylcellulose, dicalcium phosphate, magnesium stearate, ascorbyl palmitate, rosemary extract
Does not contain
: Sugar, salt, wheat, gluten, soy, dairy products, artificial coloring, artificial flavoring, or artificial preservatives.
If pregnant or nursing, consult a healthcare practitioner before using.