Bio-Flav
Bio-Tech Pharmacal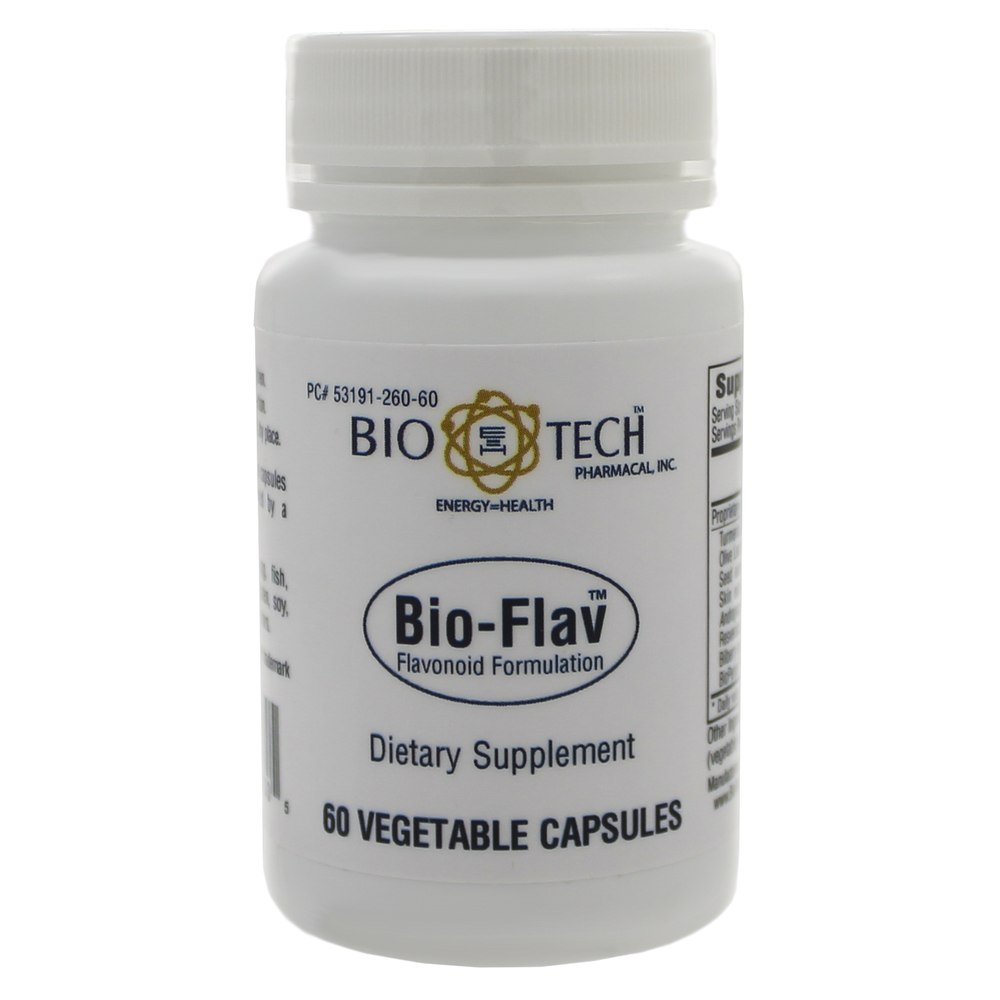 SKU: BI4-260A
Curcumin – A natural extract derived from turmeric root. Curcumin is a potent antioxidant that can protect against oxidative stress and regulate normal inflammatory responses.*
Olive Leaf Extract – A rich source of antioxidant compounds, which can protect cells and tissues against oxidative stress.*
Olive leaf extract also supports optimal immune and cardiovascular health.*
Green Tea Extract – A great source of bioavailable compounds, including polyphenols, that help protect against oxidative stress.*
Citrus Bioflavanoid Complex – Supports optimal immune and vascular health.*
It also protects cells from free radicals that can damage DNA.*
Grape Seed Extract – A concentrated natural extract that contains excellent antioxidant compounds including proanthocyanidins.*
Rosemary Extract – A great source of antioxidants.*
Rosemary is also known to support healthy memory function.*
Grape Skin Extract – An excellent source of compounds that support cardiovascular health.*
It also contains antioxidants that protect against oxidative stress.*
Andrographis paniculata Extract – Supports optimal immune health.*
Bilberry Extract – Related to the blueberry, bilberry is recognized as a good source of flavonoids.*
Ginkgo biloba Extract – Maintains healthy blood flow and acts as an antioxidant.*
Ginkgo biloba extract has also been known to support memory function.*
Giant Knotweed Extract – A concentrated source of resveratrol, a polyphenol.*
Resveratrol can help to support healthy cardiovascular function.*
BioPerine® (a registered trademark of Sabinsa Corp.) – Extract derived from black pepper. It is known to support healthy gastrointestinal absorption.*
Health Benefits
Bio-Flav is a unique combination of herbal ingredients formulated to support general health and oxidative stress protection.*
Take three capsules per day or as directed by a healthcare professional.
Serving Size: 3 Capsules
Amount Per Serving
Proprietary Complex ... 1, 259mg*
(Turmeric/Curcuma longa complex (rhizomes), Olive Leaf extract, Green Tea extract (leaf), Grape Seed extract, Rosemary extract (leaf), Grape Skin extract, Lemon Bioflavonoid Complex, Andrographis paniculata extract (whole plant), Resveratrol (from polygonum cuspidatum root), Bilberry extract (fruit), Ginkgo biloba extract (leaf), BioPerine® black pepper extract (fruit))
Other Ingredients: Hydroxypropyl methylcellulose (vegetable) capsules.
This product does not contain
dairy
egg
fish
shellfish
nuts
wheat
gluten
soy
sugar
yeast
artificial colors
BioPerine® is a registered trademark of Sabinsa Corp.
Keep out of reach of children. Safety sealed for your protection. Store tightly closed in a cool, dry place.