Bio-Immunozyme Forte™
Biotics Research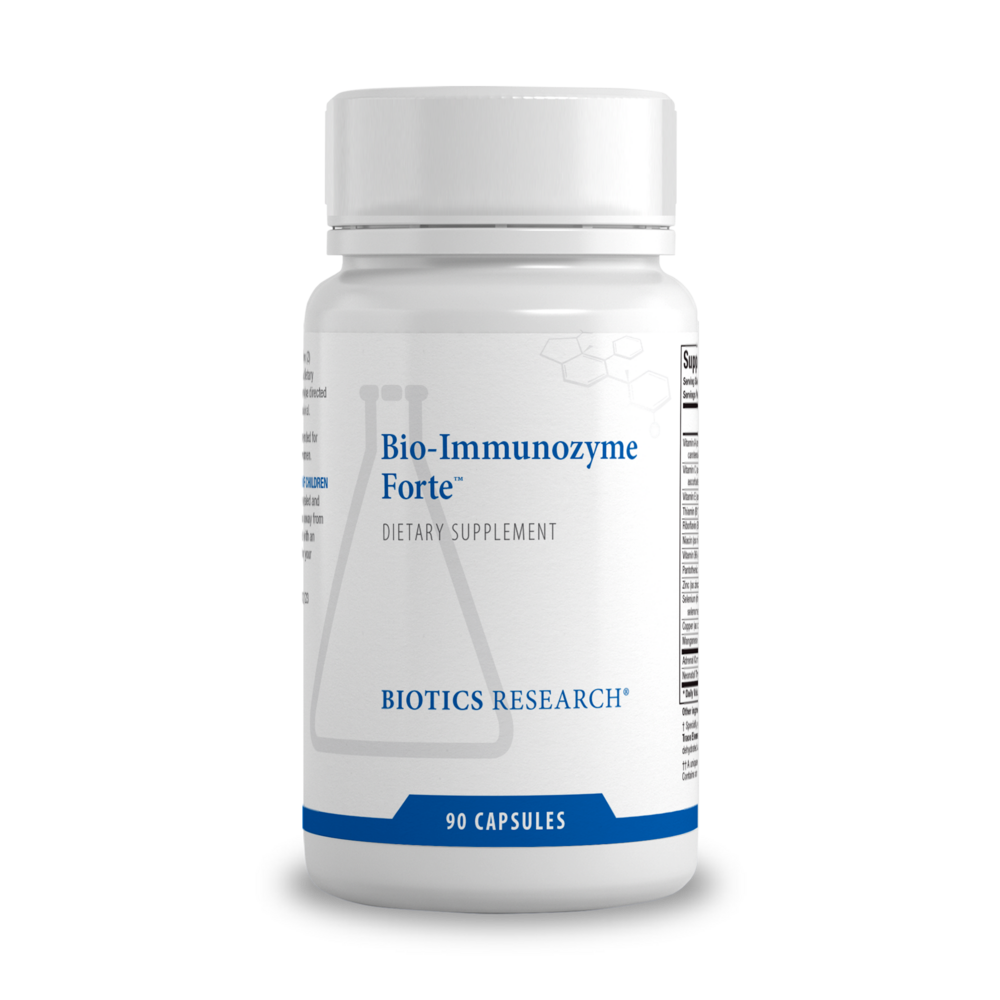 SKU: BRC-6300
A unique, broad-spectrum multiple designed to specifically support normal, healthy immune function. Provides a wide array of vitamin, mineral, botanical, amino acid and organ/glandular specific support.
Two (2) capsules each day as a dietary supplement or as otherwise directed by a healthcare professional.



Serving Size: 2 Capsules

Amount Per Serving
Vitamin A ... 6,667 IU
(as palmitate and natural mixed carotenoids)(IU ratio 3:1)
Vitamin C ... 200mg
(as calcium and magnesium ascorbates)
Vitamin E ... 30 IU
(as d-alpha tocopheryl acetate)
Thiamin ... 10mg
(B1)(as cocarboxylase chloride)
Riboflavin ... 15mg
(B2)(as riboflavin-5-phosphate)
Niacin ... 20mg
(as niacinamide)
Vitamin B6 ... 15mg
(as pyridoxal-5-phosphate)
Pantothenic Acid ... 25mg
(as calcium pantothenate)
Zinc ... 30mg
(as zinc gluconate and zinc citrate)
Selenium ... 50mcg
(from vegetable culture † and selenomethionine)
Copper ... 1mg
(as copper gluconate)
Manganese ... 2mg
(as manganese gluconate)
Neonatal Adrenal Complex ... 20mg
(bovine)
Neonatal Thymus ... 60mg
(bovine)
Neonatal Spleen ... 60mg
(bovine)
Neonatal Liver ... 60mg
(bovine)
Neonatal Pancreas ... 60mg
(bovine)
Parotid ... 40mg
(bovine)
Placenta ... 20mg
(bovine)
Trypsin & Alpha Chymotrypsin ... 25mg
(porcine)
L-Lysine HCl ... 100mg
Coenzyme Q10 ... 1mg
(emulsified)
Citrus Bioflavonoids ... 50mg
(from citrus fruit)
Superoxide Dismutase ... 60mcg
(from vegetable culture †)
Catalase ... 60mcg
(from vegetable culture †)
Proprietary Blend ... 120mg
Echinacea angustifolia (root), Neonatal Lymph Tissue (bovine), Cayenne Pepper (Capsicum annuum)(fruit), Chlorophyllins, OOrganik-15™†, Lactobacillus acidophilus (DDS-1)

Other Ingredients: Capsule shell (gelatin and water), food glaze, and stearic acid (vegetable source).

† Specially grown, biologically active vegetable culture containing Phytochemically Bound Trace Elements™, methyl compounds and/or naturally associated phytochemicals including polyphenolic compounds with SOD and catalase, dehydrated at low temperature to preserve associated enzyme factors.

Contains an ultra-trace amount (<0.001 ppm) of milk constituents which are used in the fermentation of probiotic ingredients.

This product is gluten free.
Caution: Not recommended for pregnant or lactating women.

KEEP OUT OF REACH OF CHILDREN

Keep container tightly sealed and store in a cool, dry area away from direct sunlight. Sealed with an imprinted safety seal for your protection.