BioCleanse Plus Vanilla
Nutra BioGenesis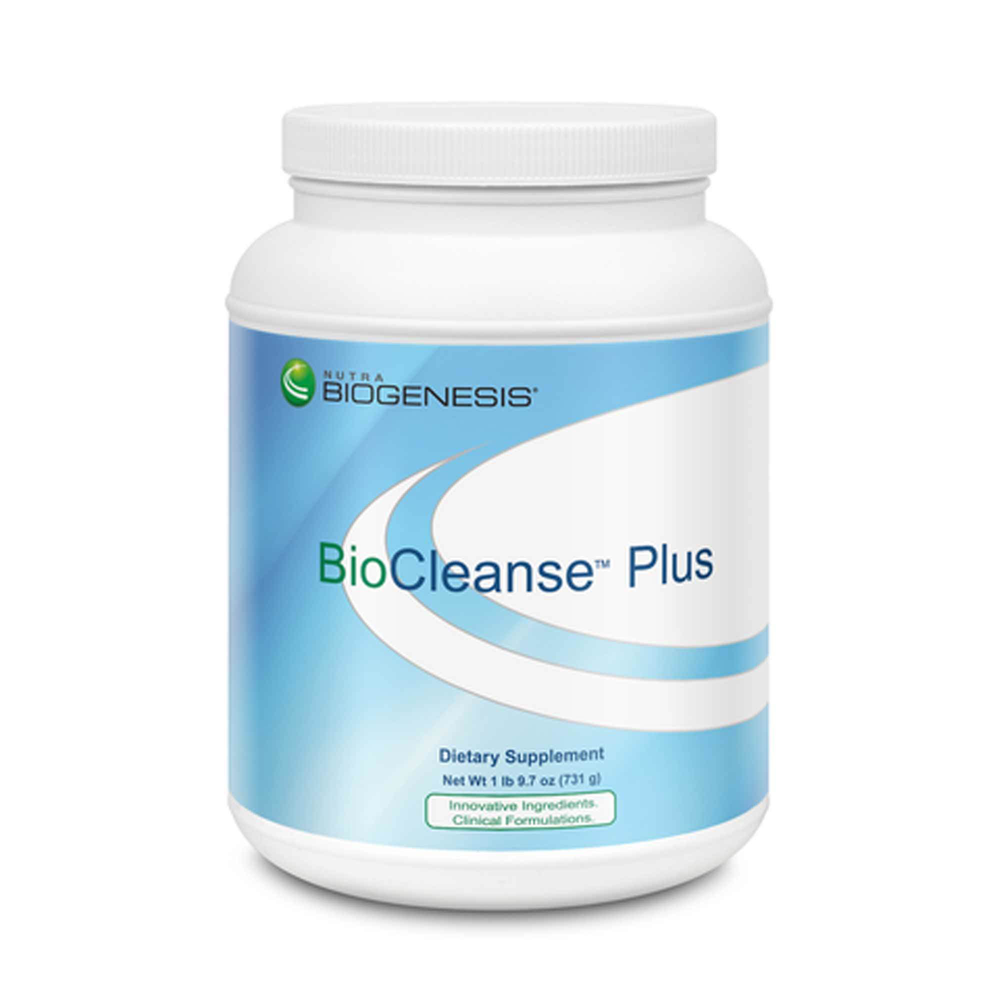 SKU: BI5-60773
BioCleanse™ Plus is designed to help support proper liver and gastrointestinal health, specifically for individuals who may require additional support for digestive health.
Suggested Use:
Use only as directed. Mix 2 level scoops (38.1g) into 8-10 ounces of water or desired beverage 1-3 times daily or as directed by your healthcare practitioner. Keep tightly sealed and store in a cool, dry place.


Serving Size: 2 Scoops (38.1g)
Amount Per Serving
Calories ... 150
Calories from Fat ... 60
Total Fat ... 6g
Sodium ... 330mg
Total Carbohydrate ... 11g
Dietary Fiber ... 3g
Soluble Fiber ... 2g
Sugars ... 4g
Protein ... 14g
Vitamin A ... 5, 000IU
(from beta carotene, retinyl palmitate)
Vitamin C ... 300mg
(from sodium ascorbate)
Vitamin D ... 80IU
(as cholecalciferol)
Vitamin E ... 50IU
(from d-alpha-tocopheryl acetate)
Thiamine ... 2mg
(from thiamine HCl)
Riboflavin ... 2mg
(from riboflavin-5-phosphate)
Niacin ... 7mg
(from niacinamide)
Vitamin B-6 ... 2.67mg
(from pyridoxine HCI, pyridoxal-5-phosphate)
Folate ... 80mcg
(from (6S)-5-methyltetrahydrofolate, glucosamine salt)
Vitamin B-12 ... 4mcg
(from methylcobalamin)
Biotin ... 135mcg
Pantothenic Acid ... 36mg
(from calcium D-pantothenate)
Calcium ... 100mg
(from calcium glycinate, tricalcium phosphate)
Phosphorus ... 20mg
(from potassium phosphate)
Iodine ... 53mcg
(from potassium iodide)
Magnesium ... 180mg
(from magnesium glycinate, magnesium oxide)
Zinc ... 10mg
(from zinc glycinate)
Selenium ... 40mcg
(from selenomethionine)
Copper ... 1mg
(from copper citrate)
Manganese ... 0.97mg
(from manganese glycinate)
Chromium ... 50mcg
(from chromium polynicotinate)
Molybdenum ... 100mcg
(from molybdenum glycinate)
Potassium ... 200mg
(from potassium citrate, potassium phosphate)
Milk Thistle ... 200mg
(Silybum marianum)(seed extract)(80% silymarin)
MSM ... 175mg
(methylsulfonylmethane)
Taurine ... 150mg
Calcium D-Glucarate ... 100mg
Proprietary Enzyme Blend ... 50mg
Amylase (2, 500SKB), Protease (7, 500HUT), Lipase (400FIP), Maltase (15DP), Glucoamylase (5AGU), Alpha Galactosidase (40GALU), Cellulase (175CU), Lactase (75ALU), Beta Glucanase (25BGU), Xylanase (45XU), Pectinase (5AJDU), Phytase (5U), Hemicellulase (2HCU),
Invertase (50 Sumner)
Green Tea ... 50mg
(Camellia sinensis)(leaf extract)(80% polyphenols)
N-Acetyl L-Cysteine ... 50mg
(NAC)
Bacillus coagulans ... 30mg
(450 million CFU)
L-Cysteine ... 9.8mg
(from L-Cysteine HCI)
Organic Flax ... 1, 000mg
(Linum usitatissimum)(seed meal)
Glycine ... 500mg
Other Ingredients: Protein blend (pea protein isolate, rice protein concentrate, chlorella), coconut oil powder, maltodextrin, sunflower oil powder, cane sugar, natural va

Warning: Do not use if safety seal is broken or missing. Keep out of reach of children. Keep your licensed healthcare practitioner informed when using this product, especially if pregnant or nursing. Use this product as a food supplement only. Do not use for weight reduction.