BioLivX
Bioclinic Naturals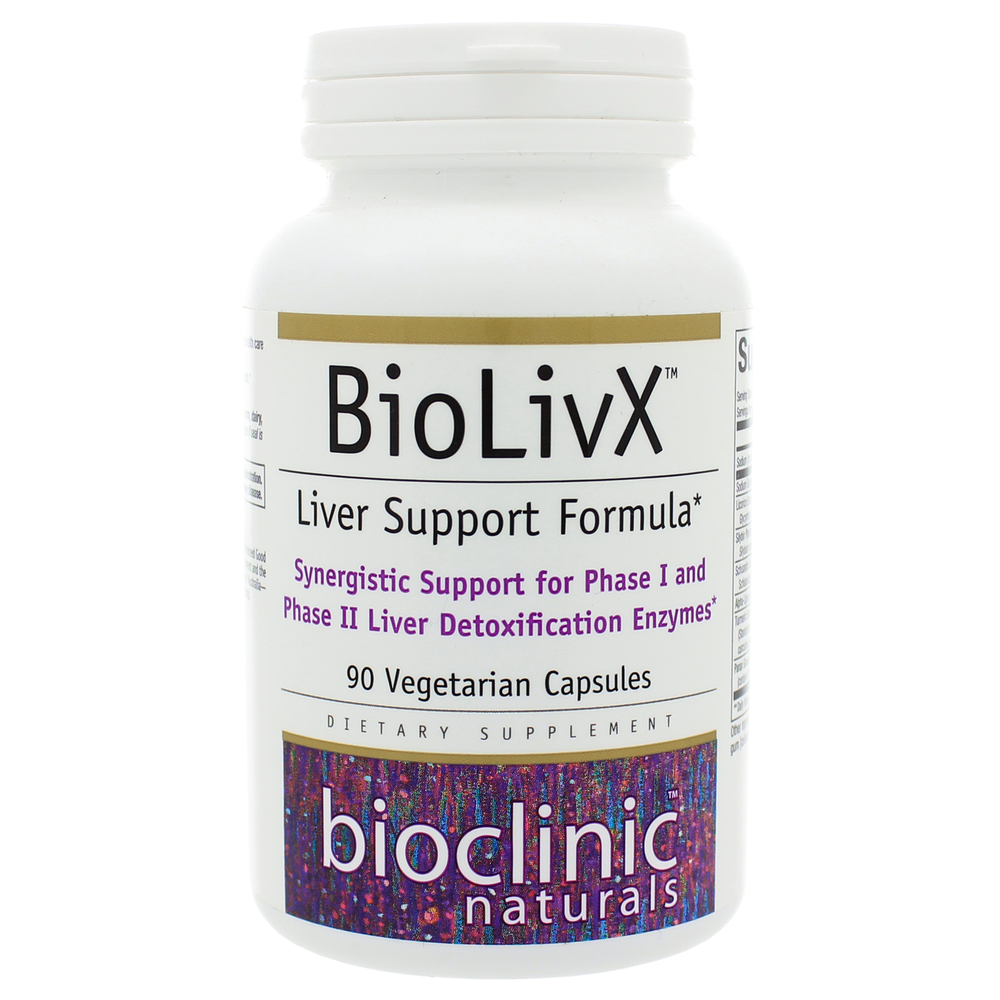 SKU: BCN-9224
BioLivX contains a variety of nutrients and herbs with proven benefit for protecting and enhancing hepatic function, as well as supporting detoxification pathways. Sodium glucuronate supports the phase II pathway of detoxification by providing the precursor for glucuronidation. Conjugation of glucuronic acid with a wide variety of functional groups, including hydroxyls, phenols, and carboxyls, is mediated in the liver as well as the intestine. Licorice has been shown to have hepatoprotective effects, including protection against toxins such as carbon tetrachloride, as well as from free fatty acid excess which accompanies nonalcoholic fatty liver disease. Alpha-lipoic acid is a water- and fat-soluble antioxidant, involved in hepatoprotection and cell damage prevention. It has the ability to alter the redox status of cells and interact with thiols, increasing hepatic glutathione content. Silybin is the most active flavonolignan isomer of silymarin, acting through a number of pathways, including antioxidative, anti-lipid peroxidative, antifibrotic, anti-inflammatory, and liver regenerating mechanisms. It also enhances glucuronidation and protects against glutathione depletion. Schizandra, Curcumin, and Panax Ginseng are also hepatoprotective, support detoxification pathways, and enhance liver function.
Benefits
•Specific blend of nutrients and traditional herbs designed to promote healthy liver tissue
•Contains sodium glucuronate, a key nutritional substance used by the liver to bind toxins
•Intense liver support
•Promotes healthy detoxification of liver toxins and hormone excess
•Antioxidant protection neutralizing free radical damage
•Reduces oxidative stress and its effects on the body
2 capsules, 1–3 times per day or as directed by a health care professional.
Serving Size: 2 capsules

Amount Per Serving:
Sodium ... 40mg
(from Sodium Glucuronate)
Sodium Glucuronate ... 400mg
Licorice ... 160mg
(Glycyrrhiza glabra), powdered extract (root)
Glycyrrhizin (12%) ... 19mg
Silybin Phytosome™ ... 100mg
(Contains Silybin [from Silybum marianum] bound to Phosphatidylcholine [from soy lecithin]
Schisandra (Schisandra chinensis), powdered extract (berry) ... 100mg
Schizandrins (2%) ... 2mg
Alpha-Lipoic Acid ... 100mg
Curcumin ... 50mg
Panax Ginseng Phytosome™ ... 50mg
(Contains Panax Ginseng bound to phosphatidylcholine [from soy lecithin]
Other Ingredients: Vegetarian capsule (cellulose, purified water, silica), cellulose, silica, magnesium stearate (vegetable grade).
Contains No: Artificial preservatives, colors or sweeteners; no corn, dairy, gluten, wheat or yeast.
Licorice and curcumin (high dose) are considered unsafe during pregnancy. Safety data is lacking for use during lactation, and in children, though no specific contraindications are known.
Drug Interactions: Licorice may be contraindicated with the use of potassium depleting diuretics as well as digoxin, due to the potential for hypokalemia. Licorice also slows the metabolic breakdown of steroid hormones, and dosing may need to be monitored closely if taken concomitantly. Alpha-lipoic acid may have a hypoglycemic effect, and may need close monitoring in individuals taking anti-diabetic therapy. Because Schizandra induces P450 2C9 activity, medications metabolized by this enzyme, such as warfarin, need close monitoring. Curcumin may also increase bleeding risk if taking anticoagulant medications.
*These statements have not been evaluated by the Food and Drug Administration. This product is not intended to diagnose, treat, cure or prevent any disease.