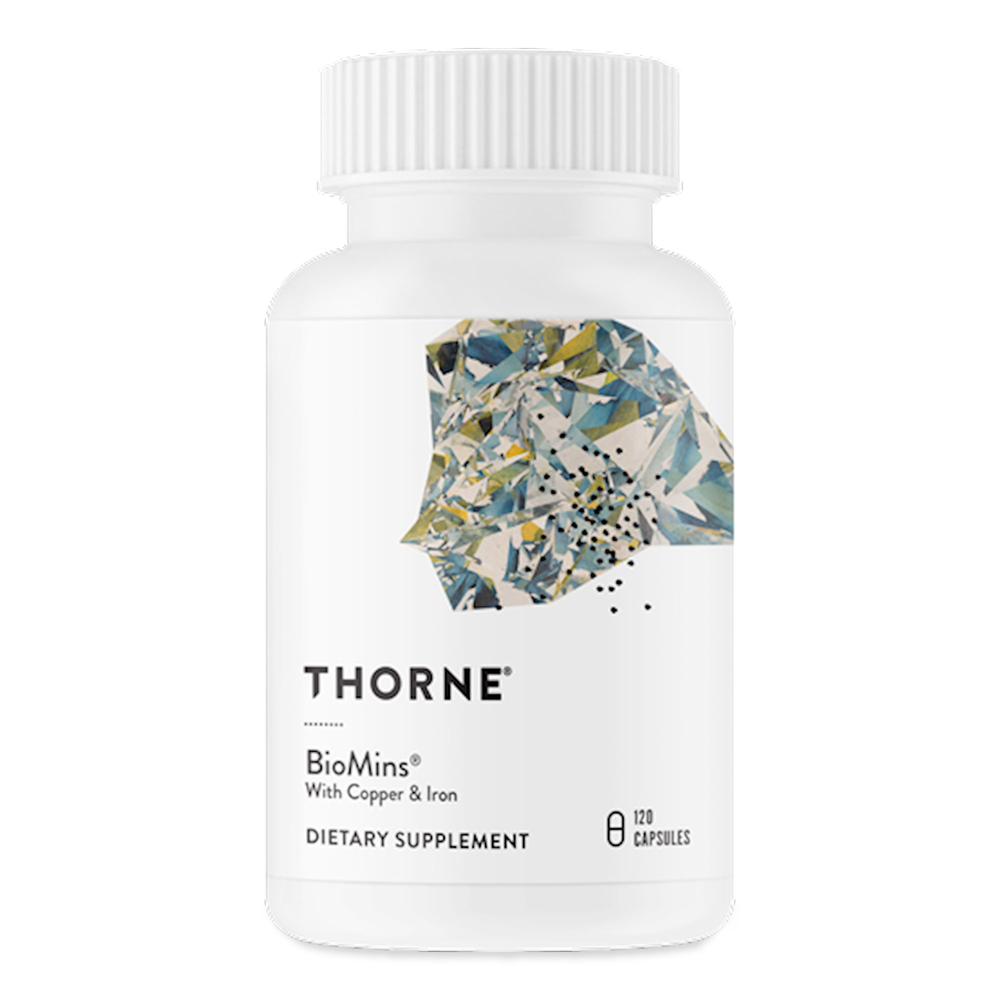 SKU: THO-M251
Mineral deficiencies frequently occur in the elderly, in children and teenagers, and in individuals with eating disorders or chronic diseases. Taking certain prescription medicines can also result in a mineral deficiency. In formulating BioMins, Thorne concluded that dicalcium malate and dimagnesium malate (two molecules of each mineral bound to one molecule of malate) are the forms of calcium and magnesium that best optimize both absorption and concentration (how much fits in a capsule).* Albion® Laboratories – an innovator of mineral chelates since 1956 – supplies the majority of the minerals in the BioMins formula. Thorne believes that Albion's glycinate chelates – of iron, zinc, copper, chromium, manganese, molybdenum, and boron – exhibit excellent absorption and tolerability. BioMins also utilizes Ferrochel® – an exceptionally well tolerated form of iron.*
It should be noted by everyone, however, that because the mineral content in fruits and vegetables depends on the soil content that a crop is grown in, even a healthy individual who maintains a good diet can be at risk for a mineral deficiency because of mineral-depleted soil.
Take 4 capsules daily or as recommended by your health professional.

Serving Size: 4 Capsules

Amount Per Serving

Boron ... 2mg
(Glycinate Complex)
Calcium ... 280mg
(Dicalcium Malate)
Chromium ... 200mcg
(Nicotinate Glycinate)
Copper ... 1mg
(Bisglycinate)
Iodine ... 120mcg
(Potassium Iodide)
Iron ... 16mg
(Bisglycinate)
Magnesium ... 280mg
(Dimagnesium Malate)
Manganese ... 4mg
(Bisglycinate Chelate)
Molybdenum ... 100mcg
(Glycinate)
Selenium ... 120mcg
(Selenomethionine)
Zinc ... 20mg
(Bisglycinate Chelate)

Other Ingredients: Hypromellose Capsule, Medium Chain Triglycerides, Potassium (Citrate)
ALLERGY WARNING
This product is contraindicated in an individual with a history of hypersensitivity to any of its ingredients.

Iodine may occasionally cause an allergic reaction in some individuals.

PREGNANCY
If pregnant, consult your health professional before using this product.

INTERACTIONS
There are no known adverse interactions or contraindications at publication date.

ADDITIONAL WARNINGS
Gas, bloating, or diarrhea may occur in some individuals taking magnesium supplements. This can occur at varying amounts depending on the individual and resolves when the amount is reduced.

Accidental overdose of iron-containing products is a leading cause of fatal poisoning in children under six. Keep this product out of reach of children. In case of accidental overdose, call a doctor or poison control center immediately.