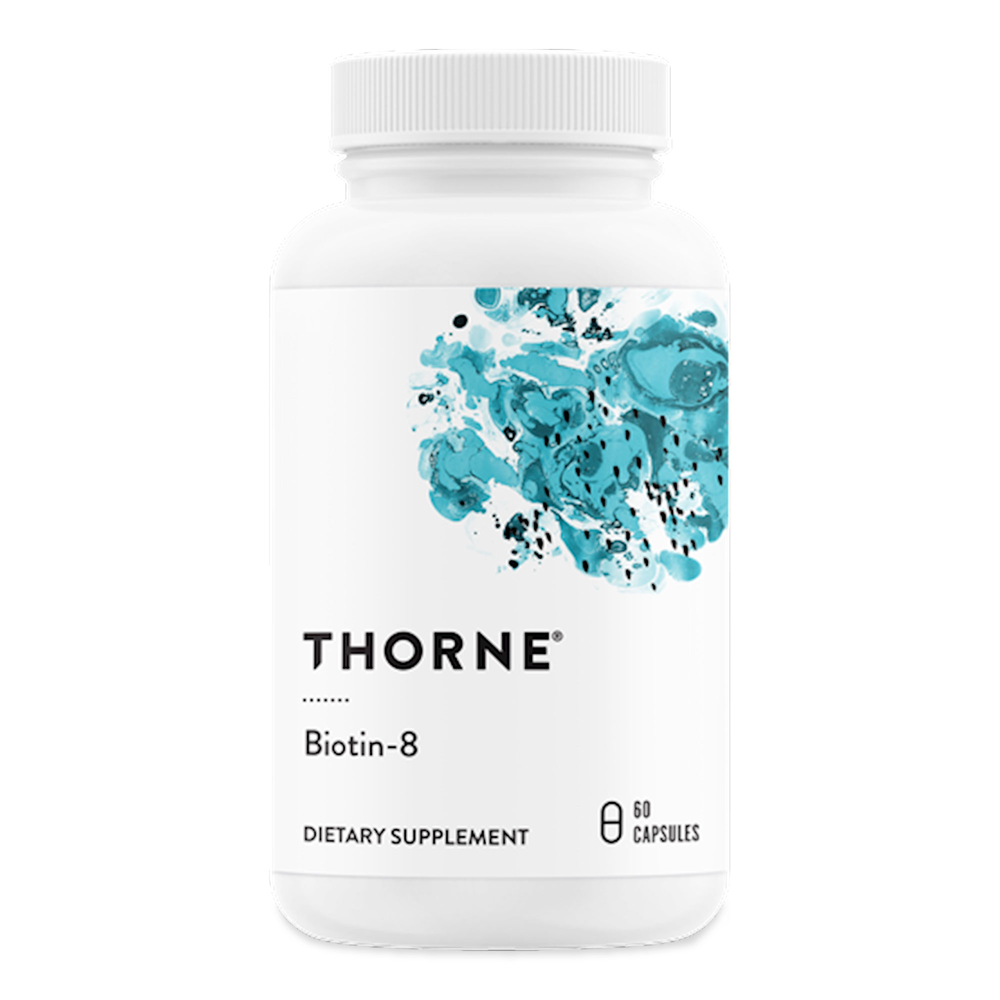 SKU: THO-B118
Biotin-8 provides a high amount of biotin (also sometimes called vitamin B7) per capsule. Biotin's benefit for fingernail strength was demonstrated in a clinical trial, where 45 patients with brittle nails received oral supplementation of 2.5 mg biotin for 1.5-7 months. Ninety-one percent showed "definite improvement," exhibiting firmer, harder fingernails after an average of two months of supplementation.* Biotin also supports healthy skin, hair, and nerve function.* Biotin in a higher amount, like in Thorne's Biotin-8, promotes glucose metabolism by stimulating glucose-induced insulin secretion in pancreatic beta cells and by accelerating glucose metabolism in the liver.* Similarly, biotin can enhance muscle insulin sensitivity by increasing the uptake of glucose by muscle cells.
Take 1 capsule one to two times daily or as recommended by your health professional.

Serving Size: 1 Capsule

Amount Per Serving
Biotin ... 8mg

Other Ingredients: Calcium Laurate, Hypromellose Capsule, Microcrystalline Cellulose, Silicon Dioxide
ALLERGY WARNING
This product is contraindicated in an individual with a history of hypersensitivity to any of its ingredients.
PREGNANCY
If pregnant, consult your health professional before using this product.
INTERACTIONS/CONTRAINDICATIONS
WARNING: Biotin supplementation can interfere with certain lab tests. Consult your health-care professional prior to having your blood drawn.