Biotone EFA
Seroyal/Genestra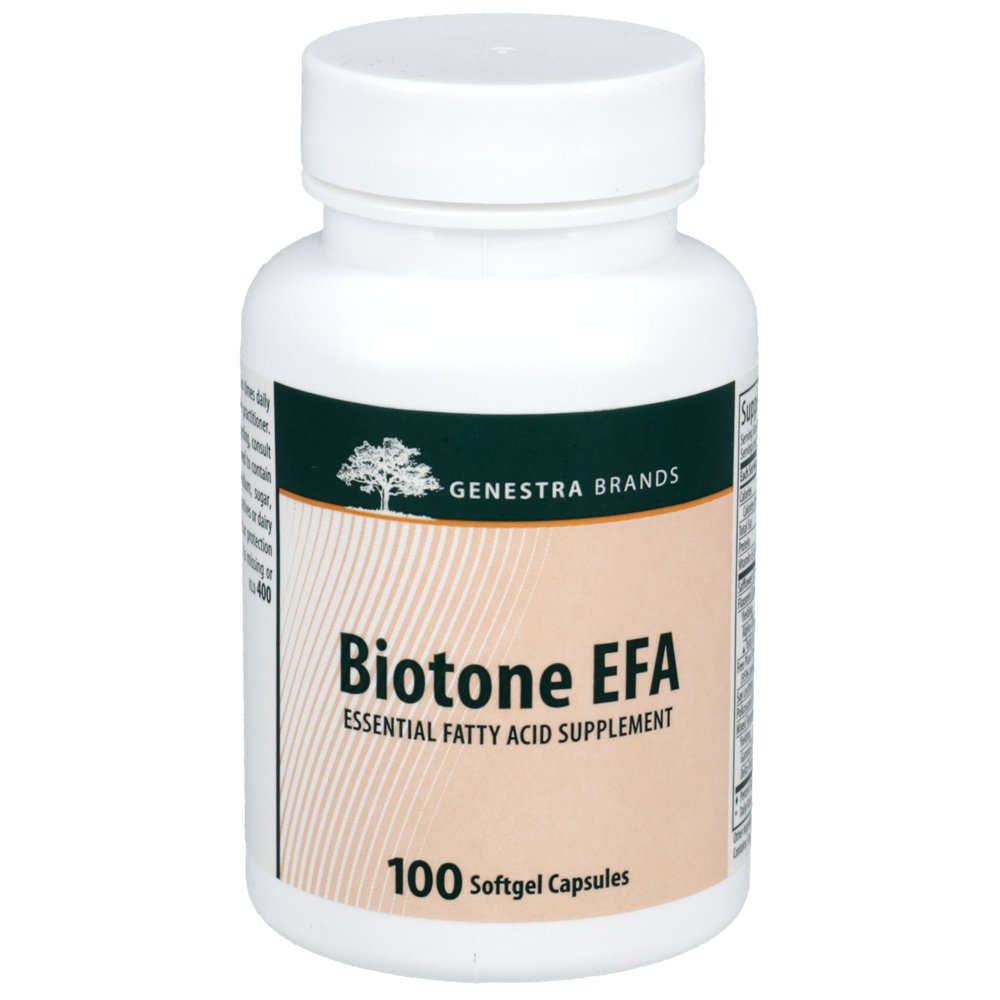 SKU: GN-10400
Combination of free plant sterols from glycine max bean (soybean)
Helps to support healthy lipid metabolism*
Provides antioxidants and essential fatty acids to support cardiovascular health*
Provides 896 mg of free plant sterols per daily serving
Includes 10 IU of mixed tocopherols per daily serving
Provides 1, 392 mg of linoleic acid and 144 mg of ALA per daily dose
Biotone EFA is a unique blend of lecithin-derived free plant sterols, essential fatty acids, and antioxidants. Free-form plant sterols may help to promote healthy lipid metabolism. A serving of Biotone EFA supplies 448 mg of plant sterols.*
Adult Dose: Take four capsules two times daily with meals or as recommended by your healthcare practitioner.
Serving Size: 4 Capsules
Amount Per Serving
Calories ... 15
Calories from Fat ... 10
Total Fat ... 1g
Protein ... <1g
Vitamin E ... 5IU
(d-alpha-tocopherol / mixed tocopherol concentrate)
Safflower Seed Oil ... 1020mg
(Carthamus tinctorius)
Flaxseed Oil ... 144mg
(Linum usitatissinum)
Yielding
Alpha-Linolenic Acid ... 72mg
Total Linoleic Acid ... 696mg
Free Plant Sterols ... 448mg
(from Glycine max bean) (95% combined: beta-sitosterol, campesterol, stigmasterol)
Soy Lecithin ... 80mg
(from Glycine max bean)
Policosanol ... 10mg
(from Apis mellifera wax)
Mixed Tocopherol Concentrate ... 16mg
Yielding
Gamma-Tocopherol ... 6.8mg
Delta-Tocopherol ... 1960mcg
Other Ingredient: Bovine gelatin, glycerin, purified water, silica
Contains: Soy
Guaranteed to contain no added wheat, starch, yeast, gluten, corn, sodium, sugar, artificial coloring or flavoring, antimicrobial preservatives or dairy products.
Risk Information: If you are pregnant or breastfeeding, consult your healthcare practitioner prior to use.
Quality Assurance: Safety-sealed for your protection and for product freshness. Do not use if outer seal is missing or broken. Store in a cool, dry place.