BP Manager
Enzymatic Therapy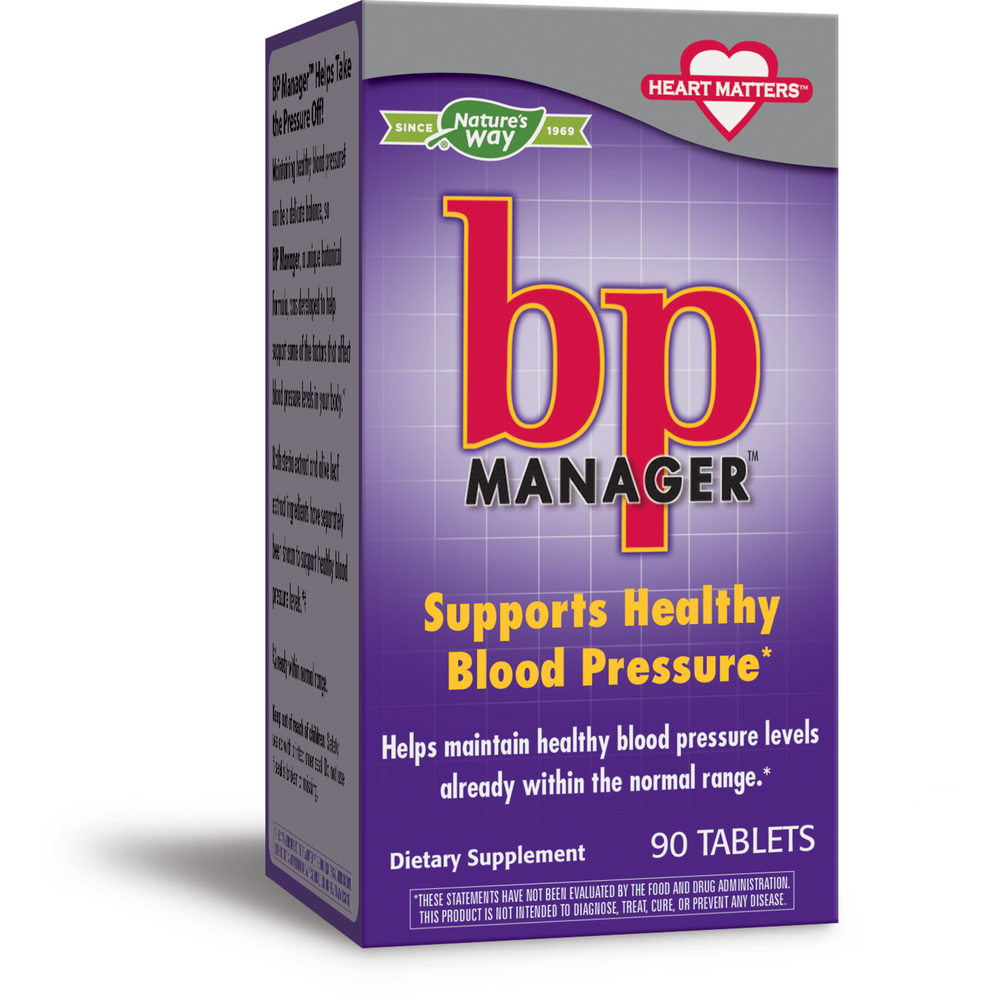 SKU: EN2-02869
BP Manager 90t is available by Enzymatic Therapy.
The Natural Way to Support Healthy Blood Pressure!
Maintains healthy blood pressure levels already within the normal range. Take the Pressure Off Naturally!Take control with BP Manager! Your first step for maintaining healthy blood pressure, naturally.
Supporting healthy blood pressure can be a delicate balance, so BP Manager was developed to address many of the factors that affect blood pressure levels in your body.
Enzymatic Therapy
Dietary Supplement
Stevia leaf extract - Supports healthy blood pressure levels according to clinical studies.
Hawthorn extract - Supports the heart and balances sodium and fluid levels.
Olive leaf extract - Scientifically shown to support healthy blood pressure.
Dandelion leaf - Helps reduce fluid retention.
Lycopene - Clinically shown to support arteries, circulation and heart health.
The clinically-studied ingredients in this formula support heart and circulatory health. BP Managers proprietary herbal blend works in harmony with your body to support your blood pressure in natural and healthy ways. BP Managers clinically-studied ingredients have been shown to be helpful for maintaining blood pressure levels that are already within the normal range.
LABORATORY TESTED
Purity, Safety & Performance
All colors are used from natural sources.
One (1) tablet three (3) times daily with meals.
Serving Size: 1 tablet
Proprietary Herbal Blend ...570mg
stevia (Stevia rebaudiana) leaf extract, olive (Olea europaea) leaf extract, hawthorn (Crataegus oxyacantha) leaf and flower extract, dandelion (Taraxacum officinale) leaf, and lycopene
Contains:
Cellulose, Modified Cellulose, Modified Cellulose Gum, Magnesium Stearate, Vegetable Juice Color, Soy Lecithin, Carnauba Wax
Does Not Contain:
Sugar, Salt, Yeast, Wheat, Gluten, Corn, Soy, Dairy Products, Artificial Coloring, Artificial Flavoring, Preservatives
Monitor your blood pressure regularly. Consult your healthcare practitioner prior to use if your blood pressure is outside the normal range, if you are taking blood pressure lowering medication or other prescription drugs, or if you are pregnant or nursing.